Explainer: What Key Factors Influence Gas Prices?
Explainer: What Key Factors Influence Gas Prices?
Across the United States, the cost of gas has been a hot topic of conversation lately, as prices reach record-breaking highs.
The national average now sits at $5.00 per gallon, and by the end of summer, this figure could grow to $6 per gallon, according to estimates by JPMorgan.
But before we can have an understanding of what's happening at the pump, it's important to first know what key factors dictate the price of gas.
This graphic, using data from the U.S. Energy Information Administration (EIA), outlines the main components that influence gas prices, providing each factor's proportional impact on price.
The Four Main Factors
According to the EIA, there are four main factors that influence the price of gas:
Crude oil prices (54%)
Refining costs (14%)
Taxes (16%)
Distribution, and marketing costs (16%)
More than half the cost of filling your tank is influenced by the price of crude oil. Meanwhile, the rest of the price at the pump is split fairly equally between refining costs, marketing and distribution, and taxes.
Let's look at each factor in more depth.
Crude Oil Prices
The most influential factor is the cost of crude oil, which is largely dictated by international supply and demand.
Despite being the world's largest oil producer, the U.S. remains a net importer of crude oil, with the majority coming from Canada, Mexico, and Saudi Arabia. Because of America's reliance on imports, U.S. gas prices are largely influenced by the global crude oil market.
A number of geopolitical factors can influence the crude oil market, but one of the biggest influences is the Organization of the Petroleum Exporting Countries (OPEC), led by Saudi Arabia.
Established in 1960, OPEC was created to combat U.S. dominance of the global oil market. OPEC sets production targets for its 13 member countries, and historically, oil prices have been linked to changes in OPEC production. Today, OPEC countries are responsible for about 60% of internationally traded petroleum.
Refining Costs
Oil needs to be refined into gasoline before it can be used by consumers, which is why refining costs are factored into the price of gas.
The U.S. has hundreds of refineries across the country. The country's largest refinery, owned by the Saudi Arabian company ​​Saudi Aramco, processes around 607,000 barrels of oil per day.
The exact cost of refining varies, depending on a number of factors such as the type of crude oil used, the processing technology available at the refinery, and the gasoline requirements in specific parts of the country.
In general, refining capacity in the U.S. has not been keeping up with oil demand. Several refineries shut down throughout the pandemic, but even before COVID-19, refining capacity in the U.S. was lagging behind demand. Incredibly, there haven't been any brand-new refining facilities built in the country since 1977.
Taxes
In the U.S., taxes also play a critical role in determining the price of gas.
Across America, the average gasoline tax is $0.57 per gallon, however, the exact amount fluctuates from state to state. Here's a look at the top five states with the highest gas taxes:
| Rank | State | Gas tax (per gallon) |
| --- | --- | --- |
| 1 | California | $0.87 |
| 2 | Illinois | $0.78 |
| 3 | Pennsylvania | $0.77 |
| 4 | Hawaii | $0.77 |
| 5 | New Jersey | $0.69 |
*Note: figures include both state and federal tax
States with high gas taxes usually spend the extra money on improvements to their infrastructure or local transportation. For instance, Illinois doubled its gas taxes in 2019 as part of a $45 billion infrastructure plan.
California, the state with the highest tax on gas, is expecting to see a rate increase this July, which will drive gas prices up by around three cents per gallon.
Distribution and Marketing Costs
Lastly, the costs of distribution and marketing have an impact on the price of gas.
Gasoline is typically shipped from refineries to local terminals via pipelines. From there, the gasoline is processed further to ensure it meets market requirements or local government standards.
Gas stations then distribute the final product to the consumer. The cost of running a gas station varies—some gas stations are owned and operated by brand-name refineries like Chevron, while others are smaller-scale operations owned by independent merchants.
The big-name brands run a lot of advertisements. According to Morning Consult, Chevron, BP PLC, Exxon Mobil Corp., and Royal Dutch Shell PLC aired TV advertisements in the U.S. more than 44,495 times between June 1, 2020, and Aug. 31, 2021.
How Does the Russia-Ukraine Conflict Impact U.S. Gas Prices?
If only a fraction of America's oil comes from Russia, why is the Russia-Ukraine conflict impacting prices in the U.S.?
Because oil is bought and sold on a global commodities market. So, when countries imposed sanctions on Russian oil, that put a squeeze on global supply, which ultimately drove up prices.
This supply shock could keep prices high for a while unless the U.S. falls into a recession, which is a growing possibility based on how recent data is trending.
Support the Future of Data Storytelling
Sorry to interrupt your reading, but we have a favor to ask. At Visual Capitalist we believe in a world where data can be understood by everyone. That's why we want to build the VC App - the first app of its kind combining verifiable and transparent data with beautiful, memorable visuals. All available for free.
As a small, independent media company we don't have the expertise in-house or the funds to build an app like this. So we're asking our community to help us raise funds on Kickstarter.
If you believe in data-driven storytelling, join the movement and back us on Kickstarter!
Thank you.
The Elemental Composition of the Human Body
Of the 118 chemical elements found on Earth, only 21 make up the human body. Here we break down the elemental composition of the average human.
The Elemental Composition of a Human Body
The human body is a miraculous, well-oiled, and exceptionally complex machine. It requires a multitude of functioning parts to come together for a person to live a healthy life—and every biological detail in our bodies, from the mundane to the most magical, is driven by just 21 chemical elements.
Of the 118 elements on Earth, just 21 of them are found in the human body. Together, they make up the medley of divergent molecules that combine to form our DNA, cells, tissues, and organs.
Based on data presented by the International Commission on Radiological Protection (ICRP), in the above infographic, we have broken down a human body to its elemental composition and the percentages in which they exist.
These 21 elements can be categorized into three major blocks depending on the amount found in a human body, the main building block (4 elements), essential minerals (8 elements), and trace elements (9 elements).
The Elemental Four: Ingredients for Life
Four elements, namely, oxygen, carbon, hydrogen, and nitrogen, are considered the most essential elements found in our body.
Oxygen is the most abundant element in the human body, accounting for approximately 61% of a person's mass. Given that around 60-70% of the body is water, it is no surprise that oxygen and hydrogen are two of the body's most abundantly found chemical elements. Along with carbon and nitrogen, these elements combine for 96% of the body's mass.
Here is a look at the composition of the four elements of life:
| Element | Weight of Body Mass (kg) | Percentage of Body Mass (%) |
| --- | --- | --- |
| Oxygen | 43 kg | 61.4% |
| Carbon | 16 kg | 22.9% |
| Hydrogen | 7.0 kg | 10.0% |
| Nitrogen | 1.8 kg | 2.6% |
Values are for an average human body weighing 70 kg.
Let's take a look at how each of these four chemical elements contributes to the thriving functionality of our body:
Oxygen
Oxygen plays a critical role in the body's metabolism, respiration, and cellular oxygenation. Oxygen is also found in every significant organic molecule in the body, including proteins, carbohydrates, fats, and nucleic acids. It is a substantial component of everything from our cells and blood to our cerebral and spinal fluid.
Carbon
Carbon is the most crucial structural element and the reason we are known as carbon-based life forms. It is the basic building block required to form proteins, carbohydrates, and fats. Breaking carbon bonds in carbohydrates and proteins is our primary energy source.
Hydrogen
Hydrogen, the most abundantly found chemical element in the universe, is present in all bodily fluids, allowing the toxins and waste to be transported and eliminated. With the help of hydrogen, joints in our body remain lubricated and able to perform their functions. Hydrogen is also said to have anti-inflammatory and antioxidant properties, helping improve muscle function.
Nitrogen
An essential component of amino acids used to build peptides and proteins is nitrogen. It is also an integral component of the nucleic acids DNA and RNA, the chemical backbone of our genetic information and genealogy.
Essential and Supplemental Minerals
Essential minerals are important for your body to stay healthy. Your body uses minerals for several processes, including keeping your bones, muscles, heart, and brain working properly. Minerals also control beneficial enzyme and hormone production.
Minerals like calcium are a significant component of our bones and are required for bone growth and development, along with muscle contractions. Phosphorus contributes to bone and tooth strength and is vital to metabolizing energy.
Here is a look at the elemental composition of essential minerals:
| Element | Weight of Body Mass (g) | Percentage of Body Mass (%) |
| --- | --- | --- |
| Calcium | 1000 g | 1.43% |
| Phosphorus | 780 g | 1.11% |
| Potassium | 140 g | 0.20% |
| Sulphur | 140 g | 0.20% |
| Chlorine | 100 g | 0.14% |
| Sodium | 95 g | 0.14% |
| Magnesium | 19 g | 0.03% |
| Iron | 4.2 g | 0.01% |
Values are for an average human body weighing 70 kg.
Other macro-minerals like magnesium, potassium, iron, and sodium are essential for cell-to-cell communications, like electric transmissions that generate nerve impulses or heart rhythms, and are necessary for maintaining thyroid and bone health.
Excessive deficiency of any of these minerals can cause various disorders in your body. Most humans receive these minerals as a part of their daily diet, including vegetables, meat, legumes, and fruits. In case of deficiencies, though, these minerals are also prescribed as supplements.
Biological Composition of Trace Elements
Trace elements or trace metals are small amounts of minerals found in living tissues. Some of them are known to be nutritionally essential, while others may be considered to be nonessential. They are usually in minimal quantities in our body and make up only 1% of our mass.
Paramount among these are trace elements such as zinc, copper, manganese, and fluorine. Zinc works as a first responder against infections and thereby improves infection resistance, while balancing the immune response.
Here is the distribution of trace elements in our body:
| Element | Weight of Body Mass (mg) | Percentage of Body Mass (%) |
| --- | --- | --- |
| Fluorine | 2600 mg | 0.00371% |
| Zinc | 2300 mg | 0.00328% |
| Copper | 72 mg | 0.00010% |
| Iodine | 13 mg | 0.00002% |
| Manganese | 12 mg | 0.00002% |
| Molybdenum | 9.5 mg | 0.00001% |
| Selenium | 8 mg | 0.00001% |
| Chromium | 6.6 mg | 0.00001% |
| Cobalt | 1.5 mg | 0.000002% |
Values are for an average human body weighing 70 kg.
Even though only it's found in trace quantities, copper is instrumental in forming red blood cells and keeping nerve cells healthy. It also helps form collagen, a crucial part of bones and connective tissue.
Even with constant research and studies performed to thoroughly understand these trace elements' uses and benefits, scientists and researchers are constantly making new discoveries.
For example, recent research shows that some of these trace elements could be used to cure and fight chronic and debilitating diseases ranging from ischemia to cancer, cardiovascular disease, and hypertension.
Who's Still Buying Fossil Fuels From Russia?
Here are the top importers of Russian fossil fuels since the start of the war.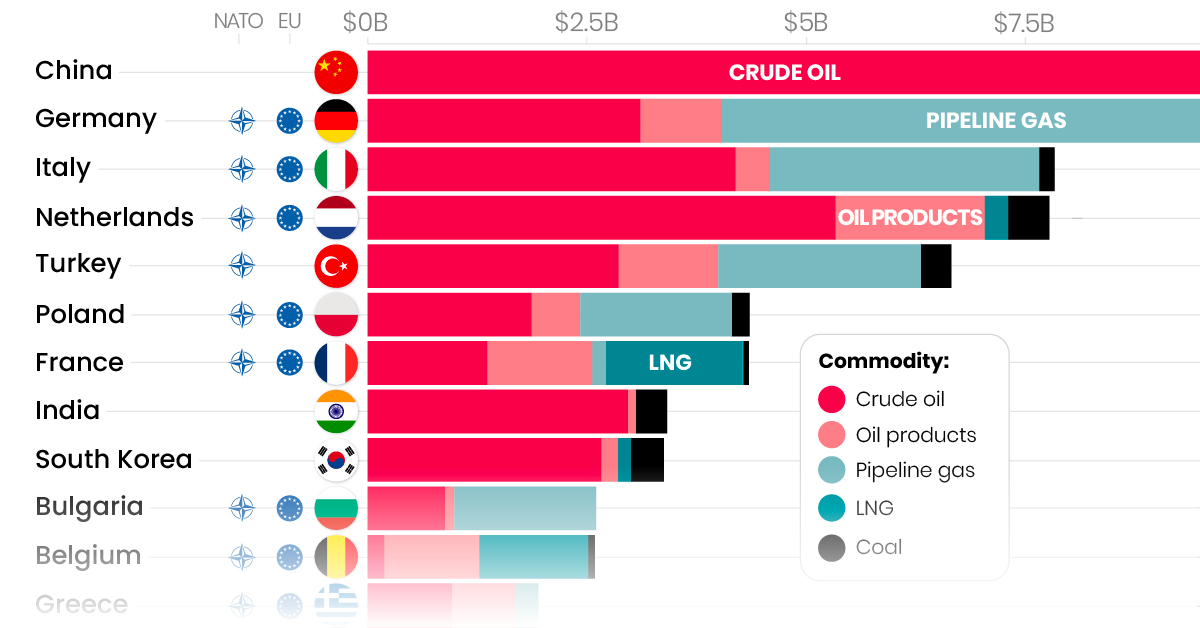 The Largest Importers of Russian Fossil Fuels Since the War
Despite looming sanctions and import bans, Russia exported $97.7 billion worth of fossil fuels in the first 100 days since its invasion of Ukraine, at an average of $977 million per day.
So, which fossil fuels are being exported by Russia, and who is importing these fuels?
The above infographic tracks the biggest importers of Russia's fossil fuel exports during the first 100 days of the war based on data from the Centre for Research on Energy and Clean Air (CREA).
In Demand: Russia's Black Gold
The global energy market has seen several cyclical shocks over the last few years.
The gradual decline in upstream oil and gas investment followed by pandemic-induced production cuts led to a drop in supply, while people consumed more energy as economies reopened and winters got colder. Consequently, fossil fuel demand was rising even before Russia's invasion of Ukraine, which exacerbated the market shock.
Russia is the third-largest producer and second-largest exporter of crude oil. In the 100 days since the invasion, oil was by far Russia's most valuable fossil fuel export, accounting for $48 billion or roughly half of the total export revenue.
| Fossil fuel | Revenue from exports (Feb 24 - June 4) | % of total Russian fossil fuel export revenue |
| --- | --- | --- |
| Crude oil | $48.3B | 49.4% |
| Pipeline gas | $25.2B | 25.8% |
| Oil products | $13.6B | 13.9% |
| Liquified Natural Gas (LNG) | $5.4B | 5.5% |
| Coal | $5.0B | 5.1% |
| Total | $97.7B | 100% |
While Russian crude oil is shipped on tankers, a network of pipelines transports Russian gas to Europe. In fact, Russia accounts for 41% of all natural gas imports to the EU, and some countries are almost exclusively dependent on Russian gas. Of the $25 billion exported in pipeline gas, 85% went to the EU.
The Top Importers of Russian Fossil Fuels
The EU bloc accounted for 61% of Russia's fossil fuel export revenue during the 100-day period.
Germany, Italy, and the Netherlands—members of both the EU and NATO—were among the largest importers, with only China surpassing them.
| Country | Value of fossil fuel imports from Russia (Feb 24 - June 4) | % of total Russian fossil fuel export revenue |
| --- | --- | --- |
| China 🇨🇳 | $13.2B | 13.5% |
| Germany 🇩🇪 | $12.7B | 12.9% |
| Italy 🇮🇹 | $8.2B | 8.4% |
| Netherlands 🇳🇱 | $8.2B | 8.4% |
| Turkey 🇹🇷 | $7.0B | 7.2% |
| Poland 🇵🇱 | $4.6B | 4.7% |
| France 🇫🇷 | $4.5B | 4.6% |
| India 🇮🇳 | $3.6B | 3.7% |
| Other 🌍 | $35.7B | 36.5% |
| Total | $97.7B | 100% |
China overtook Germany as the largest importer, importing nearly 2 million barrels of discounted Russian oil per day in May—up 55% relative to a year ago. Similarly, Russia surpassed Saudi Arabia as China's largest oil supplier.

The biggest increase in imports came from India, buying 18% of all Russian oil exports during the 100-day period. A significant amount of the oil that goes to India is re-exported as refined products to the U.S. and Europe, which are trying to become independent of Russian imports.
Reducing Reliance on Russia
In response to the invasion of Ukraine, several countries have taken strict action against Russia through sanctions on exports, including fossil fuels. 

The U.S. and Sweden have banned Russian fossil fuel imports entirely, with monthly import volumes down 100% and 99% in May relative to when the invasion began, respectively.
On a global scale, monthly fossil fuel import volumes from Russia were down 15% in May, an indication of the negative political sentiment surrounding the country.
It's also worth noting that several European countries, including some of the largest importers over the 100-day period, have cut back on Russian fossil fuels. Besides the EU's collective decision to reduce dependence on Russia, some countries have also refused the country's ruble payment scheme, leading to a drop in imports. 
The import curtailment is likely to continue. The EU recently adopted a sixth sanction package against Russia, placing a complete ban on all Russian seaborne crude oil products. The ban, which covers 90% of the EU's oil imports from Russia, will likely realize its full impact after a six-to-eight month period that permits the execution of existing contracts. 
While the EU is phasing out Russian oil, several European countries are heavily reliant on Russian gas. A full-fledged boycott on Russia's fossil fuels would also hurt the European economy—therefore, the phase-out will likely be gradual, and subject to the changing geopolitical environment.