The Periodic Table of Commodity Returns (2013-2022)
The Periodic Table of Commodity Returns (2013-2022)
Trying to predict which commodities will come out on top in any given year is tricky business—especially during this turbulent period in markets.
By looking back at previous years, investors can gain insights into long-term trends and patterns in commodity prices. To help better understand these trends, U.S. Global Investors releases a visualization called the Periodic Table of Commodity Returns at the outset of each year.
This year's edition looks back over the past decade of returns between 2013 and 2022, and features an interactive design that allows users to sort returns by various categories including returns, volatility, and other groupings.
Editor's note: Because of the Russia-Ukraine conflict, regional benchmarks for some commodities (coal, natural gas) had much bigger price divergences than is typical. In this case the graphic focuses in on U.S. regional benchmarks like Powder River Basin coal and Henry Hub natural gas prices. These prices may differ from price action seen around the world.
More Volatility, but Positive Returns
After 2021 saw an impressive surge in commodity prices as the world reopened post-pandemic, 2022 brought another year of positive returns for the asset class that were defined by high levels of volatility.
The broad-based S&P Goldman Sachs Commodity Index (GSCI) surged 52.1% in the first five months of 2022, as supply disruptions and fears across grains, metals, and energy fuels were spurred by Russia's invasion of Ukraine.
The second half of the year saw prices cool as the U.S. continued to release crude oil from its strategic petroleum reserve while Russia and Ukraine established an agreement to enable grain and agricultural exports, quelling fears of extended supply disruptions.
The result? In the last seven months of the year the S&P GSCI nearly completed a return trip and only ended up rising 8.7% in 2022 overall.
| Commodity | 2022 Returns |
| --- | --- |
| Lithium | 72.49% |
| Nickel | 43.13% |
| Natural Gas (Henry Hub) | 19.97% |
| Corn | 14.37% |
| Platinum | 10.90% |
| S&P Goldman Sachs Commodity Index (GSCI) | 8.71% |
| Crude oil | 6.71% |
| Silver | 2.77% |
| Wheat | 2.76% |
| Lead | -0.05% |
| Gold | -0.28% |
| Palladium | -5.89% |
| Copper | -14.13% |
| Aluminum | -16.27% |
| Zinc | -16.34% |
| Coal (PRB) | -48.34% |
Another key factor that helped keep commodity prices cool in 2022 was China's extended lockdowns which slowed down the country's manufacturing and industrial capabilities. This helped reduce the demand of energy fuels in 2022, along with industrial metals like copper, aluminum, and zinc.
Lithium Continues to Top Commodity Returns
A metal that did shine brightly in 2022 was lithium, which has been newly added to the Periodic Table of Commodity Returns.
After topping the table in 2021 with an outsized price increase of 442.8%, lithium kept its top spot in 2022 with a more modest price increase of 72.5%.
The growing global push towards electric vehicles (EVs) has been a major contributor to the increase in demand for lithium and nickel, which was the second-best performing commodity in 2022 with a price increase of 43.1%. As more countries set targets to phase out gasoline and diesel vehicles, demand for key battery minerals like lithium and nickel is expected to continue to rise.
While the U.S. is working to strengthen its battery metals production and supply chains with $2.8 billion in grants for domestic lithium, graphite, and nickel projects, it will be years before more supply comes online as a result. In the meantime, robust demand for EVs in China has provided a constant need for these battery metals which are currently in short supply.
Energy Price Variance Fueled by Regional Uncertainty
After 2021 saw energy fuels dominate the top spots after lithium, energy fuel prices in 2022 were more volatile with more scattered returns. Natural gas was the only fuel which saw double-digit returns at a 19.9%, with crude oil returning 6.7% and coal at the bottom of the table at -48.3%.
It's important to keep in mind how geopolitical events and supply disruptions last year affected the regional price differences for energy fuels. While WTI crude oil (North America's benchmark) increased by 6.7% in 2022, Brent crude oil (Europe's benchmark) was up 10.4% as Urals crude oil (Russia's benchmark) fell by more than 26.5%.
| Type of Crude Oil | 2022 Returns | Price in U.S. dollars (Jan 17, 2023) |
| --- | --- | --- |
| Brent Crude Oil (European benchmark) | 10.35% | $86.72 |
| WTI Crude Oil (North American benchmark) | 6.72% | $81.01 |
| Urals Crude Oil (Russian benchmark) | -26.53% | $55.60 |
As a result of the war and ensuing sanctions, the discount of Urals crude oil compared to Brent crude oil went from -$1.72 at the start of 2022 all the way to -$30.71 by the end of the year.
Thermal coal prices faced similar regional divergences, with Powder River Basin (PRB) coal (America's benchmark for coal) falling by 48.3% this year while Newcastle coal, which is delivered out of the port of Newcastle, Australia primarily to various Asian nations, saw prices skyrocket up by 156.6% in 2022.
After such a wild year with huge variance in commodity prices, we'll see if 2023 can bring some stability or if high volatility and growing regional price discrepancies will become the norm.
Visualizing Mining's Footprint in British Columbia
Mining represents 7% of British Columbia's GDP despite only accounting for 0.04% of the land use.
Visualizing Mining's Footprint in British Columbia
British Columbia is considered a global leader in the development of socially and environmentally responsible resources.
An estimated 54% of the province's total land is protected, making it one of the world's greenest mining hubs.
This graphic by the B.C. Regional Mining Alliance (BCRMA) details mining's footprint in the province.
A Tier 1 Jurisdiction for Mining
British Columbia covers almost 95 million hectares (234 million acres), more than any European country except Russia, and more than any U.S. state except Alaska.
As the largest mining province in Canada, BC registered $18 billion in revenue from the industry in 2022.
British Columbia stands as Canada's sole producer of molybdenum, which finds applications in metallurgy and chemistry. Additionally, B.C. is the country's leader producer of copper and steelmaking coal, besides gold and silver.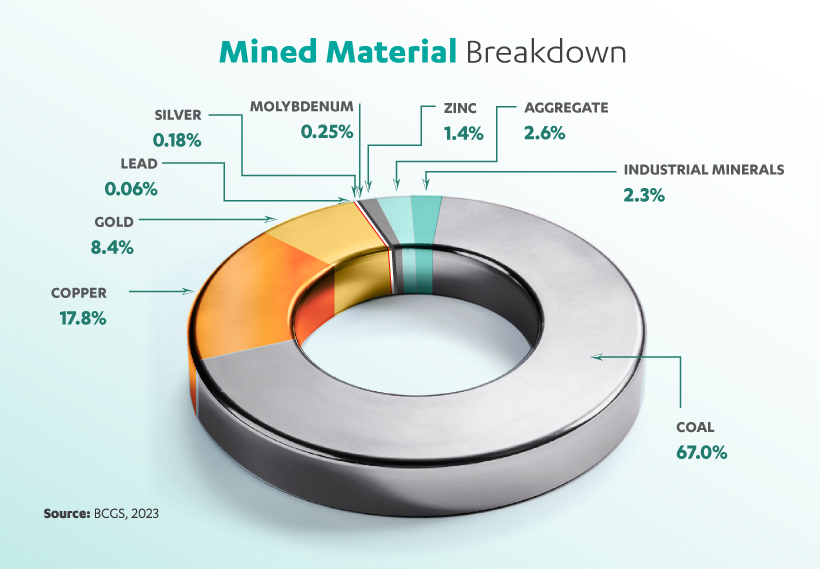 At the heart of British Columbia's mining industry lies the Golden Triangle, one of the hottest mineral exploration districts in the world.
More than 150 mines have operated in the area since prospectors first arrived at the end of the 19th century. The region alone is endowed with minerals worth more than $800 billion.
How Green is B.C. Mining
Mining represents 7% of the province's Gross Domestic Product (GDP), despite only accounting for 0.04% of the land use. In comparison, farmland demands 3% of the land, bringing $2.1 billion (0.8%) per year.
| | Land Use in B.C. | Revenue (2022, CAD $) |
| --- | --- | --- |
| Mining | 0.04% | $18.0 billion |
| Oil & Gas | 0.4% | $9.5 billion |
| Infrastructure | 1% | $25.0 billion |
| Farmland | 3% | $2.1 billion |
| Forest | 62% | $13.3 billion |
Mining operations are also supported by a stable, transparent, and effective policy environment. The province ranked as the world's least risky for mining in 2017 and 2018.
In addition, mineral exploration has received ample support from local Indigenous communities. Today, mining accounts for over two-thirds of all indigenous people employed in the extractives sector.
According to the International Energy Agency, up to six times more minerals and metals will be needed by 2040 to accelerate the energy transition.
In this scenario, British Columbia is well positioned to support the transition to a low-carbon future and make a significant contribution to climate action.
The BCRMA is a strategic partnership between indigenous groups, industry, and government representatives that aims to promote B.C.'s mining opportunities internationally.
Mapped: The 10 Largest Undeveloped Silver Deposits in the World
Global silver demand is poised to soar in the next decade, driven by emerging technologies like EVs and solar power.
Ranked: The Largest Undeveloped Silver Deposits in the World
Global silver demand is poised to soar in the next decade, driven by emerging technologies like electric vehicles and solar power.
Silver demand from solar alone has grown from less than 50 million ounces (Moz) a decade ago to an expected 160 Moz in 2023.
So, where will the necessary supply come from to meet this surge? This graphic from Discovery Silver shows the largest undeveloped silver deposits in the world.
Silver in Green Technology
Silver is a vital part of solar cells. The metal is converted into paste and coated onto silicon wafers to make solar arrays.
When sunlight hits the silicon, silver helps to transport the generated electricity for immediate use or store it in batteries. A typical solar panel can contain as much as 20 grams of silver.
Silver's conductivity and corrosion resistance are vital in electronics, especially electric vehicles where nearly all electrical connections rely on the metal. Over 50 million ounces of silver are used every year to enhance conductivity in powered seats, windows, and other vehicle electronics.
In 2022, 27% of all silver consumption in the U.S. was attributed to electrical and electronics, while 10% was linked to solar technology.
Global Silver Demand Rising
With the increasing demand for new technologies combined with physical investment (bars) demand, the silver market saw a 237.7 Moz deficit in 2022, an all-time record.
2023 silver industrial demand is forecasted to rise by 4% to a new record high.
However, according to the Silver Institute, mined output is expected to decline over the next five years.
In this scenario, new mines are expected to play an important role in meeting the demand.
Currently, the world's top 10 undeveloped silver deposits contain 984 Moz. Discovery Silver's Cordero project in Mexico leads the ranking:
| Rank | Project | Owner | Country | Contained Silver Reserves (Moz) |
| --- | --- | --- | --- | --- |
| 1 | Cordero | Discovery Silver | Mexico | 266 |
| 2 | Corani | Bear Creek Mining Corporation | Peru | 229 |
| 3 | Prognoz | Polymetal International plc | Russia | 125 |
| 4 | Bowdens | Silver Mines Limited | Australia | 66 |
| 5 | Santa Ana | Formerly Bear Creek | Peru | 63 |
| 6 | Fuwan | Minco Silver Corporation | China | 55 |
| 7 | Nueva Esperanza | Kingsgate Consolidated Limited | Chile | 48 |
| 8 | Vares | Adriatic Metals PLC | Bosnia & Herzegovina | 47 |
| 9 | Terronera | Endeavour Silver Corp. | Mexico | 47 |
| 10 | Menkechka | GeoProMining Ltd. | Russia | 38 |
Cordero is located in Chihuahua State in Mexico, one of the world's most prolific silver producing regions.
Once in production, it is expected to become one of the top three silver mines in the world.
As silver demand is expected to soar, Discovery Silver offers direct investment exposure to this paradigm shift through its Cordero Project. Click here to learn more about Discovery Silver.