The World's Largest Nickel Mining Companies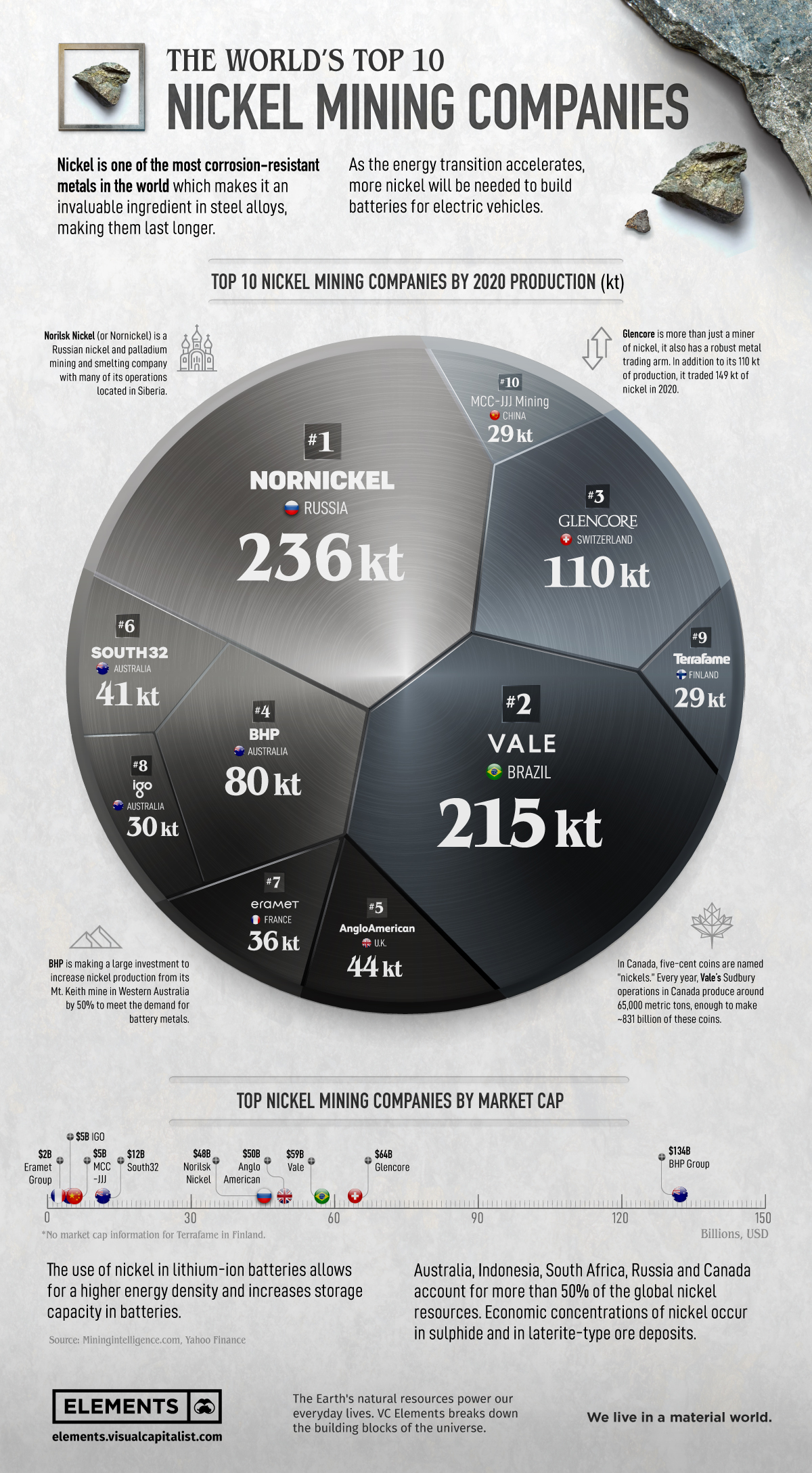 The World's Top 10 Nickel Mining Companies
As the world transitions towards electric vehicles and cleaner energy sources, nickel has emerged as an essential metal for this green revolution.
Needed for the manufacturing of electric vehicles, wind turbines, and nuclear power plants, nickel is also primarily used to make stainless steel alloys more resistant to corrosion and extreme temperatures.
Using data from Mining Intelligence, this graphic shows the top 10 companies by nickel production along with their market cap.
The Biggest Nickel Miners by Production in 2020
Nickel has long been an important mineral for batteries, plating, and steelmaking, but it was only recently added to the USGS's proposed critical minerals list.
As countries and industries realize the importance of nickel for the development of sustainable technologies, nickel mining companies will be at the forefront of supplying the world with the nickel it needs.
The 850 kt of nickel mined by the top 10 nickel mining companies is worth around $17.3B, with both production and price expected to grow alongside nickel demand.
| Company | Market Cap | Production |
| --- | --- | --- |
| Nornickel | $48B | 236.0 kt |
| Vale | $59B | 214.7 kt |
| Glencore | $64B | 110.2 kt |
| BHP | $134B | 80.0 kt |
| Anglo American | $50B | 44.0 kt |
| South32 | $12B | 41.0 kt |
| Eramet | $2B | 36.0 kt |
| IGO | $5B | 30.0 kt |
| Terrafame | n/a | 29.0 kt |
| MCC | $5B | 29.0 kt |
Source: Miningintelligence.com, Yahoo Finance
Nickel and palladium miner and smelter Nornickel leads the list with 236 kt of nickel produced in 2020, the majority coming from its Norilsk division of flagship assets in Russia.
With 46% of Nornickel's energy mix sourced from renewable power, the company is pushing the development of carbon neutral nickel, starting with reducing carbon dioxide emissions by 60,000-70,000 tons in 2022.
Vale follows closely behind in production and in its carbon footprint goals. The Brazil-based company's Long Harbour processing plant in Newfoundland and Labrador produces nickel with a carbon footprint about a third of the industry average–4.4 tonnes of CO2 equivalent per tonne of nickel compared to Nickel Institute's average of 13 tonnes of CO2 equivalent.
With the top two companies producing more than half of the nickel produced by the top 10 miners, their efforts in decarbonization will pave the way for the nickel mining industry.
The Need for Nickel in the Energy Transition
Alongside the decarbonization of the nickel mining process, nickel itself powers many of the technologies crucial to the energy transition. Vehicle electrification is highly dependent on nickel, with a single electric car requiring more than 87 pounds of nickel, making up almost 1/5th of all the metals required.
With a history of being used in nickel cadmium and nickel metal hydride batteries, nickel is now being increasingly used in lithium-ion batteries for its greater energy density and lower cost compared to cobalt. Alongside the increase in usage, not all nickel is suitable for lithium-ion battery production, as batteries require the rarer form of the metal's deposits known as nickel sulphides.
The more common form of the metal, nickel laterites, are still useful in forming the alloys that make up the frames and various gears of wind turbines.
Nickel is also essential to nuclear power plants, making up nearly a quarter of the metals needed per megawatt generated.
The Future of Nickel Mining and Processing
With nickel in such high demand for batteries and cleaner energy infrastructure, it's no wonder that global nickel demand is expected to outweigh supply by 2024. The scarcity of high grade nickel sulphide deposits and the carbon intensity to mine them has also incentivized the exploration of new methods of harvesting the metal.
Agro-mining uses plants known as hyperaccumulators to absorb metals found in the soil through their roots, resulting in their leaves containing up to 4% nickel in dry weight. These plants are then harvested and incinerated, with their ash processed to recover the nickel "bio-ore".
Along with providing us with metals like nickel, lead, and cobalt through a less energy intensive process, agro-mining also helps decontaminate polluted soil.
While new processes like agro-mining won't replace traditional mining, they'll be a helpful step forward in closing the future nickel supply gap while helping reduce the carbon footprint of the nickel processing industry.
Visualizing China's Dominance in Battery Manufacturing (2022-2027P)
This infographic breaks down battery manufacturing capacity by country in 2022 and 2027.
Visualizing China's Dominance in Battery Manufacturing
With the world gearing up for the electric vehicle era, battery manufacturing has become a priority for many nations, including the United States.
However, having entered the race for batteries early, China is far and away in the lead.
Using the data and projections behind BloombergNEF's lithium-ion supply chain rankings, this infographic visualizes battery manufacturing capacity by country in 2022 and 2027p, highlighting the extent of China's battery dominance.
Battery Manufacturing Capacity by Country in 2022
In 2022, China had more battery production capacity than the rest of the world combined.
Rank
Country
2022 Battery Cell
Manufacturing Capacity, GWh
% of Total
#1
🇨🇳 China
893
77%
#2
🇵🇱 Poland
73
6%
#3
🇺🇸 U.S.
70
6%
#4
🇭🇺 Hungary
38
3%
#5
🇩🇪 Germany
31
3%
#6
🇸🇪 Sweden
16
1%
#7
🇰🇷 South Korea
15
1%
#8
🇯🇵 Japan
12
1%
#9
🇫🇷 France
6
1%
#10
🇮🇳 India
3
0.2%
🌍 Other
7
1%
Total
1,163
100%
With nearly 900 gigawatt-hours of manufacturing capacity or 77% of the global total, China is home to six of the world's 10 biggest battery makers. Behind China's battery dominance is its vertical integration across the rest of the EV supply chain, from mining the metals to producing the EVs. It's also the largest EV market, accounting for 52% of global sales in 2021.
Poland ranks second with less than one-tenth of China's capacity. In addition, it hosts LG Energy Solution's Wroclaw gigafactory, the largest of its kind in Europe and one of the largest in the world. Overall, European countries (including non-EU members) made up just 14% of global battery manufacturing capacity in 2022.
Although it lives in China's shadow when it comes to batteries, the U.S. is also among the world's lithium-ion powerhouses. As of 2022, it had eight major operational battery factories, concentrated in the Midwest and the South.
China's Near-Monopoly Continues Through 2027
Global lithium-ion manufacturing capacity is projected to increase eightfold in the next five years. Here are the top 10 countries by projected battery production capacity in 2027:
Rank
Country
2027P Battery Cell
Manufacturing Capacity, GWh
% of Total
#1
🇨🇳 China
6,197
69%
#2
🇺🇸 U.S.
908
10%
#3
🇩🇪 Germany
503
6%
#4
🇭🇺 Hungary
194
2%
#5
🇸🇪 Sweden
135
2%
#6
🇵🇱 Poland
112
1%
#7
🇨🇦 Canada
106
1%
#8
🇪🇸 Spain
98
1%
#9
🇫🇷 France
89
1%
#10
🇲🇽 Mexico
80
1%
🌍 Other
523
6%
Total
8,945
100%
China's well-established advantage is set to continue through 2027, with 69% of the world's battery manufacturing capacity.
Meanwhile, the U.S. is projected to increase its capacity by more than 10-fold in the next five years. EV tax credits in the Inflation Reduction Act are likely to incentivize battery manufacturing by rewarding EVs made with domestic materials. Alongside Ford and General Motors, Asian companies including Toyota, SK Innovation, and LG Energy Solution have all announced investments in U.S. battery manufacturing in recent months.
Europe will host six of the projected top 10 countries for battery production in 2027. Europe's current and future battery plants come from a mix of domestic and foreign firms, including Germany's Volkswagen, China's CATL, and South Korea's SK Innovation.
Can Countries Cut Ties With China?
Regardless of the growth in North America and Europe, China's dominance is unmatched.
Battery manufacturing is just one piece of the puzzle, albeit a major one. Most of the parts and metals that make up a battery—like battery-grade lithium, electrolytes, separators, cathodes, and anodes—are primarily made in China.
Therefore, combating China's dominance will be expensive. According to Bloomberg, the U.S. and Europe will have to invest $87 billion and $102 billion, respectively, to meet domestic battery demand with fully local supply chains by 2030.
Visualizing 25 Years of Lithium Production, by Country
Lithium production has grown exponentially over the last few decades. Which countries produce the most lithium, and how has this mix evolved?
Lithium Production by Country (1995-2021)
Lithium is often dubbed as "white gold" for electric vehicles.
The lightweight metal plays a key role in the cathodes of all types of lithium-ion batteries that power EVs. Accordingly, the recent rise in EV adoption has sent lithium production to new highs.
The above infographic charts more than 25 years of lithium production by country from 1995 to 2021, based on data from BP's Statistical Review of World Energy.
The Largest Lithium Producers Over Time
In the 1990s, the U.S. was the largest producer of lithium, in stark contrast to the present.
In fact, the U.S. accounted for over one-third of global lithium production in 1995. From then onwards until 2010, Chile took over as the biggest producer with a production boom in the Salar de Atacama, one of the world's richest lithium brine deposits.
Global lithium production surpassed 100,000 tonnes for the first time in 2021, quadrupling from 2010. What's more, roughly 90% of it came from just three countries.
| Rank | Country | 2021 Production (tonnes) | % of Total |
| --- | --- | --- | --- |
| #1 | Australia 🇦🇺 | 55,416 | 52% |
| #2 | Chile 🇨🇱 | 26,000 | 25% |
| #3 | China 🇨🇳 | 14,000 | 13% |
| #4 | Argentina 🇦🇷 | 5,967 | 6% |
| #5 | Brazil 🇧🇷 | 1,500 | 1% |
| #6 | Zimbabwe 🇿🇼 | 1,200 | 1% |
| #7 | Portugal 🇵🇹 | 900 | 1% |
| #8 | United States 🇺🇸 | 900 | 1% |
| | Rest of World 🌍 | 102 | 0.1% |
| | Total | 105,984 | 100% |
Australia alone produces 52% of the world's lithium. Unlike Chile, where lithium is extracted from brines, Australian lithium comes from hard-rock mines for the mineral spodumene.
China, the third-largest producer, has a strong foothold in the lithium supply chain. Alongside developing domestic mines, Chinese companies have acquired around $5.6 billion worth of lithium assets in countries like Chile, Canada, and Australia over the last decade. It also hosts 60% of the world's lithium refining capacity for batteries.
Batteries have been one of the primary drivers of the exponential increase in lithium production. But how much lithium do batteries use, and how much goes into other uses?
What is Lithium Used For?
While lithium is best known for its role in rechargeable batteries—and rightly so—it has many other important uses.
Before EVs and lithium-ion batteries transformed the demand for lithium, the metal's end-uses looked completely different as compared to today.
| End-use | Lithium Consumption 2010 (%) | Lithium Consumption 2021 (%) |
| --- | --- | --- |
| Batteries | 23% | 74% |
| Ceramics and glass | 31% | 14% |
| Lubricating greases | 10% | 3% |
| Air treatment | 5% | 1% |
| Continuous casting | 4% | 2% |
| Other | 27% | 6% |
| Total | 100% | 100% |
In 2010, ceramics and glass accounted for the largest share of lithium consumption at 31%. In ceramics and glassware, lithium carbonate increases strength and reduces thermal expansion, which is often essential for modern glass-ceramic cooktops.
Lithium is also used to make lubricant greases for the transport, steel, and aviation industries, along with other lesser-known uses.
The Future of Lithium Production
As the world produces more batteries and EVs, the demand for lithium is projected to reach 1.5 million tonnes of lithium carbonate equivalent (LCE) by 2025 and over 3 million tonnes by 2030.
For context, the world produced 540,000 tonnes of LCE in 2021. Based on the above demand projections, production needs to triple by 2025 and increase nearly six-fold by 2030.
Although supply has been on an exponential growth trajectory, it can take anywhere from six to more than 15 years for new lithium projects to come online. As a result, the lithium market is projected to be in a deficit for the next few years.