The World's Largest Nickel Mining Companies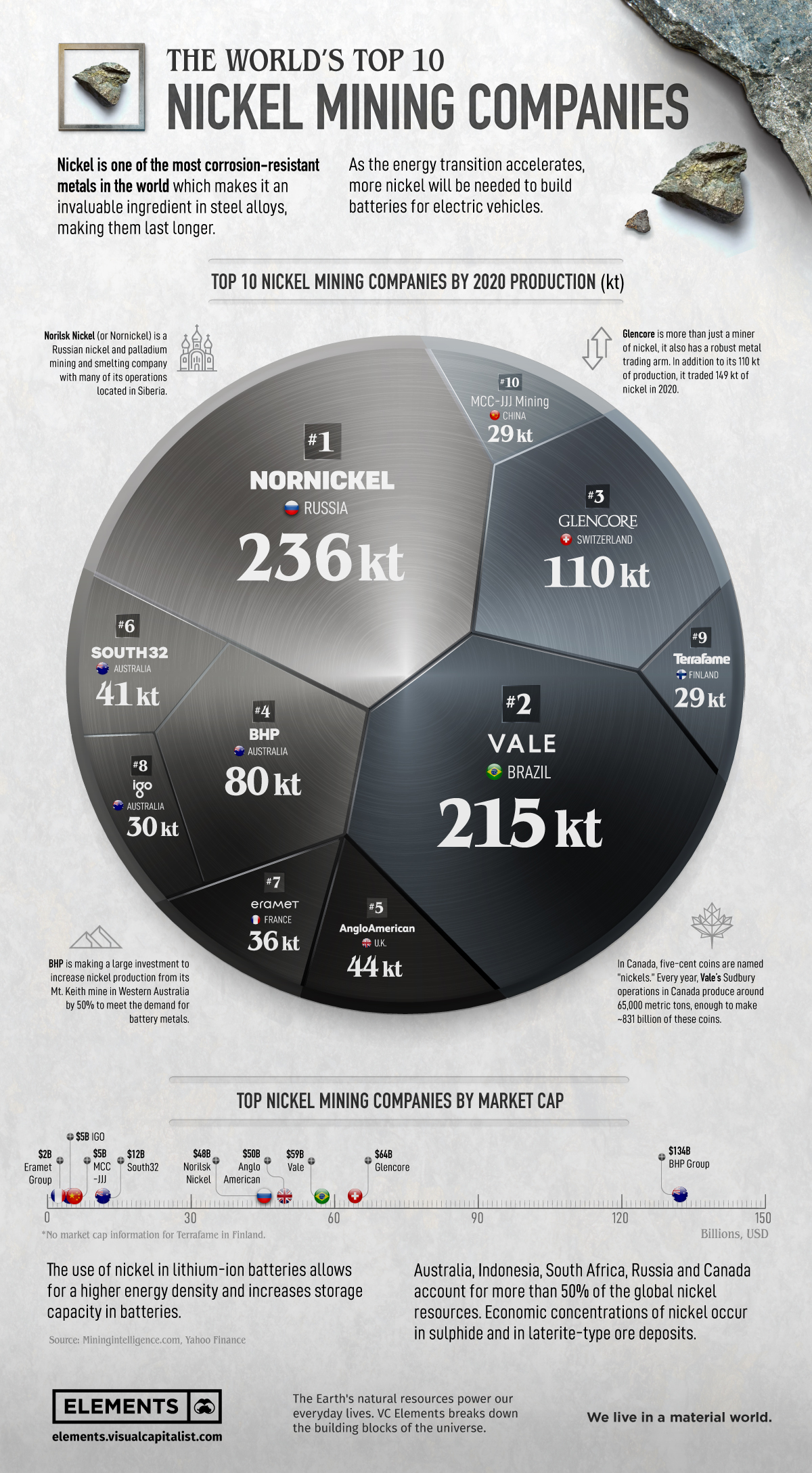 The World's Top 10 Nickel Mining Companies
As the world transitions towards electric vehicles and cleaner energy sources, nickel has emerged as an essential metal for this green revolution.
Needed for the manufacturing of electric vehicles, wind turbines, and nuclear power plants, nickel is also primarily used to make stainless steel alloys more resistant to corrosion and extreme temperatures.
Using data from Mining Intelligence, this graphic shows the top 10 companies by nickel production along with their market cap.
The Biggest Nickel Miners by Production in 2020
Nickel has long been an important mineral for batteries, plating, and steelmaking, but it was only recently added to the USGS's proposed critical minerals list.
As countries and industries realize the importance of nickel for the development of sustainable technologies, nickel mining companies will be at the forefront of supplying the world with the nickel it needs.
The 850 kt of nickel mined by the top 10 nickel mining companies is worth around $17.3B, with both production and price expected to grow alongside nickel demand.
| Company | Market Cap | Production |
| --- | --- | --- |
| Nornickel | $48B | 236.0 kt |
| Vale | $59B | 214.7 kt |
| Glencore | $64B | 110.2 kt |
| BHP | $134B | 80.0 kt |
| Anglo American | $50B | 44.0 kt |
| South32 | $12B | 41.0 kt |
| Eramet | $2B | 36.0 kt |
| IGO | $5B | 30.0 kt |
| Terrafame | n/a | 29.0 kt |
| MCC | $5B | 29.0 kt |
Source: Miningintelligence.com, Yahoo Finance
Nickel and palladium miner and smelter Nornickel leads the list with 236 kt of nickel produced in 2020, the majority coming from its Norilsk division of flagship assets in Russia.
With 46% of Nornickel's energy mix sourced from renewable power, the company is pushing the development of carbon neutral nickel, starting with reducing carbon dioxide emissions by 60,000-70,000 tons in 2022.
Vale follows closely behind in production and in its carbon footprint goals. The Brazil-based company's Long Harbour processing plant in Newfoundland and Labrador produces nickel with a carbon footprint about a third of the industry average–4.4 tonnes of CO2 equivalent per tonne of nickel compared to Nickel Institute's average of 13 tonnes of CO2 equivalent.
With the top two companies producing more than half of the nickel produced by the top 10 miners, their efforts in decarbonization will pave the way for the nickel mining industry.
The Need for Nickel in the Energy Transition
Alongside the decarbonization of the nickel mining process, nickel itself powers many of the technologies crucial to the energy transition. Vehicle electrification is highly dependent on nickel, with a single electric car requiring more than 87 pounds of nickel, making up almost 1/5th of all the metals required.
With a history of being used in nickel cadmium and nickel metal hydride batteries, nickel is now being increasingly used in lithium-ion batteries for its greater energy density and lower cost compared to cobalt. Alongside the increase in usage, not all nickel is suitable for lithium-ion battery production, as batteries require the rarer form of the metal's deposits known as nickel sulphides.
The more common form of the metal, nickel laterites, are still useful in forming the alloys that make up the frames and various gears of wind turbines.
Nickel is also essential to nuclear power plants, making up nearly a quarter of the metals needed per megawatt generated.
The Future of Nickel Mining and Processing
With nickel in such high demand for batteries and cleaner energy infrastructure, it's no wonder that global nickel demand is expected to outweigh supply by 2024. The scarcity of high grade nickel sulphide deposits and the carbon intensity to mine them has also incentivized the exploration of new methods of harvesting the metal.
Agro-mining uses plants known as hyperaccumulators to absorb metals found in the soil through their roots, resulting in their leaves containing up to 4% nickel in dry weight. These plants are then harvested and incinerated, with their ash processed to recover the nickel "bio-ore".
Along with providing us with metals like nickel, lead, and cobalt through a less energy intensive process, agro-mining also helps decontaminate polluted soil.
While new processes like agro-mining won't replace traditional mining, they'll be a helpful step forward in closing the future nickel supply gap while helping reduce the carbon footprint of the nickel processing industry.
Visualizing the World's Largest Copper Producers
Many new technologies critical to the energy transition rely on copper. Here are the world's largest copper producers.
Visualizing the World's Largest Copper Producers
Man has relied on copper since prehistoric times. It is a major industrial metal with many applications due to its high ductility, malleability, and electrical conductivity.
Many new technologies critical to fighting climate change, like solar panels and wind turbines, rely on the red metal.
But where does the copper we use come from? Using the U.S. Geological Survey's data, the above infographic lists the world's largest copper producing countries in 2021.
The Countries Producing the World's Copper
Many everyday products depend on minerals, including mobile phones, laptops, homes, and automobiles. Incredibly, every American requires 12 pounds of copper each year to maintain their standard of living.
North, South, and Central America dominate copper production, as these regions collectively host 15 of the 20 largest copper mines.
Chile is the top copper producer in the world, with 27% of global copper production. In addition, the country is home to the two largest mines in the world, Escondida and Collahuasi.
Chile is followed by another South American country, Peru, responsible for 10% of global production.
| Rank | Country | 2021E Copper Production (Million tonnes) | Share |
| --- | --- | --- | --- |
| #1 | 🇨🇱 Chile | 5.6 | 27% |
| #2 | 🇵🇪 Peru | 2.2 | 10% |
| #3 | 🇨🇳 China | 1.8 | 8% |
| #4 | 🇨🇩 DRC | 1.8 | 8% |
| #5 | 🇺🇸 United States | 1.2 | 6% |
| #6 | 🇦🇺 Australia | 0.9 | 4% |
| #7 | 🇷🇺 Russia | 0.8 | 4% |
| #8 | 🇿🇲 Zambia | 0.8 | 4% |
| #9 | 🇮🇩 Indonesia | 0.8 | 4% |
| #10 | 🇲🇽 Mexico | 0.7 | 3% |
| #11 | 🇨🇦 Canada | 0.6 | 3% |
| #12 | 🇰🇿 Kazakhstan | 0.5 | 2% |
| #13 | 🇵🇱 Poland | 0.4 | 2% |
| | 🌍 Other countries | 2.8 | 13% |
| | 🌐 World total | 21.0 | 100% |
The Democratic Republic of Congo (DRC) and China share third place, with 8% of global production each. Along with being a top producer, China also consumes 54% of the world's refined copper.
Copper's Role in the Green Economy
Technologies critical to the energy transition, such as EVs, batteries, solar panels, and wind turbines require much more copper than conventional fossil fuel based counterparts.
For example, copper usage in EVs is up to four times more than in conventional cars. According to the Copper Alliance, renewable energy systems can require up to 12x more copper compared to traditional energy systems.
| Technology | 2020 Installed Capacity (megawatts) | Copper Content (2020, tonnes) | 2050p Installed Capacity (megawatts) | Copper Content (2050p, tonnes) |
| --- | --- | --- | --- | --- |
| Solar PV | 126,735 MW | 633,675 | 372,000 MW | 1,860,000 |
| Onshore Wind | 105,015 MW | 451,565 | 202,000 MW | 868,600 |
| Offshore Wind | 6,013 MW | 57,725 | 45,000 MW | 432,000 |
With these technologies' rapid and large-scale deployment, copper demand from the energy transition is expected to increase by nearly 600% by 2030.
As the transition to renewable energy and electrification speeds up, so will the pressure for more copper mines to come online.
Visualizing the World's Largest Hydroelectric Dams
Hydroelectric dams generate 40% of the world's renewable energy, the largest of any type. View this infographic to learn more.
Visualizing the World's Largest Hydroelectric Dams
Did you know that hydroelectricity is the world's biggest source of renewable energy? According to recent figures from the International Renewable Energy Agency (IRENA), it represents 40% of total capacity, ahead of solar (28%) and wind (27%).
This type of energy is generated by hydroelectric power stations, which are essentially large dams that use the water flow to spin a turbine. They can also serve secondary functions such as flow monitoring and flood control.
To help you learn more about hydropower, we've visualized the five largest hydroelectric dams in the world, ranked by their maximum output.
Overview of the Data
The following table lists key information about the five dams shown in this graphic, as of 2021. Installed capacity is the maximum amount of power that a plant can generate under full load.
Country
Dam
River
Installed Capacity
(gigawatts)
Dimensions
(meters)
🇨🇳 China
Three Gorges Dam
Yangtze River
22.5
181 x 2,335
🇧🇷 Brazil / 🇵🇾 Paraguay
Itaipu Dam
Parana River
14.0
196 x 7,919
🇨🇳 China
Xiluodu Dam
Jinsha River
13.9
286 x 700
🇧🇷 Brazil
Belo Monte Dam
Xingu River
11.2
90 X 3,545
🇻🇪 Venezuela
Guri Dam
Caroni River
10.2
162 x 7,426
At the top of the list is China's Three Gorges Dam, which opened in 2003. It has an installed capacity of 22.5 gigawatts (GW), which is close to double the second-place Itaipu Dam.
In terms of annual output, the Itaipu Dam actually produces about the same amount of electricity. This is because the Parana River has a low seasonal variance, meaning the flow rate changes very little throughout the year. On the other hand, the Yangtze River has a significant drop in flow for several months of the year.
For a point of comparison, here is the installed capacity of the world's three largest solar power plants, also as of 2021:
Bhadla Solar Park, India: 2.2 GW
Hainan Solar Park, China: 2.2 GW
Pavagada Solar Park, India: 2.1 GW
Compared to our largest dams, solar plants have a much lower installed capacity. However, in terms of cost (cents per kilowatt-hour), the two are actually quite even.
Closer Look: Three Gorges Dam
The Three Gorges Dam is an engineering marvel, costing over $32 billion to construct. To wrap your head around its massive scale, consider the following facts:
The Three Gorges Reservoir (which feeds the dam) contains 39 trillion kg of water (42 billion tons)
In terms of area, the reservoir spans 400 square miles (1,045 square km)
The mass of this reservoir is large enough to slow the Earth's rotation by 0.06 microseconds
Of course, any man-made structure this large is bound to have a profound impact on the environment. In a 2010 study, it was found that the dam has triggered over 3,000 earthquakes and landslides since 2003.
The Consequences of Hydroelectric Dams
While hydropower can be cost-effective, there are some legitimate concerns about its long-term sustainability.
For starters, hydroelectric dams require large upstream reservoirs to ensure a consistent supply of water. Flooding new areas of land can disrupt wildlife, degrade water quality, and even cause natural disasters like earthquakes.
Dams can also disrupt the natural flow of rivers. Other studies have found that millions of people living downstream from large dams suffer from food insecurity and flooding.
Whereas the benefits have generally been delivered to urban centers or industrial-scale agricultural developments, river-dependent populations located downstream of dams have experienced a difficult upheaval of their livelihoods.
– Richter, B.D. et al. (2010)
Perhaps the greatest risk to hydropower is climate change itself. For example, due to the rising frequency of droughts, hydroelectric dams in places like California are becoming significantly less economical.