Rare Earth Elements: Where in the World Are They?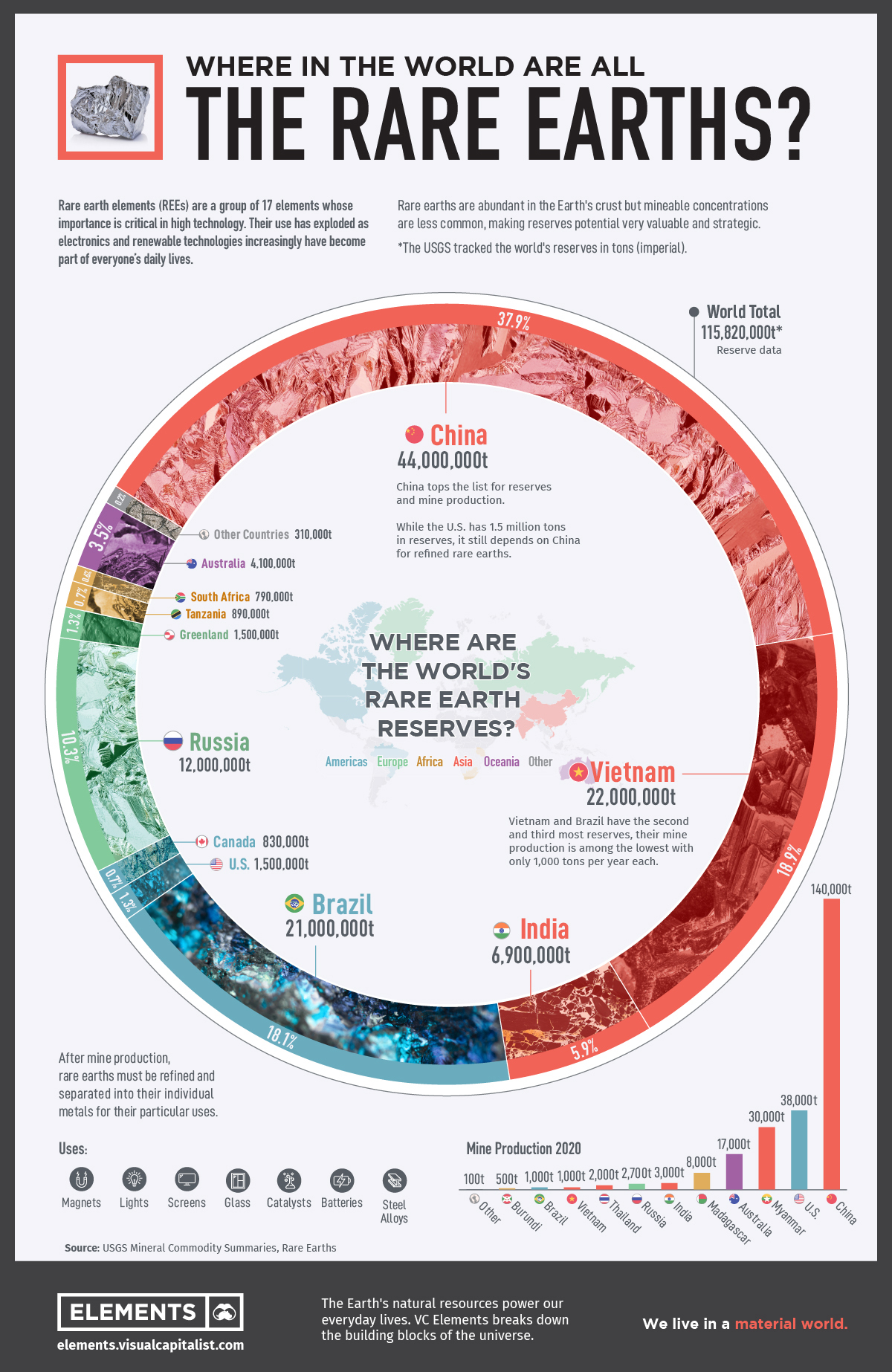 Rare Earths Elements: Where in the World Are They?
Rare earth elements are a group of metals that are critical ingredients for a greener economy, and the location of the reserves for mining are increasingly important and valuable.
This infographic features data from the United States Geological Society (USGS) which reveals the countries with the largest known reserves of rare earth elements (REEs).
What are Rare Earth Metals?
REEs, also called rare earth metals or rare earth oxides, or lanthanides, are a set of 17 silvery-white soft heavy metals.
The 17 rare earth elements are: lanthanum (La), cerium (Ce), praseodymium (Pr), neodymium (Nd), promethium (Pm), samarium (Sm), europium (Eu), gadolinium (Gd), terbium (Tb), dysprosium (Dy), holmium (Ho), erbium (Er), thulium (Tm), ytterbium (Yb), lutetium (Lu), scandium (Sc), and yttrium (Y).
Scandium and yttrium are not part of the lanthanide family, but end users include them because they occur in the same mineral deposits as the lanthanides and have similar chemical properties.
The term "rare earth" is a misnomer as rare earth metals are actually abundant in the Earth's crust. However, they are rarely found in large, concentrated deposits on their own, but rather among other elements instead.
Rare Earth Elements, How Do They Work?
Most rare earth elements find their uses as catalysts and magnets in traditional and low-carbon technologies. Other important uses of rare earth elements are in the production of special metal alloys, glass, and high-performance electronics.
Alloys of neodymium (Nd) and samarium (Sm) can be used to create strong magnets that withstand high temperatures, making them ideal for a wide variety of mission critical electronics and defense applications.
| End-use | % of 2019 Rare Earth Demand |
| --- | --- |
| Permanent Magnets | 38% |
| Catalysts | 23% |
| Glass Polishing Powder and Additives | 13% |
| Metallurgy and Alloys | 8% |
| Battery Alloys | 9% |
| Ceramics, Pigments and Glazes | 5% |
| Phosphors | 3% |
| Other | 4% |
| | |
Source
The strongest known magnet is an alloy of neodymium with iron and boron. Adding other REEs such as dysprosium and praseodymium can change the performance and properties of magnets.
Hybrid and electric vehicle engines, generators in wind turbines, hard disks, portable electronics and cell phones require these magnets and elements. This role in technology makes their mining and refinement a point of concern for many nations.
For example, one megawatt of wind energy capacity requires 171 kg of rare earths, a single U.S. F-35 fighter jet requires about 427 kg of rare earths, and a Virginia-class nuclear submarine uses nearly 4.2 tonnes.
Global Reserves of Rare Earth Minerals
China tops the list for mine production and reserves of rare earth elements, with 44 million tons in reserves and 140,000 tons of annual mine production.
While Vietnam and Brazil have the second and third most reserves of rare earth metals with 22 million tons in reserves and 21 million tons, respectively, their mine production is among the lowest of all the countries at only 1,000 tons per year each.
| Country | Mine Production 2020 | Reserves | % of Total Reserves |
| --- | --- | --- | --- |
| China | 140,000 | 44,000,000 | 38.0% |
| Vietnam | 1,000 | 22,000,000 | 19.0% |
| Brazil | 1,000 | 21,000,000 | 18.1% |
| Russia | 2,700 | 12,000,000 | 10.4% |
| India | 3,000 | 6,900,000 | 6.0% |
| Australia | 17,000 | 4,100,000 | 3.5% |
| United States | 38,000 | 1,500,000 | 1.3% |
| Greenland | - | 1,500,000 | 1.3% |
| Tanzania | - | 890,000 | 0.8% |
| Canada | - | 830,000 | 0.7% |
| South Africa | - | 790,000 | 0.7% |
| Other Countries | 100 | 310,000 | 0.3% |
| Burma | 30,000 | N/A | N/A |
| Madagascar | 8,000 | N/A | N/A |
| Thailand | 2,000 | N/A | N/A |
| Burundi | 500 | N/A | N/A |
| World Total | 243,300 | 115,820,000 | 100% |
While the United States has 1.5 million tons in reserves, it is largely dependent on imports from China for refined rare earths.
Ensuring a Global Supply
In the rare earth industry, China's dominance</a > has been no accident. Years of research and industrial policy helped the nation develop a superior position in the market, and now the country has the ability to control production and the global availability of these valuable metals.
This tight control of the supply of these important metals has the world searching for their own supplies. With the start of mining operations in other countries, China's share of global production has fallen from 92% in 2010 to 58%< in 2020. However, China has a strong foothold in the supply chain and produced 85% of the world's refined rare earths in 2020.
China awards production quotas to only six state-run companies:
China Minmetals Rare Earth Co
Chinalco Rare Earth & Metals Co
Guangdong Rising Nonferrous
China Northern Rare Earth Group
China Southern Rare Earth Group
Xiamen Tungsten
As the demand for REEs increases, the world will need tap these reserves. This graphic could provide clues as to the next source of rare earth elements.
Mapped: Nuclear Reactors in the U.S.
America has 92 reactors in operation, providing about 20% of the country's electricity.
Mapped: Nuclear Reactors in the U.S.
The United States is the world's largest producer of nuclear power, representing more than 30% of the world's nuclear power generation.
America has 92 reactors in operation, providing about 20% of the country's electricity.
The above infographic uses data from the International Atomic Energy Agency to showcase every single nuclear reactor in America.
Nuclear Development
Nuclear power in the U.S. dates back to the 1950s.
George Westinghouse produced the first commercial pressurized water reactor in 1957 in Shippingport, Pennsylvania. The technology is used in approximately half of the 450 nuclear power reactors worldwide.
Today, over 30 different power companies across 30 states operate nuclear facilities in the U.S., and most nuclear power reactors are located east of the Mississippi River.
Illinois has more reactors than any state, with 11 reactors and the largest total nuclear electricity generation capacity at about 11,582 megawatts (MW). Meanwhile, the largest reactor is at the Grand Gulf Nuclear Station in Port Gibson, Mississippi, with a capacity of about 1,500 MW.
Most American reactors in operation were built between 1967 and 1990. Until 2013 there had been no new constructions started since 1977, according to the World Nuclear Association.
Usually, U.S. power reactors receive a license to operate for 60 years. The oldest operating reactor, Nine Mile Point Unit 1 in New York, began commercial operation in December 1969. The newest reactor to enter service, Watts Bar Unit 2, came online in 2016.
The Future of Nuclear Power in the U.S.
U.S. nuclear power's capacity peaked in 2012 at about 102,000 MW, with 104 operating nuclear reactors operating.
Since nuclear plants generate nearly 20% of U.S. electricity and about half of the country's carbon‐free electricity, the recent push from the Biden administration to reduce fossil fuels and increase clean energy will require significant new nuclear capacity.
Today, there are two new reactors under construction (Vogtle 3 and 4) in Georgia, expected to come online before 2023.
Furthermore, some of the Inflation Reduction Act provisions include incentives for the nuclear industry. Starting in 2024, for example, utilities will be able to get a credit of $15 per megawatt-hour for electricity produced by existing nuclear plants. Nuclear infrastructure projects could also be eligible for up to $250 billion worth of loans to update, repurpose, and revitalize energy infrastructure that has stopped working.
What is the Cost of Europe's Energy Crisis?
As European gas prices soar, countries are introducing policies to try and curb the energy crisis.
What is the Cost of Europe's Energy Crisis?
Europe is scrambling to cut its reliance on Russian fossil fuels.
As European gas prices soar eight times their 10-year average, countries are introducing policies to curb the impact of rising prices on households and businesses. These include everything from the cost of living subsidies to wholesale price regulation. Overall, funding for such initiatives has reached $276 billion as of August.
With the continent thrown into uncertainty, the above chart shows allocated funding by country in response to the energy crisis.
The Energy Crisis, In Numbers
Using data from Bruegel, the below table reflects spending on national policies, regulation, and subsidies in response to the energy crisis for select European countries between September 2021 and July 2022. All figures in U.S. dollars.
Country
Allocated Funding
Percentage of GDP
Household Energy Spending,
Average Percentage
🇩🇪 Germany
$60.2B
1.7%
9.9%
🇮🇹 Italy
$49.5B
2.8%
10.3%
🇫🇷 France
$44.7B
1.8%
8.5%
🇬🇧 U.K.
$37.9B
1.4%
11.3%
🇪🇸 Spain
$27.3B
2.3%
8.9%
🇦🇹 Austria
$9.1B
2.3%
8.9%
🇵🇱 Poland
$7.6B
1.3%
12.9%
🇬🇷 Greece
$6.8B
3.7%
9.9%
🇳🇱 Netherlands
$6.2B
0.7%
8.6%
🇨🇿 Czech Republic
$5.9B
2.5%
16.1%
🇧🇪 Belgium
$4.1B
0.8%
8.2%
🇷🇴 Romania
$3.8B
1.6%
12.5%
🇱🇹 Lithuania
$2.0B
3.6%
10.0%
🇸🇪 Sweden
$1.9B
0.4%
9.2%
🇫🇮 Finland
$1.2B
0.5%
6.1%
🇸🇰 Slovakia
$1.0B
1.0%
14.0%
🇮🇪 Ireland
$1.0B
0.2%
9.2%
🇧🇬 Bulgaria
$0.8B
1.2%
11.2%
🇱🇺 Luxembourg
$0.8B
1.1%
n/a
🇭🇷 Croatia
$0.6B
1.1%
14.3%
🇱🇻 Lativia
$0.5B
1.4%
11.6%
🇩🇰 Denmark
$0.5B
0.1%
8.2%
🇸🇮 Slovenia
$0.3B
0.5%
10.4%
🇲🇹 Malta
$0.2B
1.4%
n/a
🇪🇪 Estonia
$0.2B
0.8%
10.9%
🇨🇾 Cyprus
$0.1B
0.7%
n/a
Source: Bruegel, IMF. Euro and pound sterling exchange rates to U.S. dollar as of August 25, 2022.
Germany is spending over $60 billion to combat rising energy prices. Key measures include a $300 one-off energy allowance for workers, in addition to $147 million in funding for low-income families. Still, energy costs are forecasted to increase by an additional $500 this year for households.
In Italy, workers and pensioners will receive a $200 cost of living bonus. Additional measures, such as tax credits for industries with high energy usage were introduced, including a $800 million fund for the automotive sector.
With energy bills predicted to increase three-fold over the winter, households in the U.K. will receive a $477 subsidy in the winter to help cover electricity costs.
Meanwhile, many Eastern European countries—whose households spend a higher percentage of their income on energy costs— are spending more on the energy crisis as a percentage of GDP. Greece is spending the highest, at 3.7% of GDP.
Utility Bailouts
Energy crisis spending is also extending to massive utility bailouts.
Uniper, a German utility firm, received $15 billion in support, with the government acquiring a 30% stake in the company. It is one of the largest bailouts in the country's history. Since the initial bailout, Uniper has requested an additional $4 billion in funding.
Not only that, Wien Energie, Austria's largest energy company, received a €2 billion line of credit as electricity prices have skyrocketed.
Deepening Crisis
Is this the tip of the iceberg? To offset the impact of high gas prices, European ministers are discussing even more tools throughout September in response to a threatening energy crisis.
To reign in the impact of high gas prices on the price of power, European leaders are considering a price ceiling on Russian gas imports and temporary price caps on gas used for generating electricity, among others.
Price caps on renewables and nuclear were also suggested.
Given the depth of the situation, the chief executive of Shell said that the energy crisis in Europe would extend beyond this winter, if not for several years.