Explained: How Interest Rate Hikes Affect Gold's Price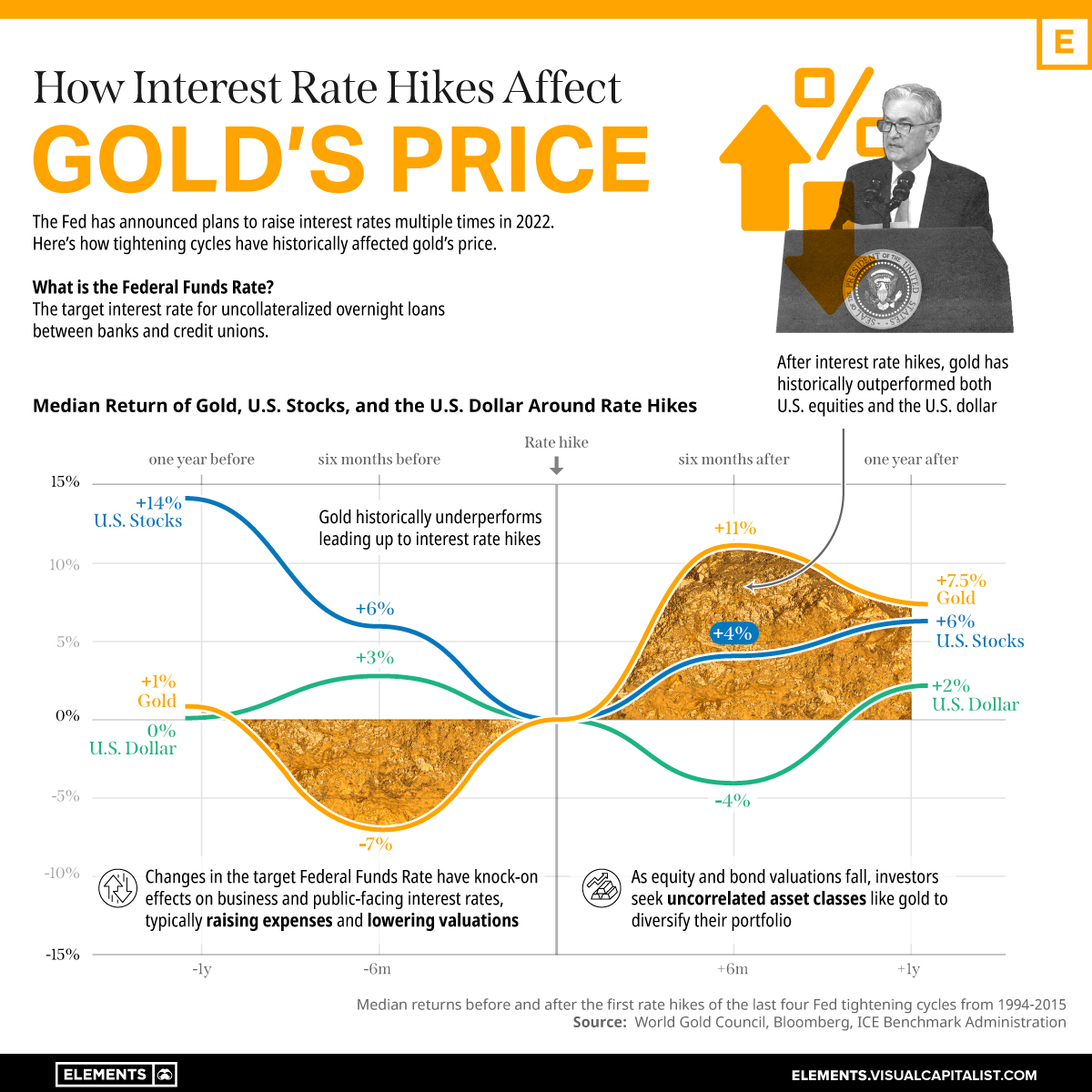 Explained: How Interest Rate Hikes Affect Gold's Price
Nearly every major market is affected by rate hikes from the U.S. Federal Reserve, and gold is no exception.
While rising interest rates bring macroeconomic headwinds for equity valuations, gold has had a special relationship with interest rates in recent hikes.
This graphic uses data from the World Gold Council to show how gold, U.S. stocks, and the U.S. dollar have historically performed around interest rate hikes.
What are Interest Rates?
The target federal funds rate, often referred to in media coverage more broadly as "interest rates," is a projected overnight lending rate for banks and credit unions set by the U.S. Federal Reserve.
Banks and credit unions need to hold a certain amount of cash reserves at the end of each day, so they lend and borrow from each other overnight to ensure they meet reserve requirements (or get some extra income by lending excess cash).
The target federal funds rate gives an interest rate range of 0.25% that banks and credit unions must be within when determining interest rates for these overnight loans.
When the Federal Reserve wants to curb excess spending and inflation, it raises interest rates and implements tighter monetary policy, marking the beginnings of a "tightening cycle." This goes on to have knock-on effects on nearly every business or public-facing interest rate, and in turn, nearly every asset.
How Do Assets Perform After Rate Hikes?
As rates rise during tightening cycles, holding onto and lending out cash becomes more profitable, often resulting in investors de-risking by selling assets like stocks and bonds.
During these times, investors also seek out uncorrelated assets that are uniquely connected to these macroeconomic factors, often turning to gold.
While gold underperforms compared to U.S. stocks and the dollar leading up to rate hikes, past tightening cycles saw gold hit new all-time highs in the 2000s.
| Median Asset Return Compared to Interest Rate Hikes | 1 Year Before | 6 Months Before | 6 Months After | 1 Year After |
| --- | --- | --- | --- | --- |
| Gold | +1% | -7% | +11% | +7.5% |
| U.S. Stocks | +14% | +6% | +4% | +6% |
| U.S. Dollar | 0% | +3% | -4% | +2% |
Source: World Gold Council
In December of 2015, Janet Yellen's first rate hike marked gold's bottom at $1,050 an ounce, right before the precious metal nearly doubled to all-time highs.
In the previous tightening cycle, which began with Alan Greenspan's interest rate hike in June of 2004, similarly marked a bottom for gold at $380 an ounce. After, gold's price rallied by 400% through both rising and falling interest rates, reaching just above $1,900 an ounce in 2011.
The upcoming tightening cycle in 2022 is expected to be aggressive, with Goldman Sachs raising their forecasted number of 25 basis point (0.25%) rate hikes this year from five to seven.
While gold's price has chopped around the $1,700–1,900 range for more than the past year, the start of this new tightening cycle could be the catalyst that spurs the next gold bull run.
Mapped: The 10 Largest Gold Mines in the World, by Production
Where in the world are the largest gold mines?
The 10 Largest Gold Mines in the World, by Production
Gold mining is a global business, with hundreds of mining companies digging for the precious metal in dozens of countries.
But where exactly are the largest gold mines in the world?
The above infographic uses data compiled from S&P Global Market Intelligence and company reports to map the top 10 gold-producing mines in 2021.
Editor's Note: The article uses publicly available global production data from the World Gold Council to calculate the production share of each mine. The percentages slightly differ from those calculated by S&P.
The Top Gold Mines in 2021
The 10 largest gold mines are located across nine different countries in North America, Oceania, Africa, and Asia.
Together, they accounted for around 13 million ounces or 12% of global gold production in 2021.
| Rank | Mine | Location | Production (ounces) | % of global production |
| --- | --- | --- | --- | --- |
| #1 | Nevada Gold Mines | 🇺🇸 U.S. | 3,311,000 | 2.9% |
| #2 | Muruntau | 🇺🇿 Uzbekistan | 2,990,020 | 2.6% |
| #3 | Grasberg | 🇮🇩 Indonesia | 1,370,000 | 1.2% |
| #4 | Olimpiada | 🇷🇺 Russia | 1,184,068 | 1.0% |
| #5 | Pueblo Viejo | 🇩🇴 Dominican Republic | 814,000 | 0.7% |
| #6 | Kibali | 🇨🇩 Democratic Republic of the Congo | 812,000 | 0.7% |
| #7 | Cadia | 🇦🇺 Australia | 764,895 | 0.7% |
| #8 | Lihir | 🇵🇬 Papua New Guinea | 737,082 | 0.6% |
| #9 | Canadian Malartic | 🇨🇦 Canada | 714,784 | 0.6% |
| #10 | Boddington | 🇦🇺 Australia | 696,000 | 0.6% |
| N/A | Total | N/A | 13,393,849 | 11.7% |
Share of global gold production is based on 3,561 tonnes (114.5 million troy ounces) of 2021 production as per the World Gold Council.
In 2019, the world's two largest gold miners—Barrick Gold and Newmont Corporation—announced a historic joint venture combining their operations in Nevada. The resulting joint corporation, Nevada Gold Mines, is now the world's largest gold mining complex with six mines churning out over 3.3 million ounces annually.
Uzbekistan's state-owned Muruntau mine, one of the world's deepest open-pit operations, produced just under 3 million ounces, making it the second-largest gold mine. Muruntau represents over 80% of Uzbekistan's overall gold production.
Only two other mines—Grasberg and Olimpiada—produced more than 1 million ounces of gold in 2021. Grasberg is not only the third-largest gold mine but also one of the largest copper mines in the world. Olimpiada, owned by Russian gold mining giant Polyus, holds around 26 million ounces of gold reserves.
Polyus was also recently crowned the biggest miner in terms of gold reserves globally, holding over 104 million ounces of proven and probable gold between all deposits.
How Profitable is Gold Mining?
The price of gold is up by around 50% since 2016, and it's hovering near the all-time high of $2,000/oz.
That's good news for gold miners, who achieved record-high profit margins in 2020. For every ounce of gold produced in 2020, gold miners pocketed $828 on average, significantly higher than the previous high of $666/oz set in 2011.
With inflation rates hitting decade-highs in several countries, gold mining could be a sector to watch, especially given gold's status as a traditional inflation hedge.
Visualizing U.S. Crude Oil and Petroleum Product Imports in 2021
This visualization breaks down the countries from which the U.S. imported its crude oil and petroleum products in 2021.
U.S. Petroleum Product and Crude Oil Imports in 2021: Visualized
Energy independence is top of mind for many nations as Russia's invasion of Ukraine has prompted sanctions and bans against Russian coal and crude oil imports.
Despite being the world's largest oil producer, in 2021 the U.S. still imported more than 3 billion barrels of crude oil and petroleum products, equal to 43% of the country's consumption.
This visualization uses data from the Energy Information Administration (EIA) to compare U.S. crude oil and refined product imports with domestic crude oil production, and breaks down which countries the U.S. imported its oil from in 2021.
U.S. Crude Oil Imports, by Country
The U.S. imports more than 8 million barrels of petroleum products a day from other nations, making it the world's second-largest importer of crude oil behind China.
America's northern neighbor, Canada, is the largest source of petroleum imports at 1.58 billion barrels in 2021. These made up more than 51% of U.S. petroleum imports, and when counting only crude oil imports, Canada's share rises to 62%.
| Rank | Country | U.S. Oil Imports (2021, in barrels) | Share |
| --- | --- | --- | --- |
| #1 | 🇨🇦 Canada | 1,584 million | 51.3% |
| #2 | 🇲🇽 Mexico | 259 million | 8.4% |
| #3 | 🇷🇺 Russia | 254 million | 7.9% |
| #4 | 🇸🇦 Saudi Arabia | 156 million | 5.1% |
| #5 | 🇨🇴 Colombia | 74 million | 2.4% |
| #6 | 🇪🇨 Ecuador | 61 million | 2.0% |
| #7 | 🇮🇶 Iraq | 57 million | 1.9% |
| #8 | 🇧🇷 Brazil | 52 million | 1.7% |
| #9 | 🇰🇷 South Korea | 48 million | 1.6% |
| #10 | 🇳🇱 Netherlands | 46 million | 1.5% |
| #11 | 🇳🇬 Nigeria | 45 million | 1.5% |
| | Other countries | 459 million | 14.7% |
| | Total | 3,091 million | 100.0% |
The second-largest contributor to U.S. petroleum imports was another neighbor, Mexico, with 259 million barrels imported in 2021—making up a bit more than 8% of U.S. petroleum imports.
Russia was the third-largest exporter of crude oil and petroleum products to the U.S. in 2021, with their 254 million barrels accounting for almost 8% of total imports.
U.S. Crude Oil and Petroleum Imports from OPEC and OPEC+
Only about 11% of U.S. crude oil and petroleum product imports come from OPEC nations, with another 16.3% coming from OPEC+ members.
While imports from OPEC and OPEC+ members make up more than a quarter of America's total petroleum imports, this share is fairly small when considering OPEC members currently control nearly 80% of the world's oil reserves.
Which Countries are Part of OPEC and OPEC-Plus?
The Organization of Petroleum Exporting Countries (OPEC) is a group of 13 petroleum producing nations that formed in 1960 to provide steady prices and supply distribution of crude oil and petroleum products.
In 2016, OPEC-plus was formed with additional oil-exporting nations in order to better control global oil supply and markets in response to a deluge of U.S. shale supply hitting the markets at that time.
OPEC members:
🇮🇷 Iran*
🇮🇶 Iraq*
🇰🇼 Kuwait*
🇸🇦 Saudi Arabia*
🇻🇪 Venezuela*
🇩🇿 Algeria
🇦🇴 Angola
🇬🇶 Equatorial Guinea
🇬🇦 Gabon
🇱🇾 Libya
🇳🇬 Nigeria
🇨🇩 Republic of the Congo
🇦🇪 United Arab Emirates
* Founding members
OPEC+ members:
🇷🇺 Russia
🇲🇽 Mexico
🇰🇿 Kazakhstan
🇲🇾 Malaysia
🇦🇿 Azerbaijan
🇧🇭 Bahrain
🇧🇳 Brunei
🇴🇲 Oman
🇸🇩 Sudan
🇸🇸 South Sudan
Although OPEC and OPEC+ members supply a significant part of U.S. crude oil and petroleum imports, America has avoided overdependence on the group by instead building strong ties with neighboring exporters Canada and Mexico.
Crude Oil Imports Capitalize on U.S. Refineries
While the U.S. has been a net exporter of crude oil and petroleum products the past two years, exporting 3.15 billion barrels while importing 3.09 billion barrels in 2021, crude oil-only trade tells a different story.
In terms of just crude oil trade, the U.S. was a significant net importer, with 2.23 billion barrels of crude oil imports and only 1.08 billion barrels of crude oil exports. But with the U.S. being the world's largest crude oil producer, why is this?
As noted earlier, neighboring Canada makes up larger shares of U.S. crude oil imports compared to crude oil and petroleum product imports. Similarly, Mexico reaches 10% of America's crude oil imports when excluding petroleum products.
Maximizing imports from neighboring countries makes sense on multiple fronts for all parties due to lower transportation costs and risks, and it's no surprise Canada and Mexico are providing large shares of just crude oil as well. With such a large collection of oil refineries across the border, it's ultimately more cost-efficient for Canada and Mexico to tap into U.S. oil refining rather than refining domestically.
In turn, Mexico is the largest importer of U.S. produced gasoline and diesel fuel, and Canada is the third-largest importer of American-produced refined petroleum products.
Replacing Russian Crude Oil Imports
While Russia only makes up 8% of American petroleum product imports, their 254 million barrels will need to be replaced as both countries ceased trading soon after Russia's invasion of Ukraine.
In an effort to curb rising oil and gasoline prices, in March President Joe Biden announced the release of up to 180 million barrels from the U.S. Strategic Petroleum Reserves. Other IEA nations are also releasing emergency oil reserves in an attempt to curb rising prices at the pump and volatility in the oil market.
While the U.S. and the rest of the world are still managing the short-term solutions to this oil supply gap, the long-term solution is complex and has various moving parts. From ramping up domestic oil production to replacing oil demand with other cleaner energy solutions, oil trade and imports will remain a vital part of America's energy supply.