Visualizing Gold Investment Compared to Global Assets
How Gold Compares to Global Assets
Gold has been a vital asset for investors and speculators to hedge against uncertainty and currency devaluation, but today it is just a small part of the investment landscape.
While gold investment holdings stand at $1.1T, this figure is dwarfed by various other global assets and funds.
This graphic compares the size of gold investment holdings to global assets, highlighting the difference in dollars invested, and where modern day investors have (or haven't) been allocating their money.
Gold vs. Global Assets
Despite amounting to over $1 trillion dollars, gold investment holdings are a small fish in the large pond of major global assets.
Largely outsized by private equity funds, hedge funds, and more, gold has taken a backseat for today's investors when it comes to where they allocate their capital.
| Asset | Value |
| --- | --- |
| 2020 Gold Investment | $90.0B |
| Total Gold Investment Holdings | $1.1T |
| Top 10 Global Private Equity Funds | $1.9T |
| U.S. Hedge Funds | $3.1T |
| Sovereign Wealth Funds | $7.9T |
| 10 Largest Investment Banks | $32.3T |
| Global Pension Funds | $49.3T |
| 30 Largest U.S. Mutual Funds | $59.0T |
Sources: Mutualfunddirectory.org, Willis Towers, relbanks.com, swfininstitute.org, barclayhedge.com, investopedia.com, CPM, Incrementum AG
Even with 2020's large inflow of gold investment worth $90 billion, gold investment remains small on the scale of the world's financial assets.
With its fairly small market, around 90% of gold's global trading volume flows through three major exchanges, with the remaining volume coming from smaller OTC and secondary markets.
The Major Gold Exchanges Today
Although gold investment has been overtaken by other global assets, it still remains an important investment asset and has one of the most active markets in the world. Gold markets are split among three primary trading hubs which transact millions of dollars in volume every day.
London Metal Exchange (LME): Established in 1877, the LME offers futures contracts for metals including gold.
COMEX: A division of the Chicago Mercantile Exchange (CME) COMEX offers physically settled gold futures and options contracts.
Shanghai Futures Exchange (SHFE) and Shanghai Gold Exchange (SGE): While relatively young, these two exchanges have captured a large amount of gold trading volume, with the SGE being the largest purely physical gold spot exchange in the world.
Gold Exchange Trading Volumes
| Gold Exchange | FY 2020 Trading Volume |
| --- | --- |
| London Metal Exchange (LME) | $160M |
| COMEX | $54.4B |
| Shanghai Futures Exchange (SHFE) | $6.19B |
| Shanghai Gold Exchange (SGE) | $6.22B |
Source: World Gold Council
These three hubs and four exchanges host the majority of the world's gold trading, and saw ~$67B worth of gold trading volume in the fiscal year of 2020.
ETFs are Making Gold Investment Accessible
While the exchanges mentioned above transact millions of dollars worth of gold a day, gold-backed ETFs have made gold more accessible to the everyday investor. The top 3 U.S.-traded gold ETFs have more than $94B in assets under management between each other.
These ETFs offer investors one of the easiest ways to get gold exposure in their investment accounts, and see billions in flows every year.
Quarterly Gold ETF Flows
| Region | Q1 2020 | Q2 2020 | Q3 2020 | Q4 2020 | Q1 2021 | Q2 2021 |
| --- | --- | --- | --- | --- | --- | --- |
| North America | $6.8B | $18.2B | $11.8B | -$5B | -$8.1B | $1.1B |
| Europe | $8.1B | $4.4B | $3.4B | -$2.1B | -$2.4B | $1.6B |
| Asia | $0.7B | $0.5B | $1.2B | -$0.3B | $1B | -$0.1B |
| Other | $0.3B | $0.5B | $0.4B | -$0.3B | $0.1B | -$0.1B |
| Total | $15.9B | $23.6B | $16.8B | -$7.7B | -$9.4B | $2.5B |
Source: World Gold Council
Last year saw record inflows into gold ETFs, as investors sought a safe haven for their capital during the COVID-19 pandemic. However, gold ETFs have seen an overall outflow of $6.1B in 2021 so far, with North American gold ETFs seeing $402M in outflows just this July.
At the same time, European gold ETFs have seen a recent rise in inflows, highlighting a divergence in sentiment between the two regions. In the month of July, European gold ETFs saw $999M worth of inflows, with Asian gold ETFs also registering positive inflows of $54M.
Central Banks Still Believe in Gold's Future
While gold is not attracting immediate investment flow into ETFs, the world's central banks still maintain large amounts of their reserve assets in gold. While they primarily hold gold to hedge against currency depreciation and to diversify their reserves, gold has proved an incredibly valuable investment for central banks over the decades.
Some central banks like the U.S., Germany, and Italy, have more than 50% of their reserves' dollar value in gold, showing truly how much they value the precious metal.
With the world's central banks holding around $1.69T worth of gold in their reserves currently, gold remains an essential investment for both big and small players alike.
Visualizing Mining's Footprint in British Columbia
Mining represents 7% of British Columbia's GDP despite only accounting for 0.04% of the land use.
Visualizing Mining's Footprint in British Columbia
British Columbia is considered a global leader in the development of socially and environmentally responsible resources.
An estimated 54% of the province's total land is protected, making it one of the world's greenest mining hubs.
This graphic by the B.C. Regional Mining Alliance (BCRMA) details mining's footprint in the province.
A Tier 1 Jurisdiction for Mining
British Columbia covers almost 95 million hectares (234 million acres), more than any European country except Russia, and more than any U.S. state except Alaska.
As the largest mining province in Canada, BC registered $18 billion in revenue from the industry in 2022.
British Columbia stands as Canada's sole producer of molybdenum, which finds applications in metallurgy and chemistry. Additionally, B.C. is the country's leader producer of copper and steelmaking coal, besides gold and silver.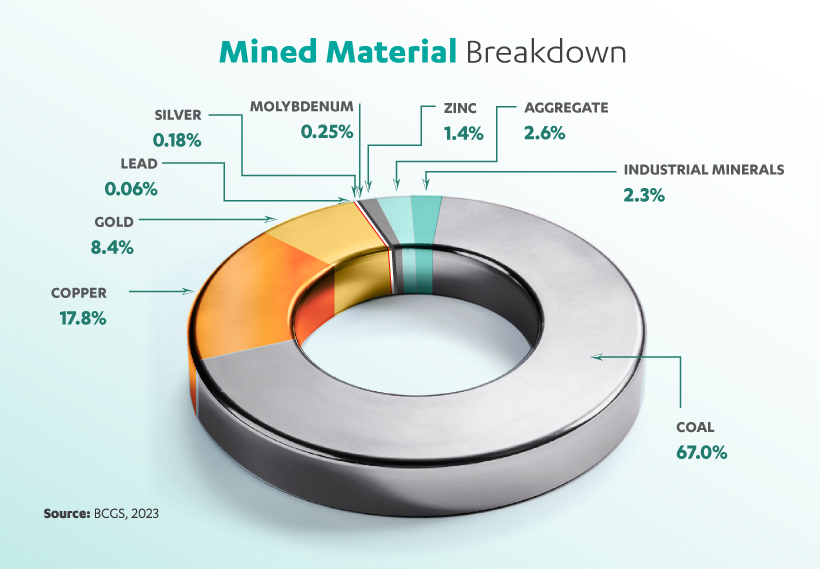 At the heart of British Columbia's mining industry lies the Golden Triangle, one of the hottest mineral exploration districts in the world.
More than 150 mines have operated in the area since prospectors first arrived at the end of the 19th century. The region alone is endowed with minerals worth more than $800 billion.
How Green is B.C. Mining
Mining represents 7% of the province's Gross Domestic Product (GDP), despite only accounting for 0.04% of the land use. In comparison, farmland demands 3% of the land, bringing $2.1 billion (0.8%) per year.
| | Land Use in B.C. | Revenue (2022, CAD $) |
| --- | --- | --- |
| Mining | 0.04% | $18.0 billion |
| Oil & Gas | 0.4% | $9.5 billion |
| Infrastructure | 1% | $25.0 billion |
| Farmland | 3% | $2.1 billion |
| Forest | 62% | $13.3 billion |
Mining operations are also supported by a stable, transparent, and effective policy environment. The province ranked as the world's least risky for mining in 2017 and 2018.
In addition, mineral exploration has received ample support from local Indigenous communities. Today, mining accounts for over two-thirds of all indigenous people employed in the extractives sector.
According to the International Energy Agency, up to six times more minerals and metals will be needed by 2040 to accelerate the energy transition.
In this scenario, British Columbia is well positioned to support the transition to a low-carbon future and make a significant contribution to climate action.
The BCRMA is a strategic partnership between indigenous groups, industry, and government representatives that aims to promote B.C.'s mining opportunities internationally.
Mapped: The 10 Largest Undeveloped Silver Deposits in the World
Global silver demand is poised to soar in the next decade, driven by emerging technologies like EVs and solar power.
Ranked: The Largest Undeveloped Silver Deposits in the World
Global silver demand is poised to soar in the next decade, driven by emerging technologies like electric vehicles and solar power.
Silver demand from solar alone has grown from less than 50 million ounces (Moz) a decade ago to an expected 160 Moz in 2023.
So, where will the necessary supply come from to meet this surge? This graphic from Discovery Silver shows the largest undeveloped silver deposits in the world.
Silver in Green Technology
Silver is a vital part of solar cells. The metal is converted into paste and coated onto silicon wafers to make solar arrays.
When sunlight hits the silicon, silver helps to transport the generated electricity for immediate use or store it in batteries. A typical solar panel can contain as much as 20 grams of silver.
Silver's conductivity and corrosion resistance are vital in electronics, especially electric vehicles where nearly all electrical connections rely on the metal. Over 50 million ounces of silver are used every year to enhance conductivity in powered seats, windows, and other vehicle electronics.
In 2022, 27% of all silver consumption in the U.S. was attributed to electrical and electronics, while 10% was linked to solar technology.
Global Silver Demand Rising
With the increasing demand for new technologies combined with physical investment (bars) demand, the silver market saw a 237.7 Moz deficit in 2022, an all-time record.
2023 silver industrial demand is forecasted to rise by 4% to a new record high.
However, according to the Silver Institute, mined output is expected to decline over the next five years.
In this scenario, new mines are expected to play an important role in meeting the demand.
Currently, the world's top 10 undeveloped silver deposits contain 984 Moz. Discovery Silver's Cordero project in Mexico leads the ranking:
| Rank | Project | Owner | Country | Contained Silver Reserves (Moz) |
| --- | --- | --- | --- | --- |
| 1 | Cordero | Discovery Silver | Mexico | 266 |
| 2 | Corani | Bear Creek Mining Corporation | Peru | 229 |
| 3 | Prognoz | Polymetal International plc | Russia | 125 |
| 4 | Bowdens | Silver Mines Limited | Australia | 66 |
| 5 | Santa Ana | Formerly Bear Creek | Peru | 63 |
| 6 | Fuwan | Minco Silver Corporation | China | 55 |
| 7 | Nueva Esperanza | Kingsgate Consolidated Limited | Chile | 48 |
| 8 | Vares | Adriatic Metals PLC | Bosnia & Herzegovina | 47 |
| 9 | Terronera | Endeavour Silver Corp. | Mexico | 47 |
| 10 | Menkechka | GeoProMining Ltd. | Russia | 38 |
Cordero is located in Chihuahua State in Mexico, one of the world's most prolific silver producing regions.
Once in production, it is expected to become one of the top three silver mines in the world.
As silver demand is expected to soar, Discovery Silver offers direct investment exposure to this paradigm shift through its Cordero Project. Click here to learn more about Discovery Silver.