How Metals Prices Performed in 2021
How Metals Prices Performed in 2021
Looking back on what gave investors strong returns in 2021, it was the year of industrial and energy metals.
As demand for industrial goods surged, so too did their material metals. But unlike energy prices which rose across the board last year, not all metals managed positive returns.
This infographic looks at the year-over-year return on metals prices from January 1 to December 31 of 2021, using pricing data tracked by Tradingeconomics.com.
Inflation and Raw Material Demand Spur Industrial Metals
Last year saw inflation hit 30-year highs as the world's reopening resulted in unprecedented demand for base and energy metals.
Essential materials for electric vehicle (EV) battery production like lithium and cobalt were among the top performers as EV sales continued to grow in 2021.
| Metal | Annual Return in 2021 |
| --- | --- |
| Lithium | 496.7% |
| Magnesium | 207.6% |
| Cobalt | 115.2% |
| Tin | 93.6% |
| Molybdenum | 90.4% |
| Neodynium | 78.3% |
| Aluminum | 38.3% |
| Indium | 32.3% |
| Germanium | 31.7% |
| Gallium | 31.6% |
| Nickel | 29.4% |
| Zinc | 28.1% |
| Copper | 26.8% |
| Lead | 14.8% |
| Steel | 7.7% |
| Manganese | 7.2% |
| Gold | -3.5% |
| Platinum | -10.4% |
| Silver | -11.5% |
| Rhodium | -20.5% |
| Palladium | -22.0% |
| Iron ore | -24.0% |
Source: Tradingeconomics.com
Magnesium was another top performer last year, as skyrocketing coal prices impacted the metal, which uses coal as part of the feedstock in the smelting process. In addition, concerns over production suspensions in China for environmental reasons spurred magnesium prices further amidst potential shortage fears.
Iron ore was the only base metal with negative returns, with demand largely curbed by China's slowing growth and pledge to reduce steel output in May of last year.
Lithium and Other EV Metals Outperform
Last year saw major automakers like Ford and GM commit themselves to all new car sales being zero emission by 2040, spurring an 80% rise in electric vehicle sales in 2021.
As a result, essential battery metals like lithium, cobalt, lead, and nickel were all in high demand as automakers secured these essential materials for their battery production.
The start of 2022 has also seen more positive catalysts for nickel specifically, as Tesla secured a supply deal with Talon Metals for 75,000 tonnes of nickel concentrate over six years.
PGM Prices Falter
Palladium and platinum had strong starts in the first half of the year as well, but chip shortages resulted in a slowdown in automotive production and a drop in demand for the two metals.
Both of these key platinum group metals (PGMs) finished 2021 with double-digit drawdowns, with platinum returning -10.4% and palladium returning -22.0%.
Metals analysts are mixed on whether the two metals (primarily used in automotive catalytic converters) will see a recovery in demand, which would be led by easing chip shortages and supply chain issues.
Gold and Silver Struggle to Hold Value
As the world focused on securing the necessary raw materials for the clean energy transition, gold and silver lagged behind.
Although both precious metals wavered as stores of value, returning -3.5% and -11.5% respectively, bullion sales from the U.S. mint rose by 48.4% compared to 2020.
Despite gold's underwhelming performance while equities, cryptocurrencies, and other commodities surged, upcoming forecasted rate hikes have historically spurred reversals for the precious metal.
As 2022 has started with equity prices slumping, a potential flight to the safety of hard assets and the continuous demand for raw materials needed for the clean energy transition could set up a positive 2022 for metals.
Why Copper Is Critical for Data Centers
Copper consumption for data centers in North America is estimated to jump from 197,000 tonnes in 2020 to 238,000 tonnes in 2030.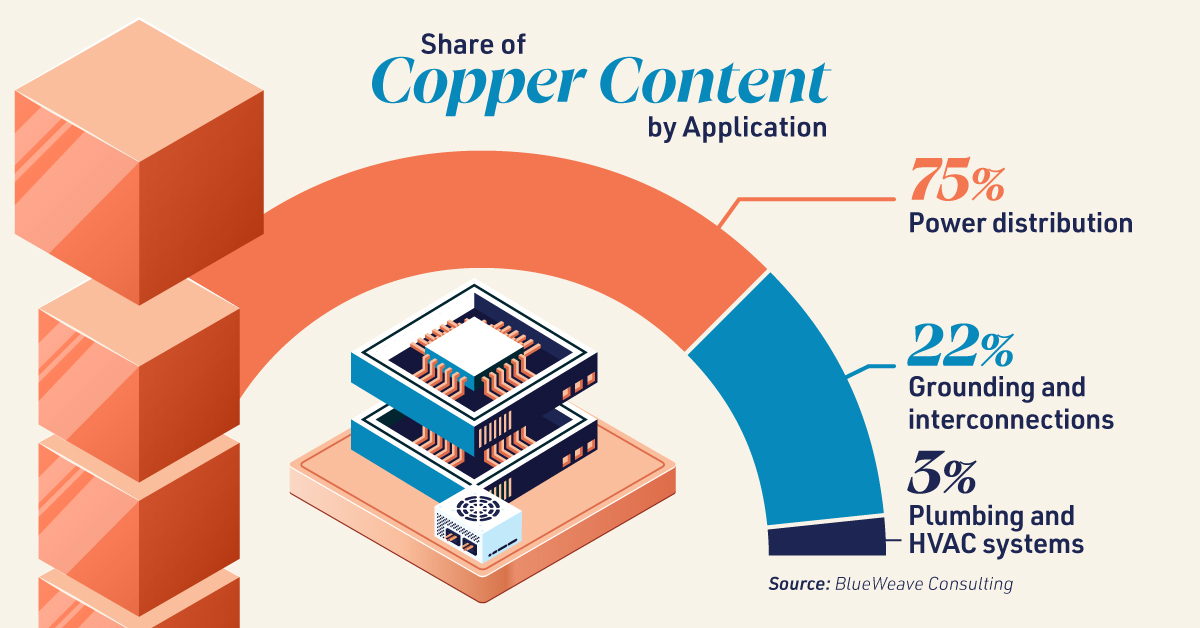 Why Copper Is Critical for Data Centers
Data centers are computer server hubs that collect, store, and process large amounts of data, requiring extensive network infrastructure and electric power supply.
As the North American data center market grows, copper will be a key building block in this infrastructure.
This infographic from the Copper Development Association illustrates the critical role of copper in data center development.
Copper in Technology
Much has been said about the growing demand for critical minerals like copper, nickel, and lithium for clean technologies such as batteries, EVs, solar, and wind power.
Copper, however, has a more extensive role in technology as it is used in wires that connect power grids and data centers around the planet.
As one of the best conductors of electricity, copper maximizes efficiency in the transmission and distribution of electricity. Its thermal conductivity also helps build efficient heat exchangers, which are vital for cooling in data centers.
The inherent ductility and malleability of copper make it ideal for shaping into compact system components, like electrical connectors. In addition, copper can be fully recycled without losing any beneficial properties, providing an excellent solution in a growing green economy.
Data centers use copper across various electrical applications, including:
Power cables
Busbars
Electrical connectors
Heat exchangers and sinks
Power distribution strips
To put the demand into perspective, Microsoft's $500 million data center in Chicago required 2,177 tonnes of copper for construction.
North America's Growing Need for Copper
With the rise of cloud computing and the Internet of Things (IoT), the North American data center market is expanding.
North American data center infrastructure is expected to grow from a $33 billion business in 2020 to $70 billion in 2030 and $185 billion in 2040.
This, in turn, will amplify the demand for copper. Copper consumption for data centers is estimated to jump from 197,000 tonnes in 2020 to 238,000 tonnes in 2030 and 293,000 tonnes in 2040.
The Copper Development Association (CDA) brings the value of copper and its alloys to society to address the challenges of today and tomorrow. Visit www.copper.org to learn more about copper's critical role in data centers.
From Lead to Copper: Replacing America's Aging Water Infrastructure
Investing in the transition from lead to copper is crucial for providing safe water to millions of Americans.
From Lead to Copper: Replacing America's Aging Water Infrastructure
Water service lines, crucial for connecting buildings to the public water supply, are often outdated and built from lead, presenting significant health risks to Americans.
As the government invests billions toward replacing lead service lines, copper pipelines offer a safe, reliable, resilient, and sustainable alternative.
This infographic from the Copper Development Association illustrates how investing in the transition from lead to copper is crucial for providing safe water to millions of Americans.
The Problem with Lead Service Lines
In the 20th century, lead was commonly used for water service lines and plumbing pipes.
However, lead pipes can degrade over time, leading to the release of lead particles into drinking water. Even at low-to-moderate levels, lead exposure can have severe negative health impacts, including:
Hearing loss

Anemia

Kidney impairment

Immune system dysfunction
Today, every state in America has lead service lines (LSLs) that the federal government is actively working to replace.
Besides LSLs, an additional 2.8 million galvanized water pipes also need replacing.
Delivering Safe Water
Copper tubing has become the primary material to replace old water service lines.
The red metal is an antimicrobial material that kills pathogens, and it is also highly corrosion-resistant, with a typical service life of over 50 years.
In addition, copper service lines are impermeable and prevent outside chemicals from leaking into water. Copper tubes can be fully recycled at the end of their useful lives without losing any beneficial properties.
Replacing Lead Service Lines with Copper
If America were to replace all 12 million of its lead and galvanized service lines, it would require more than 650 million feet of copper tubing, equivalent to 180,000 tonnes of metal. To compare, the U.S. produced 22 million tonnes of copper in 2022.
The U.S. has commissioned several large-scale copper recycling projects in recent years, creating opportunities to meet the demand with recycled and mined supply.
However, upgrading the nation's water infrastructure will require over $56 billion, way more than the $15 billion currently provided by the Bipartisan Infrastructure Law.
Visit Copper Development Association to learn more about how copper is crucial for providing safe water to millions of Americans.