Visualizing the Abundance of Elements in the Earth's Crust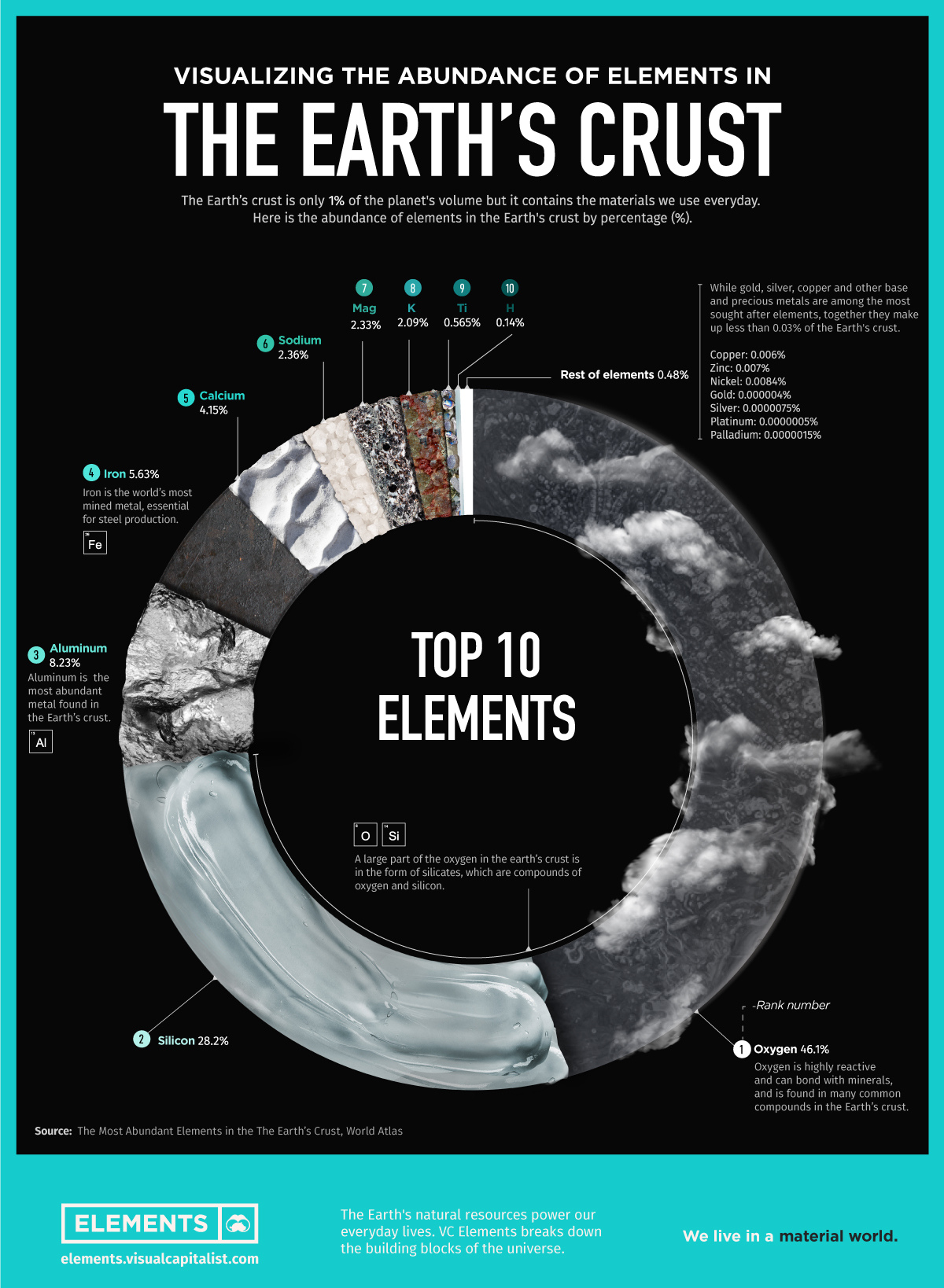 Visualizing the Abundance of Elements in the Earth's Crust
Elements in the Earth's crust provide all the basic building blocks for mankind.
But even though the crust is the source of everything we find, mine, refine, and build, it really is just scratching the surface of our planet.
After all, the innermost layer of the Earth, the core, represents 15% of the planet's volume, whereas the mantle occupies 84%. Representing the remaining 1% is the crust, a thin layer that ranges in depth from approximately 5-70 km (~3-44 miles).
This infographic takes a look at what elements make up this 1%, based on data from WorldAtlas.
Earth's Crust Elements
The crust is a rigid surface containing both the oceans and landmasses. Most elements are found in only trace amounts within the Earth's crust, but several are abundant.
The Earth's crust comprises about 95% igneous and metamorphic rocks, 4% shale, 0.75% sandstone, and 0.25% limestone.
Oxygen, silicon, aluminum, and iron account for 88.1% of the mass of the Earth's crust, while another 90 elements make up the remaining 11.9%.
| Rank | Element | % of Earth's Crust |
| --- | --- | --- |
| 1 | Oxygen (O) | 46.1% |
| 2 | Silicon (Si) | 28.2% |
| 3 | Aluminum (Al) | 8.2% |
| 4 | Iron (Fe) | 5.6% |
| 5 | Calcium (Ca) | 4.1% |
| 6 | Sodium (Na) | 2.3% |
| 7 | Magnesium (Mg) | 2.3% |
| 8 | Potassium (K) | 2.0% |
| 9 | Titanium (Ti) | 0.5% |
| 10 | Hydrogen (H) | 0.1% |
| | Other elements | 0.5% |
| | Total | 100.0% |
While gold, silver, copper and other base and precious metals are among the most sought after elements, together they make up less than 0.03% of the Earth's crust by mass.
#1: Oxygen
Oxygen is by far the most abundant element in the Earth's crust, making up 46% of mass—coming up just short of half of the total.
Oxygen is a highly reactive element that combines with other elements, forming oxides. Some examples of common oxides are minerals such as granite and quartz (oxides of silicon), rust (oxides of iron), and limestone (oxide of calcium and carbon).
#2: Silicon
More than 90% of the Earth's crust is composed of silicate minerals, making silicon the second most abundant element in the Earth's crust.
Silicon links up with oxygen to form the most common minerals on Earth. For example, in most places, sand primarily consists of silica (silicon dioxide) usually in the form of quartz. Silicon is an essential semiconductor, used in manufacturing electronics and computer chips.
#3: Aluminum
Aluminum is the third most common element in the Earth's crust.
Because of its strong affinity for oxygen, aluminum is rarely found in its elemental state. Aluminum oxide (Al2O3), aluminum hydroxide (Al(OH)3) and potassium aluminum sulphate (KAl(SO4)2) are common aluminum compounds.
Aluminum and aluminum alloys have a variety of uses, from kitchen foil to rocket manufacturing.
#4: Iron
The fourth most common element in the Earth's crust is iron, accounting for over 5% of the mass of the Earth's crust.
Iron is obtained chiefly from the minerals hematite and magnetite. Of all the metals we mine, over 90% is iron, mainly to make steel, an alloy of carbon and iron. Iron is also an essential nutrient in the human body.
#5: Calcium
Calcium makes up about 4.2% of the planet's crust by weight.
In its pure elemental state, calcium is a soft, silvery-white alkaline earth metal. It is never found in its isolated state in nature but exists instead in compounds. Calcium compounds can be found in a variety of minerals, including limestone (calcium carbonate), gypsum (calcium sulphate) and fluorite (calcium fluoride).
Calcium compounds are widely used in the food and pharmaceutical industries for supplementation. They are also used as bleaches in the paper industry, as components in cement and electrical insulators, and in manufacturing soaps.
Digging the Earth's Crust
Despite Jules Verne's novel, no one has ever journeyed to the center of Earth.
In fact, the deepest hole ever dug by humanity reaches approximately 12 km (7.5 miles) below the Earth's surface, about one-third of the way to the Earth's mantle. This incredible depth took about 20 years to reach.
Although mankind is constantly making new discoveries and reaching for the stars, there is still a lot to explore about the Earth we stand on.
What is the FIFA World Cup Trophy Made Of?
This infographic explores the history and composition of the FIFA World Cup trophy ahead of the 22nd edition of the competition.
What is the FIFA World Cup Trophy Made Of?
Soccer is one of the world's most popular sports with approximately 3.5 billion fans globally.
It was in Uruguay, in 1930, that the very first FIFA World Cup was held. It has occurred once every four years since then (except in 1942 and 1946 due to World War II).
This year, 92 years after its start, the 22nd FIFA World Cup tournament is scheduled to take place in Qatar. The highly anticipated event involves 32 national teams that will compete to win one of the most prestigious titles and a historic trophy.
So, what is the coveted FIFA World Cup trophy made up of?
The History and Composition of FIFA World Cup Trophies
Since its debut in the first FIFA World Cup tournament, in 1930, there have been two iterations of the World Cup trophy. Both trophies were made with a combination of metals and rare stones.
Until 1970, the Jules Rimet Trophy, designed by the French sculptor Abel Lafleur, glorified the winning team. A redesigned version of the trophy by Silvio Gazzaniga replaced the original in the 1974 FIFA World Cup tournament.
The Jules Rimet Trophy
Commonly called the Coupe du Monde (French for World Cup), the Jules Rimet trophy was officially renamed in 1946, honoring the then FIFA president Jules Rimet on his 25th Anniversary in office.
The trophy had a height of 35cm and weighed 3.8kg. It was made of gold-plated sterling silver and featured Nike, the Greek Goddess of Victory, holding an octagonal cup. The base of the trophy was made from a semi-precious stone called lapis lazuli. Golden plates were attached to each side of the base and they held the names of the winning teams from 1930 to 1970.
Since the beginning, it was agreed that the first team to win the World Cup three times would get to permanently keep the trophy. In 1970, Brazil marked its third victory by beating Italy in the finals and took the Jules Rimet trophy home.
However, in 1983, the trophy that even survived World War 2 was stolen from the Brazilian Football Confederation (CBF) headquarters in Rio de Janeiro and was never found. The only original piece of the Jules Rimet trophy in existence is the base that was replaced in 1954 to accommodate more winning-team names.
The FIFA World Cup Trophy
After handing over Abel Lafleur's original trophy to Brazil in 1970, FIFA held a design competition in search of a new World Cup trophy. The association received 53 submissions from seven countries and Silvio Gazzaniga's design of two human figures holding the Earth in their hands won the competition.
This new trophy is 36.5cm tall and weighs 6.17kg. It is made from 5kg of 18-karat gold and two layers of malachite. The base of the trophy is 13cm in diameter and the names of all winning teams since 1974 along with the years are engraved on it. This current iteration of the World Cup trophy can accommodate the names of 17 winning countries and years.
Unlike the Jules Rimet trophy, the current iteration of the trophy will not be handed over to a team definitively. It permanently belongs to the International Federation of Association Football (FIFA) and is secured at its Zurich headquarters.
However, a gold-plated bronze replica of the cup referred to as the World Cup Winners' Trophy is given to every winning team.
Battle Royal: The 2022 FIFA World Cup
The 2022 FIFA World Cup tournament is long awaited by billions of passionate soccer fans.
It could be the final opportunity for two of the world's best players—Cristiano Ronaldo, and Lionel Messi—to lift the World Cup trophy as they supposedly plan to retire from international games before the next World Cup.
This year, will your favorite national team be able to pose for a victory picture holding the golden trophy in their hands?
Ranked: The World's Top Cotton Producers
As the most-used natural fiber, cotton has become the most important non-food agricultural product.
The Top Cotton Producers
Cotton is present in our everyday life, from clothes to coffee strainers, and more recently in masks to control the spread of COVID-19.
As the most-used natural fiber, cotton has become the most important non-food agricultural product. Currently, approximately half of all textiles require cotton fibers.
The above infographic lists the world's top cotton producers, using data from the United States Department of Agriculture.
Fancy Fabric
Originating from the Arabic word "quton," meaning fancy fabric, cotton is a staple fiber made up of short fibers twisted together to form yarn.
The earliest production of cotton was around 5,000 B.C. in India, and today, around 25 million tons of cotton are produced each year.
Currently, five countries make up around 75% of global cotton production, with China being the world's biggest producer. The country is responsible for over 23% of global production, with approximately 89 million cotton farmers and part-time workers. Cotton's importance cannot be understated, as it is the primary input for the Chinese textile industry along with many other nations' textile industries.
| Top Cotton Producers | 2020/2021 (metric tons) | 2021/2022 (metric tons) |
| --- | --- | --- |
| 🇨🇳 China | 6,445,000 | 5,835,000 |
| 🇮🇳 India | 6,009,000 | 5,334,000 |
| 🇺🇸 United States | 3,181,000 | 3,815,000 |
| 🇧🇷 Brazil | 2,356,000 | 2,504,000 |
| 🇦🇺 Australia | 610,000 | 1,252,000 |
| 🇵🇰 Pakistan | 980,000 | 1,306,000 |
| 🇹🇷 Turkey | 631,000 | 827,000 |
| 🌐 Other | 4,059,000 | 4,282,000 |
| Total | 24,271,000 | 25,155,000 |
The United States is the leading global exporter of cotton, exporting three-fourths of its crop with China as the top buyer.
Despite its importance for the global economy, cotton production faces significant sustainability challenges.
The Controversy Over Cotton
Cotton is one of the largest users of water among all agricultural commodities, and production often involves applying pesticides that threaten soil and water quality.
Along with this, production often involves forced and child labor. According to the European Commission, child labor in the cotton supply chain is most common in Africa and Asia, where it comes from small-holder farmers.
In 2020, U.S. apparel maker Patagonia stopped sourcing cotton from the autonomous territory of Xinjiang because of reports about forced labor and other human rights abuses against Uighurs and other ethnic minorities.
L Brands, the parent company of Victoria's Secret, has also committed to eliminating Chinese cotton from its supply chain. Whether these changes in supply chains impact China's cotton production and its practices, cotton remains essential to materials found across our daily lives.