Getting Gold Exposure: Bullion vs. ETFs vs. Mining Stocks
How to Get Gold Exposure in Your Portfolio, Explained
A lot of talking heads say, "Buy gold!" but don't really explain exactly how to buy gold or get exposure to the precious metal.
There are options when it comes to getting exposure to the precious metal, and each one has upsides and downsides worth being mindful of.
Whether you're interested in holding physical gold in a safe storage space or simply want to add some gold exposure to your investment portfolio, this infographic shows you the differences between gold bullion, gold ETFs, and gold mining stocks.
What to Consider Before Investing in Gold
There are some key considerations to be aware of before you begin investing.
While below are some of the main factors to keep in mind as you pick a gold investment method, be sure to research each method and its properties thoroughly before investing.
Downside and Volatility Risk
The first consideration for any kind of investment should always be how much drawdown you're willing to stomach before pulling your money out.
When the COVID-19 pandemic resulted in a price drop across the board for just about every kind of asset, the price of physical gold and gold-backed ETFs held up very differently compared to individual gold mining stocks and gold mining indices.
Case Study: Gold vs. Mining Stocks Drawdown and Returns
| Asset | Drawdown from March high to March low | Returns from March low to 2020 high |
| --- | --- | --- |
| Spot gold and gold ETFs | -14.8% | 42.9% |
| Barrick Gold Corporation | -42.1% | 146.8% |
| Gold Miners ETF (GDX) | -46.0% | 182.9% |
| Junior Gold Miners ETF (GDXJ) | -52.7% | 237.9% |
While physical gold and bullion ETFs (which track gold's price movements) tend to be more resilient during market downturns, they also offer less upside compared to gold mining stocks and indices during bull markets.
Junior miners or exploration companies offer the greatest volatility and potential upside, but carry the highest risk. When investing in any mining company, concrete results from their planning and drilling along with efficient execution in setting up projects and production will best determine the stock's valuation.
Active vs. Passive Management
Some investors like to actively manage their investments while others prefer a more passive "set and forget" approach.
Each approach has its merits, however, gold ETFs and mining stocks are better suited for more active investors, while shipping and transport costs for physical gold can add up if buying and selling frequently.
Determine whether you're going to be actively managing your gold exposure or if you're going to be letting your investment sit for a while. This way you can determine the best method to reduce fees and commissions.
Three Types of Gold Exposure: Pros and Cons
Now, let's dive into the three main types of gold exposure: gold bullion, gold ETFs, and gold mining stocks and ETFs.
1. Gold Bullion
If you're looking to purchase physical gold in the form of bullion, there are a lot of considerations to keep in mind. These range from the various fees you'll pay to where and how you'll be storing and protecting your gold.
Many bullion dealers offer storage as a service, reducing shipping costs and the extra work of finding somewhere secure to keep your gold.
Fixed Position Sizes and Liquidity
When buying gold bullion it's important to remember that you are buying coins, bars, or ingots of gold. This means that if you're looking to sell off half of your gold position but only have a single 1oz gold coin, you won't be able to!
Due to this, gold bullion might not be the best option for those interested in actively managing their exposure or for those with smaller amounts of capital.
Buying and Selling Commissions
Just about every gold dealer will charge commissions on any buying or selling, which are typically <1% of the value of the order with lower commissions for larger volumes. Some dealers include their commissions as a premium directly onto their prices.
Storage Costs
Storing gold bullion with gold dealers or storage services will incur yearly storage costs that are typically a percentage of your holdings.
While some storage providers have low percentages, they will often have minimum monthly or yearly storage fees. For investors purchasing small amounts of gold it's important to not let these fees eat up too much of your investment.
Fees range from 0.12% to 1.5% annually, with some storage services providing fee discounts for larger volumes of gold
While purchases of investment-grade bullion are tax-exempt, taxes are charged on storage fees.
Reputable gold storage services offer full insurance coverage on your bullion stored with them and will keep your gold physically separate from the company's gold and off the company balance sheet. Some will even provide customers extra peace of mind with pictures of their bullion, typically for an additional cost.
Withdrawal Commissions and Shipping
If you've been storing your gold with a dealer but want it closer to home, you'll have to pay withdrawal commissions along with shipping costs. Some dealers charge a flat rate per bullion or withdrawal, while others charge a percentage of your holdings.
If you're having bullion sent to you without storing it at the dealer, you'll just pay for shipping and insurance. These are typically flat fees along with a percentage of the dollar value of your order (ranging from 0.4% to 7.5% depending on the amount and types of bullion).
Before holding your gold privately it's important to know:
Privately held gold is sometimes not fully trusted when sold back to bullion markets, and can lose some of its value.
Privately held gold is usually less physically safe compared to gold in a vault, and is almost always more expensive to insure.
2. Gold ETFs
Exchange-traded funds (ETFs) are a more approachable option to get exposure to gold for those with some experience purchasing shares using online brokers and exchanges.
Gold ETFs enable investors to have exposure to gold's price while avoiding storage, shipping, and insurance fees. There are also fewer liquidity bottlenecks and tighter spreads with gold ETFs compared to gold bullion.
When buying gold ETFs it is important to remember that in most cases, you never actually own any physical gold. Even though these funds are backed by physical gold, you cannot redeem your shares in exchange for gold.
Buying and Selling Commissions: When buying or selling shares of an ETF you'll likely pay commissions. These commissions are decided by the brokerages and are typically below $10 per buy and sell order, with some brokerages offering commission-free trading to cut costs for active traders.
Expense Ratios: Similar to storage fees on gold bullion kept in a vault, gold ETFs charge a yearly expense ratio to cover the costs of management and operations. Expense ratios are typically quite low, ranging from 0.17% to 0.75%, and are taken directly from your investment.
3. Gold Mining Stocks and ETFs
Gold mining stocks and mining ETFs are the most distant from physical gold, and offer exposure to the operating profits, losses, or even discoveries of mining or exploration companies.
Mining ETFs (like the GDX and GDXJ) are a basket of mining stocks for purchase as a single share, helping spread out the operational and concentration risk of investing in a single mining company. Mining ETFs are typically less volatile than individual mining stocks, but can still offer increased returns compared to gold bullion and gold ETFs.
Similar to gold ETFs, mining stocks and mining ETFs have:
Buying and selling commissions decided by your online brokerage
Annual expense ratios for mining ETFs
Potential for dividends depending on the individual mining stock
If buying individual gold stocks, it is important to know that the prospects of any one company can differ incredibly. For this reason, it's crucial to invest in quality companies, and to have an understanding at factors at play such as management competence, jurisdiction, or project quality and economics.
Find a Gold Investment Method that Works Best for You
Be aware that the methods discussed in this article aren't the only ways to invest in gold.
If you're willing to learn a bit more about contract structures and more complex fee structures, look into gold futures contracts. For those with some options understanding and experience, buying call options is another way to get gold exposure. Rare coins and jewelry are another investment method that also carries some artistic value.
Whatever you pick, make sure to thoroughly research your investment, its transaction and price mechanisms, and the commissions and fees you'll be paying.
All of the investment methods discussed have differing tax implications depending on where you reside, which could influence your decision on how you invest in gold.
Visualizing the Size of Mine Tailings
This infographic is a unique look at the estimated 217 billion m³ of mine tailings around the world.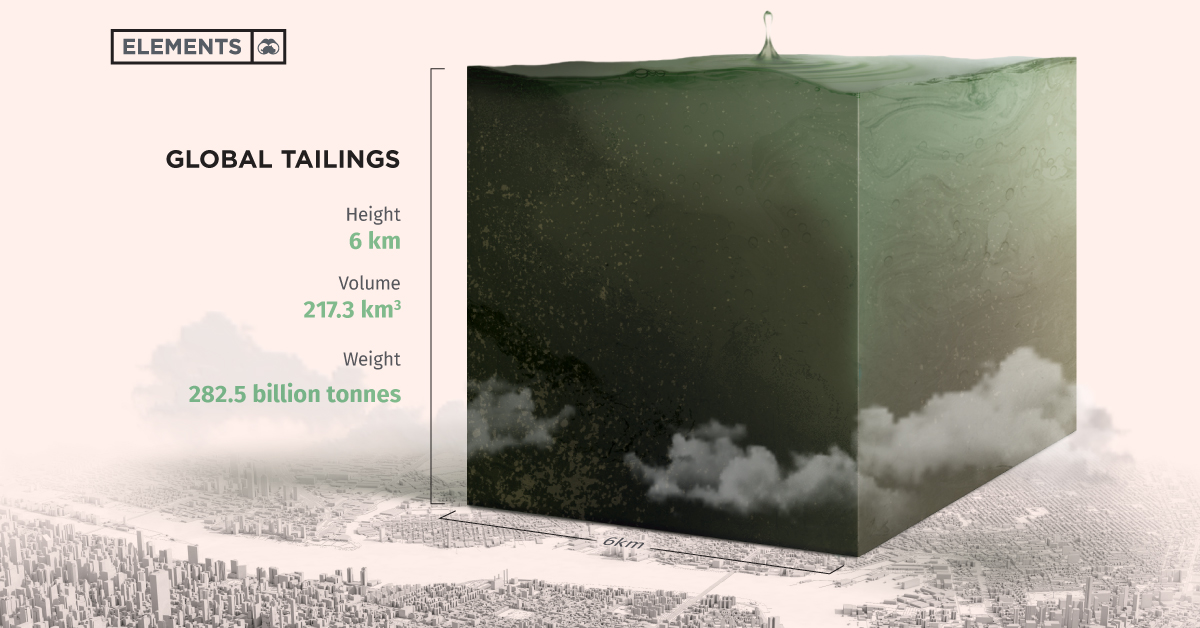 Visualizing the Size of Mine Tailings
On January 25th, 2019, a 10-meter tall wave traveling 120 km/h, washed 10 million m3 of mining waste from the Brumadinho tailings dam over the Brazilian countryside killing somewhere between 270 and 320 people.
This was a manmade disaster, made from mining the materials we use daily. Every copper wire in your house, steel frame in an EV, or any modern appliance comes from mining.
Mining leaves behind waste in the form of tailings stored in dams or ponds around the world. This infographic takes a look at the estimated size of one part of this waste, tailings, visualized next to the skyline of New York City as a benchmark.
Quantifying Mining's Material Impact
In the wake of the Brumadinho tailings failure, the International Council on Mining and Metals (ICMM) began a review with institutional investors and the United Nations Environment Programme (UNEP), to survey tailings facilities around the world.
The Global Tailings Review tracked a total of 1,743 unique facilities containing 44,540,000,000 m3 of tailings. This dataset represents only 30.2% of global commodity production.
However, the review estimated the total number of active, inactive, and closed facilities is around 8,500. If we use the assumptions for the 1,743 estimate to calculate for the 8,500 facilities, a total of 217,330,652,000 m3 of tailings are in storage globally.
What are Tailings?
Not all rock that comes out of the ground is metal. Miners find, remove, and refine rocks that carry a small amount of metal we need.
According to the USGS, 72 billion tonnes of material produced just over 10 billion tonnes of ore. Only 14% mined material makes it to processing for metals.
| Waste rock (tonnes) | Material Sent to Mill (tonnes) | Ore Produced (tonnes) | Tailings (tonnes) |
| --- | --- | --- | --- |
| 72,000,000,000 | 18,800,000,000 | 10,180,000,000 | 8,850,000,000 |
Tailings are what is left over after mills separate the metal from the mined rock. The processed material "tailings" comes from the "tail" end of a mining mill and comprise fine particles mixed with water forming a slurry. Mining companies will store this waste in dams or ponds.
Not All Minerals Are Equal: Tailings Contribution by Commodity
Not all minerals are equal in their contribution to tailings. The grade, quantity, and the process to extract the valuable metals affect each metal's material impact.
| Mineral | % Contribution to Global Tailings |
| --- | --- |
| Copper | 46% |
| Gold | 21% |
| Iron | 9% |
| Coal | 8% |
| Phosphate | 4% |
| Lead and Zinc | 3% |
| Nickel | 2% |
| Platinum Group Elements | 1% |
| Bauxite | 1% |
| Uranium | <1% |
| Chromium | <1% |
| Molybdenum | <1% |
| Tin | <1% |
| Vanadium | <1% |
| Manganese | <1% |
| Niobium | <1% |
| Rare Earths | <1% |
| Lithium | <1% |
| Other minerals | 1% |
| Total | 100% |
A renewable future will be mineral intensive and will inevitably produce more mining waste, but growing awareness around mining's true cost will force companies to minimize and make the most of their waste.
Turning a Liability into an Asset
While tailings are waste, they are not useless. Researchers know there remains economic value in tailings. Natural Resources Canada estimated that there is $10B in total metal value in Canadian gold mining waste.
Rio Tinto has produced borates from a mine in the Mojave Desert which has left behind more than 90 years' worth of tailings. The company was probing the tailings for gold and discovered lithium at a concentration higher than other U.S. projects under development.
According to UBC's Bradshaw Initiative for Minerals and Mining professor Greg Dipple, the mining industry could help society store carbon. For over a decade, he has researched a process in which tailings naturally draws CO₂ from the air and traps it in tailings.
A Material World
While the majority of mining companies manage tailing dams safely, the issue of the material impacts of mining on Earth remains.
Mining of metal has grown on average by 2.7% a year since the 1970s, and will continue to grow. The importance of the size of tailings is critical to address proactively, before it comes rushing through the front door, as it did in Brazil.
Visualizing the $2.9B Money Flow into Gold Exploration
This infographic tracks $2.87B from 425 transactions for gold projects in 41 countries between February 1, 2020, and February 28, 2021.
Visualizing the $2.9B Money Flow into Gold Exploration
In 2020, the price of gold reached multi-year highs, in part to the impact of COVID-19 shutdowns. This renewed interest in gold spurred the plans of many gold exploration and development projects around the world.
This infographic uses data from Mining Intelligence which tracked the $2.87 billion from 425 transactions for gold projects in 41 countries between February 1, 2020, and February 28, 2021.
Gold Financings, by Country
Five countries accounted for 75% of the money raised for top gold projects around the world.
Canada attracted the most with $965 million or roughly 34% of all the money raised for gold exploration and development.
| Country | Amounts ($USD) | Number of Transactions |
| --- | --- | --- |
| Canada | $965,066,856 | 180 |
| Mexico | $389,087,534 | 25 |
| Australia | $291,040,977 | 43 |
| United States | $255,563,607 | 82 |
| Chile | $253,711,427 | 2 |
| Mali | $85,728,402 | 13 |
| Guatemala | $75,939,982 | 4 |
| Colombia | $71,389,229 | 4 |
| Burkina Faso | $58,937,852 | 2 |
| Greenland | $54,739,544 | 1 |
| Fiji | $44,024,224 | 3 |
| Nigeria | $40,660,735 | 1 |
| Ivory Coast | $37,608,031 | 4 |
| Argentina | $30,678,621 | 5 |
| Brazil | $30,292,143 | 9 |
| Nicaragua | $29,040,361 | 4 |
| Tanzania | $22,215,178 | 2 |
| Finland | $2,106,0740 | 2 |
| Mongolia | $15,120,700 | 1 |
| Ghana | $14,894,336 | 4 |
| Kyrgyzstan | $13,651,801 | 1 |
| Namibia | $13,041,621 | 1 |
| Ecuador | $8,644,975 | 1 |
| Bulgaria | $6,879,450 | 1 |
| Japan | $6,569,742 | 2 |
| Guyana | $6,282,134 | 2 |
| United Kingdom | $4,796,983 | 3 |
| Dem. Republic of the Congo | $4,528,450 | 1 |
| Peru | $4,436,335 | 6 |
| Sudan | $4,066,484 | 1 |
| Cameroon | $3,252,956 | 4 |
| Papua New Guinea | $1,737,903 | 2 |
| Serbia | $1,478,579 | 1 |
| Kenya | $1,288,041 | 1 |
| Spain | $1,074,211 | 1 |
| Dominican Republic | $992,252 | 1 |
| Guinea | $387,483 | 1 |
| Kazakhstan | $334,733 | 1 |
| Honduras | $296,096 | 1 |
| Indonesia | $213,835 | 1 |
| South Africa | $102,959 | 1 |
| Total | $2,870,857,503 | 425 |
In second place, Mexico attracted $389 million or 14% of total exploration dollars raised while Australia with $291 million (10%) is in third place.
The United States comes in fourth place with $256 million or 9% of global gold exploration dollars. Chile on the fifth spot received $254 million (9%) with one project attracting the largest amount of any on the list.
Top 10 Financings by Gold Project
Focusing on individual projects, Gold Fields' Salares Norte project in Chile received $252 million for the largest financing of the period. The company started construction this year, after a delicate operation to remove endangered chinchillas from the site.
Silvercrest's Las Chispas project in Mexico's Sonora state received $228.9 million, giving it the second largest sum. According to the company, the property hosts 94.7 million ounces of silver equivalent (AgEq) in proven and provable reserves.
| Properties | Location | Amount ($USD) | Company |
| --- | --- | --- | --- |
| Salares Norte | 🇨🇱 Chile | $251,845,426 | Gold Fields Ltd. |
| Las Chispas | 🇲🇽 Mexico | $228,858,469 | SilverCrest Metals Inc. |
| Windfall Lake | 🇨🇦 Canada | $130,539,783 | Osisko Mining Inc. |
| Blackwater | 🇨🇦 Canada | $129,712,140 | Artemis Gold Inc. |
| Magino | 🇨🇦 Canada | $108,128,440 | Argonaut Gold Inc. |
| Dargues Reef | 🇦🇺 Australia | $96,500,680 | Aurelia Metals Ltd |
| Cariboo | 🇨🇦 Canada | $95,460,630 | Osisko Development Corp. |
| Marmato | 🇨🇴 Colombia | $66,116,989 | Aris Gold Corp. |
| Cerro Blanco | 🇬🇹 Guatemala | $65,632,958 | Bluestone Resources Inc. |
| Mount Morgans | 🇦🇺 Australia | $63,179,600 | Dacian Gold Ltd. |
Gold is Canada's most valuable mined mineral and the next 3 projects on the list show this priority. Osisko Mining's Windfall Lake project in Quebec is third ($130 million), Artemis Gold's Blackwater mine ($130 million) in British Columbia is the fourth, and Argonaut's Magino project in Ontario ($108 million) the fifth.
The analysis found that more than half of the money raised (57%), went to 63 gold projects to advance economic studies – from scoping studies or preliminary economic assessments through to bankable feasibility studies and permitting.
A total of 71% of the projects were in the early stages of exploration, but they only accounted for about 25% of the total capital raised during the period.
Gold Going Forward
With $2.9 billion in capital going into gold projects around the world, the gold industry has big plans. These financings represent opportunities for host countries' economies and their workers, along with more gold for investors to buy.