Explained: India's Gold Demand During Diwali
India's Gold Demand During Diwali
In India, gold's significance goes far beyond investment and jewelry. The yellow metal is woven into India's cultural history and is revered by a population of over 1.3 billion.
India is one of the largest markets for gold consumption, with jewelry, bars, and coins accounting for the bulk of annual demand. Indian gold demand typically peaks between October and December on the back of Diwali, the festival of lights, followed by thousands of weddings.
But why do Indians buy gold during Diwali?
Gold's Significance During Diwali
Indians consider it auspicious to purchase gold—a symbol of wealth, purity, and prosperity—on many festive occasions, and Diwali is the biggest one of them.
Diwali is a five-day festival that celebrates the triumph of good over evil and light over darkness, based on Hindu mythology. For many Indians, this festival is associated with welcoming good luck, positivity, and prosperity.
People often dedicate gold purchases during Diwali to deities, especially Lakshmi, the goddess of wealth. Gold is also a popular festive and wedding gift at this time of the year.
India's Record Gold Demand in Diwali 2021
India's gold consumption in the second half of every year is typically higher than in the first half, coinciding with Diwali in October (beginning of Q4), according to data from the World Gold Council.
Year
Gold Jewelry, Bar, and Coin Demand
(tonnes)
YoY % Change
H1 2010
447
N/A
H2 2010
555
N/A
H1 2011
590
32.1%
H2 2011
384
-30.8%
H1 2012
404
-31.5%
H2 2012
510
32.7%
H1 2013
557
37.9%
H2 2013
402
-21.3%
H1 2014
370
-33.5%
H2 2014
463
15.3%
H1 2015
350
-5.5%
H2 2015
507
9.5%
H1 2016
229
-34.5%
H2 2016
437
-13.9%
H1 2017
363
58.4%
H2 2017
408
-6.6%
H1 2018
341
-6.2%
H2 2018
420
2.9%
H1 2019
372
9.2%
H2 2019
318
-24.2%
H1 2020
166
-55.5%
H2 2020
281
-11.8%
H1 2021
285
72.3%
H2 2021
512
82.3%
H1 2022
306
7.3%
Following a significant drop in demand in 2020, Indians bought a record amount of gold jewelry in Q4 2021 at 265 tonnes, worth $15.3 billion at the time. Overall, gold jewelry, bar, and coin demand in H2 2021 saw an 82% increase year-over-year.
This increase was largely driven by the festive season and pent-up demand from subdued celebrations and consumption in 2020. As of the first half of 2022, gold demand was up 7.3% relative to 2021.
With Diwali celebrations in full swing, will India see another record quarter for gold demand? It remains to be seen, with gold's festive tailwinds likely to meet economic headwinds in the form of uncertainty and higher import duties.
Visualizing Mining's Footprint in British Columbia
Mining represents 7% of British Columbia's GDP despite only accounting for 0.04% of the land use.
Visualizing Mining's Footprint in British Columbia
British Columbia is considered a global leader in the development of socially and environmentally responsible resources.
An estimated 54% of the province's total land is protected, making it one of the world's greenest mining hubs.
This graphic by the B.C. Regional Mining Alliance (BCRMA) details mining's footprint in the province.
A Tier 1 Jurisdiction for Mining
British Columbia covers almost 95 million hectares (234 million acres), more than any European country except Russia, and more than any U.S. state except Alaska.
As the largest mining province in Canada, BC registered $18 billion in revenue from the industry in 2022.
British Columbia stands as Canada's sole producer of molybdenum, which finds applications in metallurgy and chemistry. Additionally, B.C. is the country's leader producer of copper and steelmaking coal, besides gold and silver.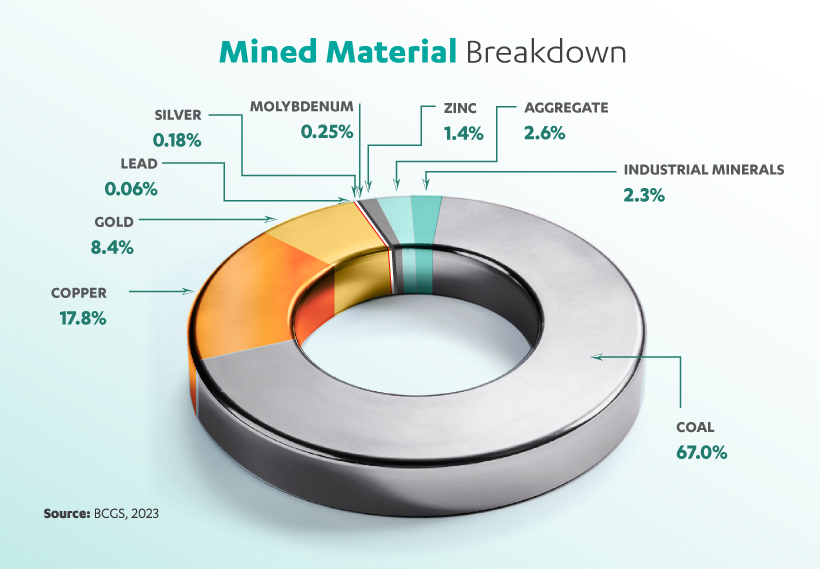 At the heart of British Columbia's mining industry lies the Golden Triangle, one of the hottest mineral exploration districts in the world.
More than 150 mines have operated in the area since prospectors first arrived at the end of the 19th century. The region alone is endowed with minerals worth more than $800 billion.
How Green is B.C. Mining
Mining represents 7% of the province's Gross Domestic Product (GDP), despite only accounting for 0.04% of the land use. In comparison, farmland demands 3% of the land, bringing $2.1 billion (0.8%) per year.
| | Land Use in B.C. | Revenue (2022, CAD $) |
| --- | --- | --- |
| Mining | 0.04% | $18.0 billion |
| Oil & Gas | 0.4% | $9.5 billion |
| Infrastructure | 1% | $25.0 billion |
| Farmland | 3% | $2.1 billion |
| Forest | 62% | $13.3 billion |
Mining operations are also supported by a stable, transparent, and effective policy environment. The province ranked as the world's least risky for mining in 2017 and 2018.
In addition, mineral exploration has received ample support from local Indigenous communities. Today, mining accounts for over two-thirds of all indigenous people employed in the extractives sector.
According to the International Energy Agency, up to six times more minerals and metals will be needed by 2040 to accelerate the energy transition.
In this scenario, British Columbia is well positioned to support the transition to a low-carbon future and make a significant contribution to climate action.
The BCRMA is a strategic partnership between indigenous groups, industry, and government representatives that aims to promote B.C.'s mining opportunities internationally.
Mapped: The 10 Largest Undeveloped Silver Deposits in the World
Global silver demand is poised to soar in the next decade, driven by emerging technologies like EVs and solar power.
Ranked: The Largest Undeveloped Silver Deposits in the World
Global silver demand is poised to soar in the next decade, driven by emerging technologies like electric vehicles and solar power.
Silver demand from solar alone has grown from less than 50 million ounces (Moz) a decade ago to an expected 160 Moz in 2023.
So, where will the necessary supply come from to meet this surge? This graphic from Discovery Silver shows the largest undeveloped silver deposits in the world.
Silver in Green Technology
Silver is a vital part of solar cells. The metal is converted into paste and coated onto silicon wafers to make solar arrays.
When sunlight hits the silicon, silver helps to transport the generated electricity for immediate use or store it in batteries. A typical solar panel can contain as much as 20 grams of silver.
Silver's conductivity and corrosion resistance are vital in electronics, especially electric vehicles where nearly all electrical connections rely on the metal. Over 50 million ounces of silver are used every year to enhance conductivity in powered seats, windows, and other vehicle electronics.
In 2022, 27% of all silver consumption in the U.S. was attributed to electrical and electronics, while 10% was linked to solar technology.
Global Silver Demand Rising
With the increasing demand for new technologies combined with physical investment (bars) demand, the silver market saw a 237.7 Moz deficit in 2022, an all-time record.
2023 silver industrial demand is forecasted to rise by 4% to a new record high.
However, according to the Silver Institute, mined output is expected to decline over the next five years.
In this scenario, new mines are expected to play an important role in meeting the demand.
Currently, the world's top 10 undeveloped silver deposits contain 984 Moz. Discovery Silver's Cordero project in Mexico leads the ranking:
| Rank | Project | Owner | Country | Contained Silver Reserves (Moz) |
| --- | --- | --- | --- | --- |
| 1 | Cordero | Discovery Silver | Mexico | 266 |
| 2 | Corani | Bear Creek Mining Corporation | Peru | 229 |
| 3 | Prognoz | Polymetal International plc | Russia | 125 |
| 4 | Bowdens | Silver Mines Limited | Australia | 66 |
| 5 | Santa Ana | Formerly Bear Creek | Peru | 63 |
| 6 | Fuwan | Minco Silver Corporation | China | 55 |
| 7 | Nueva Esperanza | Kingsgate Consolidated Limited | Chile | 48 |
| 8 | Vares | Adriatic Metals PLC | Bosnia & Herzegovina | 47 |
| 9 | Terronera | Endeavour Silver Corp. | Mexico | 47 |
| 10 | Menkechka | GeoProMining Ltd. | Russia | 38 |
Cordero is located in Chihuahua State in Mexico, one of the world's most prolific silver producing regions.
Once in production, it is expected to become one of the top three silver mines in the world.
As silver demand is expected to soar, Discovery Silver offers direct investment exposure to this paradigm shift through its Cordero Project. Click here to learn more about Discovery Silver.