The Mineral Exploration Roadmap
Mineral Exploration Roadmap
There is nothing more exciting than making some type of discovery.
Discoveries can come in many forms – they can be physical, scientific, personal, or even philosophical in nature. But while there are different types of discoveries that can be made, perhaps the most tactile kind of discovery is in the field of mineral exploration.
The discovery of a mineral deposit can transform a piece of "moose pasture" into a new economic asset, and it may enable millions or billions of dollars worth of metals and minerals to be used for human purposes.
These minerals get used all around us – they go into our houses, cars, infrastructure, jewelry, electronics, and they can even be used to power the green revolution.
From Prospecting to Production
Making an economic mineral discovery is the goal of many teams around the world, but these efforts can also be extremely difficult, costly, and time-consuming, and most companies engaged in exploration end up walking away empty-handed.
Today's infographic comes to us from Orix Geoscience and it shows the steps of mineral exploration, and how teams can maximize their odds of success by using data to add value throughout the process.
Steps of the Mineral Exploration Process
1. Exploration Strategy
Where do you choose to explore? There are two basic strategies:
(a) Working from the known
Deposits tend to form in clusters in prolific belts, and exploration occurs outward from known mineralization.
(b) Working from the unknown
If you review all available information, prospective areas with potential for discoveries can be identified.
2. Prospecting
In this stage, boots are now on the ground – and it's time to explore the backwoods for showings. Prospectors will stake claims, map outcrops and showings, and search for indicator minerals.
The goal of the prospecting stage is to find the earliest piece of the exploration puzzle: the clue that there is something much bigger beneath.
3. Early-Stage Exploration
Congrats, you've found something interesting – and now it's time to ramp up exploration efforts!
This is where the amount of data and sophistication picks up. In this stage, companies are using existing maps and historical data, geophysics, ground truthing, geochemistry, and trenching to try and identify drill targets.
4. The "Truth Machine"
Geologists don't call the drill a "truth machine" for nothing.
If you're target hits, you're in business. If your target misses, it's time to go back a step and find new ones.
5. Discovery
Eureka! You've found something. Now it's time to see how far the mineralization goes!
Once you have enough information, you can get an official resource estimate. This data is another puzzle piece that will be crucial as you advance your discovery.
6. De-risking
Even at the best of times, mining can be expensive, risky, and tricky.
That's why your investors and backers will want you to source even more data – it'll allow you to see a clearer picture of the deposit, and help your team see how it could take shape as a mine.
At this stage, drilling, metallurgical tests, environmental assessments, 3d models, and mine designs are used to increase confidence in the project.
Data starts to get very granular. Your company may do a Preliminary Economic Assessment (PEA) to assess the potential economic outcomes of a mine. Then after, they may conduct an in-depth Feasibility Study to help make a production decision.
Final Steps
By this point, you may have all the puzzle pieces – a clear vision of the deposit and its potential – to make a decision!
If the puzzle looks good, it's time to make a production decision, construct the mine, and start commercial production. But the data doesn't stop there – at these later stages, even more data gets created and it can help you make better decisions.
All the Metals We Mined in One Visualization
This infographic visualizes the 2.8 billion tonnes of metals mined in 2022.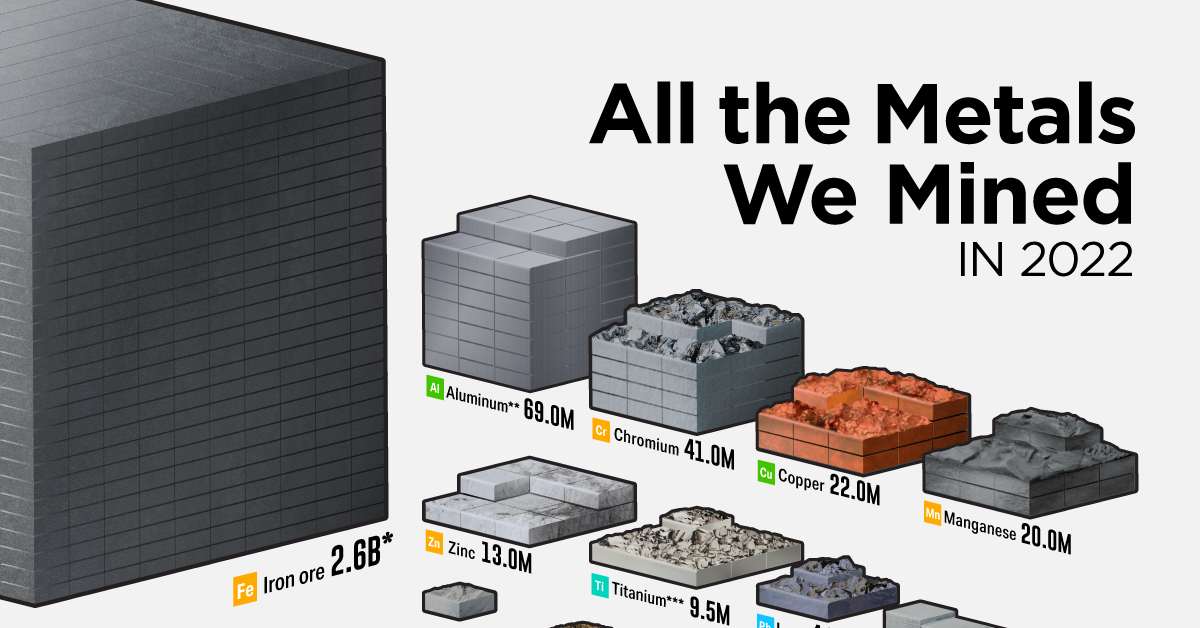 All the Metals We Mined in One Visualization
Metals are a big part of our daily lives, found in every building we enter and all devices we use.
Today, major industries that directly consume processed mineral materials contribute 14% of the United States economy.
The above infographic visualizes all 2.8 billion tonnes of metals mined in 2022 and highlights each metal's largest end-use using data from the United States Geological Survey (USGS).
Iron Ore Dominance
Iron ore dominates the metals mining landscape, comprising 93% of the total mined. In 2022, 2.6 billion tonnes of iron ore were mined, containing about 1.6 billion tonnes of iron.
| Metal/Ore | Quantity Mined in 2022 (tonnes) | % of Total |
| --- | --- | --- |
| Iron ore | 2,600,000,000 | 93.3% |
| Industrial metals | 185,111,835 | 6.6% |
| Technology and Precious Metals | 1,500,008 | 0.05% |
| Total | 2,786,611,843 | 100% |
Percentages may not add up to 100 due to rounding.
Iron ores are found in various geologic environments, such as igneous, metamorphic, or sedimentary rocks, and can contain over 70% iron, with many falling in the 50-60% range.
Combined with other materials like coke and limestone, iron ore is primarily used in steel production. Today, almost all (98%) iron ore is dedicated to steelmaking.
The ore is typically mined in about 50 countries, but Australia, Brazil, China, and India are responsible for 75% of the production.
Because of its essential role in infrastructure development, iron ore is one of the most crucial materials underpinning urbanization and economic growth.
Industrial Metals
Industrial metals occupy the second position on our list, constituting 6.6% of all metals mined in 2022. These metals, including copper, aluminum, lead, and zinc, are employed in construction and industrial applications.
Aluminum constituted nearly 40% of industrial metal production in 2022. China was responsible for 56% of all aluminum produced.
| Industrial Metals | 2022 Mine Production (tonnes) | % of Total |
| --- | --- | --- |
| Aluminum | 69,000,000 | 37.3% |
| Chromium | 41,000,000 | 22.1% |
| Copper | 22,000,000 | 11.9% |
| Manganese | 20,000,000 | 10.8% |
| Zinc | 13,000,000 | 7.0% |
| Titanium (mineral concentrates) | 9,500,000 | 5.1% |
| Lead | 4,500,000 | 2.4% |
| Nickel | 3,300,000 | 1.8% |
| Zirconium Minerals (Zircon) | 1,400,000 | 0.8% |
| Magnesium | 1,000,000 | 0.5% |
| Strontium | 340,000 | 0.2% |
| Uranium | 49,355 | 0.03% |
| Bismuth | 20,000 | 0.01% |
| Mercury | 2,200 | 0.00% |
| Beryllium | 280 | 0.00% |
| Total | 185,111,835 | 100% |
In the second position is chromium, which plays a primary role in rendering stainless steel corrosion-resistant. South Africa led chromium production, accounting for 44% of the total mined last year.
Technology and Precious Metals
Despite representing less than 1% of all the metals mined, technology metals have been on the news over the last few years as countries and companies seek these materials to reduce carbon emissions and improve productivity.
| Technology and Precious Metals | 2022 Mine Production (tonnes) | % of Total |
| --- | --- | --- |
| Tin | 310,000 | 20.7% |
| Rare Earth Oxides | 300,000 | 20.0% |
| Molybdenum | 250,000 | 16.7% |
| Cobalt | 190,000 | 12.7% |
| Lithium | 130,000 | 8.7% |
| Vanadium | 100,000 | 6.7% |
| Tungsten | 84,000 | 5.6% |
| Niobium | 79,000 | 5.3% |
| Silver | 26,000 | 1.7% |
| Cadmium | 24,000 | 1.6% |
| Gold | 3,100 | 0.2% |
| Tantalum | 2,000 | 0.1% |
| Indium | 900 | 0.1% |
| Gallium | 550 | 0.04% |
| Platinum Group Metals | 400 | 0.03% |
| Rhenium | 58 | 0.004% |
| Total | 1,500,008 | 100% |
They include lithium and cobalt, used in electric vehicles and battery storage, and rare earths, used in magnets, metal alloys, and electronics. Many of them are considered critical for countries' security due to their role in clean energy technologies and dependency on other nations to supply domestic demand.
However, despite increasing interest in these metals, they are still behind precious metals such as gold and silver regarding market size.
The gold market, for example, reached $196 billion in 2022, compared to $10.6 billion for the rare earths market.
Visualizing Mining's Footprint in British Columbia
Mining represents 7% of British Columbia's GDP despite only accounting for 0.04% of the land use.
Visualizing Mining's Footprint in British Columbia
British Columbia is considered a global leader in the development of socially and environmentally responsible resources.
An estimated 54% of the province's total land is protected, making it one of the world's greenest mining hubs.
This graphic by the B.C. Regional Mining Alliance (BCRMA) details mining's footprint in the province.
A Tier 1 Jurisdiction for Mining
British Columbia covers almost 95 million hectares (234 million acres), more than any European country except Russia, and more than any U.S. state except Alaska.
As the largest mining province in Canada, BC registered $18 billion in revenue from the industry in 2022.
British Columbia stands as Canada's sole producer of molybdenum, which finds applications in metallurgy and chemistry. Additionally, B.C. is the country's leader producer of copper and steelmaking coal, besides gold and silver.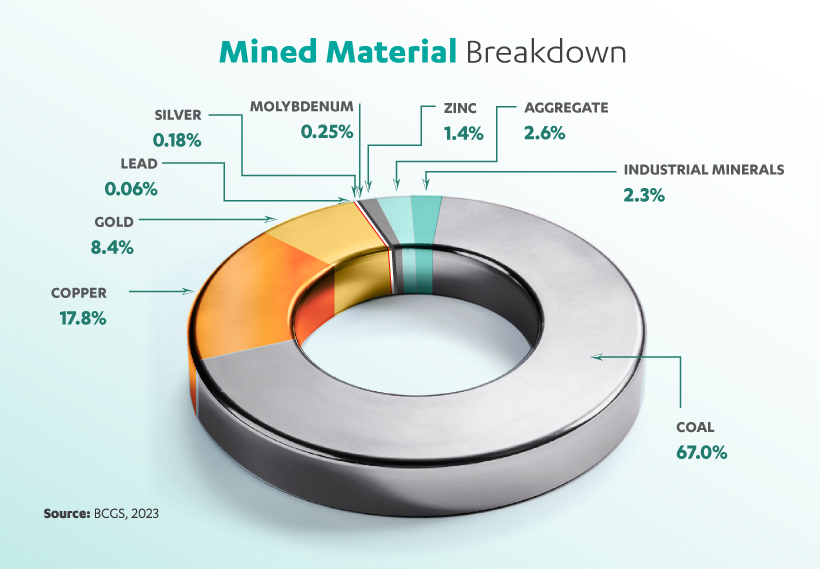 At the heart of British Columbia's mining industry lies the Golden Triangle, one of the hottest mineral exploration districts in the world.
More than 150 mines have operated in the area since prospectors first arrived at the end of the 19th century. The region alone is endowed with minerals worth more than $800 billion.
How Green is B.C. Mining
Mining represents 7% of the province's Gross Domestic Product (GDP), despite only accounting for 0.04% of the land use. In comparison, farmland demands 3% of the land, bringing $2.1 billion (0.8%) per year.
| | Land Use in B.C. | Revenue (2022, CAD $) |
| --- | --- | --- |
| Mining | 0.04% | $18.0 billion |
| Oil & Gas | 0.4% | $9.5 billion |
| Infrastructure | 1% | $25.0 billion |
| Farmland | 3% | $2.1 billion |
| Forest | 62% | $13.3 billion |
Mining operations are also supported by a stable, transparent, and effective policy environment. The province ranked as the world's least risky for mining in 2017 and 2018.
In addition, mineral exploration has received ample support from local Indigenous communities. Today, mining accounts for over two-thirds of all indigenous people employed in the extractives sector.
According to the International Energy Agency, up to six times more minerals and metals will be needed by 2040 to accelerate the energy transition.
In this scenario, British Columbia is well positioned to support the transition to a low-carbon future and make a significant contribution to climate action.
The BCRMA is a strategic partnership between indigenous groups, industry, and government representatives that aims to promote B.C.'s mining opportunities internationally.