How Much Gold is a Bitcoin Worth?
Visualizing a Bitcoin's Dollar Value in Gold
Gold has been a store of value in recessions and financial crises, but over the last decade, bitcoin has started to steal its thunder. Sometimes even being dubbed "digital gold", the cryptocurrency has echoed gold's epic booms and busts except with much more volatility.
While most people have held gold in the form of jewelry or in various electronic devices, bitcoin remains a physically intangible asset that is stored on digital ledgers and secured with cryptographic keys.
Using price data from TradingView, this graphic compares the two assets by showing how much gold is equivalent to one bitcoin, while also visualizing bitcoin's market capitalization and 2021 gold production in the form of gold cubes.
What is a Bitcoin's Weight in Gold?
With a single bitcoin worth around $22,600 at the time of the visualization, this is equivalent to a small cube of gold just over 20 cm3, with each side measuring around 2.7 centimeters, or just over one inch.
This tiny gold cube that fits in the palm of a hand is not only worth $22,600, but also weighs an impressive 12.6 troy ounces (just under 0.8 lbs or around 357 grams) thanks to gold's extremely high density of 19.32 g/cm3.
When converting the value of bitcoin's entire market capitalization of $432.7 billion to physical gold, the gold cube would be 7.3 m (23.9 ft), taller than four people stacked on top of each other. To put this in perspective, we also visualized the amount of gold mined in 2021, which was around $204.9 billion worth, weighing in at 3,560.7 tonnes.
Comparing Bitcoin's Digital Gold to Physical Gold
In its short 13-year lifespan bitcoin has grown tremendously to reach nearly half a trillion in market capitalization currently, but compared to gold it's still small.
Just 2021's gold production was worth nearly half of bitcoin's entire market cap, and with gold's market cap estimated to be around $11.7 trillion, it's more than 20 times larger than that of the cryptocurrency's.
While at first this might seem like a drawback for bitcoin, its small market cap has partially enabled its stratospheric price increases in bull runs.
Due to bitcoin's smaller market cap, money flowing into bitcoin results in a larger percentage increase than if the same amount of money flowed into gold, giving the cryptocurrency more potential upside but also much more volatility as money moves in and out.
A Tale of Two Stores of Value
While gold has long been a safe haven asset or store of value for investors, in 2021 bitcoin and other cryptocurrencies got all the attention as the orange coin's price surged by 59% and reached an all-time high of $69,000. However, since the start of 2022, bitcoin's price has fallen by 49%, and is more than 65% from its all-time high of last year.
As a result of all this volatility, bitcoin is now below any price traded in 2021, meaning anyone who bought bitcoin in 2021 and held on is now down on their investment.
Meanwhile, gold fell by 4% in 2021, and is down another 2% in 2022, so while gold buyers of 2021 are also down on their investment, they've had a much smoother ride with smaller losses along the way.
Whatever lies ahead for these two unique assets, in terms of market cap size, returns, and volatility, the digital gold that is bitcoin has a long way to go before it catches up to the real thing.
Visualizing Mining's Footprint in British Columbia
Mining represents 7% of British Columbia's GDP despite only accounting for 0.04% of the land use.
Visualizing Mining's Footprint in British Columbia
British Columbia is considered a global leader in the development of socially and environmentally responsible resources.
An estimated 54% of the province's total land is protected, making it one of the world's greenest mining hubs.
This graphic by the B.C. Regional Mining Alliance (BCRMA) details mining's footprint in the province.
A Tier 1 Jurisdiction for Mining
British Columbia covers almost 95 million hectares (234 million acres), more than any European country except Russia, and more than any U.S. state except Alaska.
As the largest mining province in Canada, BC registered $18 billion in revenue from the industry in 2022.
British Columbia stands as Canada's sole producer of molybdenum, which finds applications in metallurgy and chemistry. Additionally, B.C. is the country's leader producer of copper and steelmaking coal, besides gold and silver.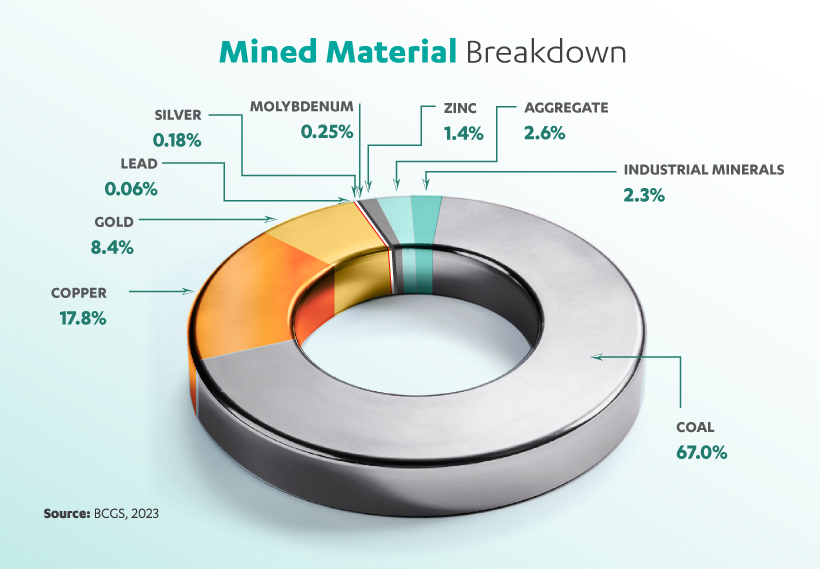 At the heart of British Columbia's mining industry lies the Golden Triangle, one of the hottest mineral exploration districts in the world.
More than 150 mines have operated in the area since prospectors first arrived at the end of the 19th century. The region alone is endowed with minerals worth more than $800 billion.
How Green is B.C. Mining
Mining represents 7% of the province's Gross Domestic Product (GDP), despite only accounting for 0.04% of the land use. In comparison, farmland demands 3% of the land, bringing $2.1 billion (0.8%) per year.
| | Land Use in B.C. | Revenue (2022, CAD $) |
| --- | --- | --- |
| Mining | 0.04% | $18.0 billion |
| Oil & Gas | 0.4% | $9.5 billion |
| Infrastructure | 1% | $25.0 billion |
| Farmland | 3% | $2.1 billion |
| Forest | 62% | $13.3 billion |
Mining operations are also supported by a stable, transparent, and effective policy environment. The province ranked as the world's least risky for mining in 2017 and 2018.
In addition, mineral exploration has received ample support from local Indigenous communities. Today, mining accounts for over two-thirds of all indigenous people employed in the extractives sector.
According to the International Energy Agency, up to six times more minerals and metals will be needed by 2040 to accelerate the energy transition.
In this scenario, British Columbia is well positioned to support the transition to a low-carbon future and make a significant contribution to climate action.
The BCRMA is a strategic partnership between indigenous groups, industry, and government representatives that aims to promote B.C.'s mining opportunities internationally.
Mapped: The 10 Largest Undeveloped Silver Deposits in the World
Global silver demand is poised to soar in the next decade, driven by emerging technologies like EVs and solar power.
Ranked: The Largest Undeveloped Silver Deposits in the World
Global silver demand is poised to soar in the next decade, driven by emerging technologies like electric vehicles and solar power.
Silver demand from solar alone has grown from less than 50 million ounces (Moz) a decade ago to an expected 160 Moz in 2023.
So, where will the necessary supply come from to meet this surge? This graphic from Discovery Silver shows the largest undeveloped silver deposits in the world.
Silver in Green Technology
Silver is a vital part of solar cells. The metal is converted into paste and coated onto silicon wafers to make solar arrays.
When sunlight hits the silicon, silver helps to transport the generated electricity for immediate use or store it in batteries. A typical solar panel can contain as much as 20 grams of silver.
Silver's conductivity and corrosion resistance are vital in electronics, especially electric vehicles where nearly all electrical connections rely on the metal. Over 50 million ounces of silver are used every year to enhance conductivity in powered seats, windows, and other vehicle electronics.
In 2022, 27% of all silver consumption in the U.S. was attributed to electrical and electronics, while 10% was linked to solar technology.
Global Silver Demand Rising
With the increasing demand for new technologies combined with physical investment (bars) demand, the silver market saw a 237.7 Moz deficit in 2022, an all-time record.
2023 silver industrial demand is forecasted to rise by 4% to a new record high.
However, according to the Silver Institute, mined output is expected to decline over the next five years.
In this scenario, new mines are expected to play an important role in meeting the demand.
Currently, the world's top 10 undeveloped silver deposits contain 984 Moz. Discovery Silver's Cordero project in Mexico leads the ranking:
| Rank | Project | Owner | Country | Contained Silver Reserves (Moz) |
| --- | --- | --- | --- | --- |
| 1 | Cordero | Discovery Silver | Mexico | 266 |
| 2 | Corani | Bear Creek Mining Corporation | Peru | 229 |
| 3 | Prognoz | Polymetal International plc | Russia | 125 |
| 4 | Bowdens | Silver Mines Limited | Australia | 66 |
| 5 | Santa Ana | Formerly Bear Creek | Peru | 63 |
| 6 | Fuwan | Minco Silver Corporation | China | 55 |
| 7 | Nueva Esperanza | Kingsgate Consolidated Limited | Chile | 48 |
| 8 | Vares | Adriatic Metals PLC | Bosnia & Herzegovina | 47 |
| 9 | Terronera | Endeavour Silver Corp. | Mexico | 47 |
| 10 | Menkechka | GeoProMining Ltd. | Russia | 38 |
Cordero is located in Chihuahua State in Mexico, one of the world's most prolific silver producing regions.
Once in production, it is expected to become one of the top three silver mines in the world.
As silver demand is expected to soar, Discovery Silver offers direct investment exposure to this paradigm shift through its Cordero Project. Click here to learn more about Discovery Silver.