What Are Birthstones?
What Are Birthstones?
Many cultures throughout history have revered gemstones.
Gemstones are minerals, rocks, or organic matter that have been chosen for their beauty, durability, and rarity, and then cut or faceted, and polished to make jewelry or other human adornments. There are over 300 gemstones currently documented.
A birthstone is a gemstone that represents a person's period of birth—usually corresponding to the month or zodiac sign.
In this graphic based on data from the American Gem Trade Association, we look deep into 12 popular birthstones.
What do Birthstones Mean?
Different ancient cultures revered gemstones and connected them to their calendar systems, so there are different lists of birthstones and months that can have more than one gemstone. In Hinduism, for example, there are nine gemstones associated with the Navagraha (celestial forces including the planets, the Sun, and the Moon), known in Sanskrit as Navaratna (nine gems).
Another origin of birthstones traces back to the book of Exodus in the Bible. In Exodus 28, Moses sets forth directions for making special garments for Aaron, the Hebrews' High Priest and Moses' elder brother. Specifically, the breastplate was to contain 12 precious gemstones, representing the 12 tribes of Israel.
Given the historical age and numerous translations of the Bible through the ages, there's been a lot of debate around the identification of the 12 gemstones and no agreement on what the gems actually were.
About 1,500 years after Aaron's time, in the first centuries of the Christian era, scholars started associating the breastplate gems with the signs of the zodiac. During the 18th century AD, gem traders began to sell gemstones based on a person's birth month.
Birthstone
Birth Month
Hardness
(1-10)
Price
(USD per 1 carat size)
Producing Country
Garnet
January
6.5-7.5
$175
Namibia, Sri Lanka, Russia
Amethyst
February
7.0
$90
Brazil, Zambia
Aquamarine
March
7.5-8.0
$900
Brazil, Tanzania, Kenya
Diamond
April
10.0
$11,200
Botswana, Congo, Russia
Emerald
May
8.0
$7,000
Colombia, Brazil
Alexandrite
June
8.5
$23,500
Brazil, Russia, India
Ruby
July
9.0
$10,000
Myanmar, U.S., Thailand
Peridot
August
6.5-7.0
$650
U.S., Pakistan, Myanmar
Sapphire
September
9.0
$3,500
India, Australia, Madagascar
Opal
October
7.0-7.5
$350
Australia, Mexico, U.S.
Citrine
November
7.0
$70
Brazil, Zambia
Zircon
December
6.5-7.5
$400
Cambodia, Sri Lanka, Vietnam
In some cultures, it is generally agreed that wearing a gemstone during the month when it is the birthstone heightens its healing powers.
The Birthstones Market
The majority of colored gemstones are extracted by artisanal mining communities around the world, in a very decentralized market.
Gemstone prices can vary from $68 per carat for citrine (November) up to $23,500 per carat for Alexandrite (June). The United States is the leading global market, buying roughly $24 billion in gemstones per year.
Besides different colors and prices, birthstones are also measured according to their hardness. The hardness is evaluated using a scale of 1-10 created by Friedrich Mohs that considers the ability to resist scratching. Diamonds (April) rank 10, being 58 times harder than any other mineral on Earth.
To this day, jewelers continue to add options to birthstone lists. Citrine and spinel (August), for example, are modern additions. Likewise, Tanzanite (December)—the second fastest-selling colored gemstone after Sapphire (September)—was only discovered in 1967 by herders in Tanzania.
Why Copper Is Critical for Data Centers
Copper consumption for data centers in North America is estimated to jump from 197,000 tonnes in 2020 to 238,000 tonnes in 2030.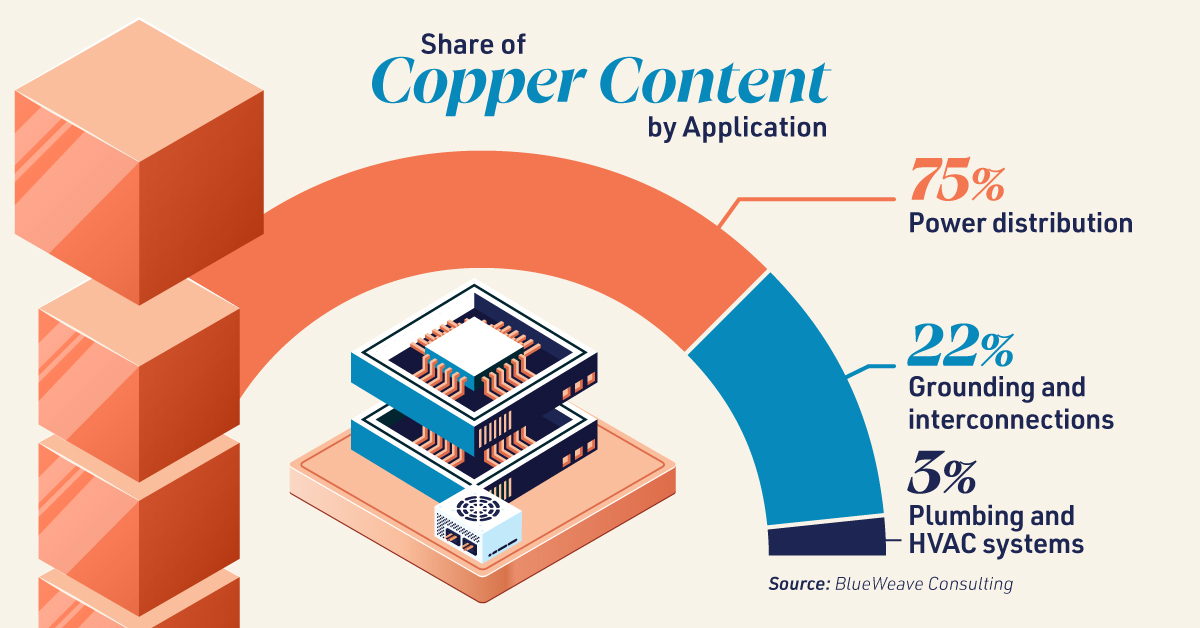 Why Copper Is Critical for Data Centers
Data centers are computer server hubs that collect, store, and process large amounts of data, requiring extensive network infrastructure and electric power supply.
As the North American data center market grows, copper will be a key building block in this infrastructure.
This infographic from the Copper Development Association illustrates the critical role of copper in data center development.
Copper in Technology
Much has been said about the growing demand for critical minerals like copper, nickel, and lithium for clean technologies such as batteries, EVs, solar, and wind power.
Copper, however, has a more extensive role in technology as it is used in wires that connect power grids and data centers around the planet.
As one of the best conductors of electricity, copper maximizes efficiency in the transmission and distribution of electricity. Its thermal conductivity also helps build efficient heat exchangers, which are vital for cooling in data centers.
The inherent ductility and malleability of copper make it ideal for shaping into compact system components, like electrical connectors. In addition, copper can be fully recycled without losing any beneficial properties, providing an excellent solution in a growing green economy.
Data centers use copper across various electrical applications, including:
Power cables
Busbars
Electrical connectors
Heat exchangers and sinks
Power distribution strips
To put the demand into perspective, Microsoft's $500 million data center in Chicago required 2,177 tonnes of copper for construction.
North America's Growing Need for Copper
With the rise of cloud computing and the Internet of Things (IoT), the North American data center market is expanding.
North American data center infrastructure is expected to grow from a $33 billion business in 2020 to $70 billion in 2030 and $185 billion in 2040.
This, in turn, will amplify the demand for copper. Copper consumption for data centers is estimated to jump from 197,000 tonnes in 2020 to 238,000 tonnes in 2030 and 293,000 tonnes in 2040.
The Copper Development Association (CDA) brings the value of copper and its alloys to society to address the challenges of today and tomorrow. Visit www.copper.org to learn more about copper's critical role in data centers.
From Lead to Copper: Replacing America's Aging Water Infrastructure
Investing in the transition from lead to copper is crucial for providing safe water to millions of Americans.
From Lead to Copper: Replacing America's Aging Water Infrastructure
Water service lines, crucial for connecting buildings to the public water supply, are often outdated and built from lead, presenting significant health risks to Americans.
As the government invests billions toward replacing lead service lines, copper pipelines offer a safe, reliable, resilient, and sustainable alternative.
This infographic from the Copper Development Association illustrates how investing in the transition from lead to copper is crucial for providing safe water to millions of Americans.
The Problem with Lead Service Lines
In the 20th century, lead was commonly used for water service lines and plumbing pipes.
However, lead pipes can degrade over time, leading to the release of lead particles into drinking water. Even at low-to-moderate levels, lead exposure can have severe negative health impacts, including:
Hearing loss

Anemia

Kidney impairment

Immune system dysfunction
Today, every state in America has lead service lines (LSLs) that the federal government is actively working to replace.
Besides LSLs, an additional 2.8 million galvanized water pipes also need replacing.
Delivering Safe Water
Copper tubing has become the primary material to replace old water service lines.
The red metal is an antimicrobial material that kills pathogens, and it is also highly corrosion-resistant, with a typical service life of over 50 years.
In addition, copper service lines are impermeable and prevent outside chemicals from leaking into water. Copper tubes can be fully recycled at the end of their useful lives without losing any beneficial properties.
Replacing Lead Service Lines with Copper
If America were to replace all 12 million of its lead and galvanized service lines, it would require more than 650 million feet of copper tubing, equivalent to 180,000 tonnes of metal. To compare, the U.S. produced 22 million tonnes of copper in 2022.
The U.S. has commissioned several large-scale copper recycling projects in recent years, creating opportunities to meet the demand with recycled and mined supply.
However, upgrading the nation's water infrastructure will require over $56 billion, way more than the $15 billion currently provided by the Bipartisan Infrastructure Law.
Visit Copper Development Association to learn more about how copper is crucial for providing safe water to millions of Americans.