Visualizing Ukraine's Top Trading Partners and Products
Visualizing Ukraine's Top Trading Partners and Products
International trade was equal to 65% of Ukraine's GDP in 2020, totaling to $102.9 billion of goods exchanged with countries around the world.
In 2014, Russia's annexation of Crimea contributed to a 30% year-over-year drop in Ukraine's 2015 trade value ($75.6B). Now, Ukraine's international trade has been irreversibly disrupted since Russia's full-scale invasion on February 24th, 2022.
The current conflict continues to reshape geopolitical relations and international trade—and to give context to the situation, we've created this graphic using IMF and UN Comtrade data to showcase Ukraine's largest trading partners and goods traded in 2020.
Ukraine's Largest Trading Partners
Ukraine's largest trading partner in 2020 was China, with the value of trade between the two countries reaching $15.3 billion, more than double the value of any other trading partner.
Germany ($7.4B), Poland ($7.4B), and Russia ($7.2B) were Ukraine's next three largest trading partners, with the majority of Ukraine's trade with these countries being imports.
| Country | Trade with Ukraine (2020) | Exports from Ukraine (%) | Imports to Ukraine (%) |
| --- | --- | --- | --- |
| 🇨🇳 China | $15.3B | 46% | 54% |
| 🇩🇪 Germany | $7.4B | 28% | 72% |
| 🇵🇱 Poland | $7.4B | 45% | 55% |
| 🇷🇺 Russia | $7.2B | 37% | 63% |
| 🇹🇷 Turkey | $4.8B | 50% | 50% |
| 🇧🇾 Belarus | $4.2B | 32% | 68% |
| 🇮🇹 Italy | $4.1B | 48% | 52% |
| 🇺🇸 U.S. | $3.9B | 25% | 75% |
| 🇮🇳 India | $2.7B | 73% | 27% |
| 🇳🇱 Netherlands | $2.6B | 71% | 29% |
Source: IMF
While most of Ukraine's trade with top partners is made up of imports, trade with both India and the Netherlands (Ukraine's ninth and tenth largest trading partners respectively) was more export driven, with exports holding a greater than 70% share of total trade value.
Ukraine's Top Exports and Imports
Ukraine's strong agricultural industry makes up a large share of the country's exports in the form of cereals, animal and vegetable oils, and seed oils. These products made up nearly 35% of Ukraine's exports in 2020, at a value of $17 billion collectively.
| Goods Exported from Ukraine (2020) | Dollar Value | Share of Exports |
| --- | --- | --- |
| Cereals | $9.4B | 19.1% |
| Iron and steel | $7.7B | 15.6% |
| Animal or vegetable fats, oils, and other products | $5.8B | 11.7% |
| Ores, slag, and ash | $4.4B | 8.9% |
| Electrical machinery and equipment | $2.6B | 5.2% |
| Other goods | $19.4B | 39.5% |
Source: UN Comtrade
The other two cornerstones of Ukraine's industry and exports are iron ore and steel, along with refined electrical machinery, equipment, and other mechanical appliances. In 2020, exports of crude iron and steel along with their refined products made up $13 billion in value, making up more than a quarter of Ukraine's exports.
Ukraine's imports are primarily vehicles, machinery, and the fuels necessary to power these goods. With the country's energy consumption outpacing domestic energy production, mineral fuels and oils are Ukraine's top import in 2020 at $7.42 billion.
| Goods Imported from Ukraine (2020) | Dollar Value | Share of Imports |
| --- | --- | --- |
| Mineral fuels, oil, and mineral products | $7.4B | 13.8% |
| Boilers, machinery and mechanical appliances | $6.3B | 11.7% |
| Vehicles other than railway or tramway rolling stock | $5.5B | 10.2% |
| Electrical machinery and equipment | $5.3B | 9.9% |
| Pharmaceutical products | $2.5B | 4.7% |
| Other goods | $26.6B | 49.7% |
Source: UN Comtrade
Primarily importing from Belarus, Russia, and Germany, Ukraine's need for energy fuels was greatly exacerbated by Russia's annexation of the Crimean peninsula, which held 80% of Ukraine's oil and natural gas deposits in the Black Sea.
Various kinds of machinery, vehicles, and electrical equipment are the next largest categories of goods imported, cumulatively making up 31% ($17.1B) of Ukraine's imports.
Ukraine's Shift Away from Russian Trade Dependence
Since its independence from the former USSR in 1991, Ukraine has steadily shifted towards Western trading partners, especially as conflicts with Russia escalated in the 2010s.
After years of negotiations, Ukraine's Association Agreement with the EU in 2014 facilitated free trade between EU nations and Ukraine, reducing the country's dependence on trade with Russia.
Ukraine is one of the most important economic centers of the former Soviet Union, and it had long been the breadbasket of the USSR thanks to its fertile chernozem soil and strong agricultural industry.
Trade value between Russia and Ukraine peaked in 2011 at $49.2 billion, and since then has fallen by 85% to $7.2 billion in 2020. During this time, European nations like Poland and Germany overtook Russia in terms of trade value with Ukraine, and in 2021 trade with the EU totaled to more than $58 billion.
War's Effect on Ukraine's Future Trading Partners
Russia's invasion of Ukraine is rapidly reshaping both countries' international relations and trading partners.
Four days into the recent conflict, Ukrainian President Zelenskyy filed for Ukraine's special admission into the EU, which would further strengthen Ukraine's trade with European Union members. Combining the likely breakdown of Ukrainian-Russian trade with China's lack of condemnation of Russia's actions, Ukraine's trade seems likely to continue shifting towards the European Union and its Western allies.
While not exactly international trade, on February 26th the U.S. committed an additional $350 million in support to Ukraine, with American financial security assistance to Ukraine totaling $1 billion over the past year. Alongside the U.S., the EU recently committed €500 million in financial support, and multiple EU and non-EU nations are providing Ukraine with military aid.
Although it's impossible to determine the results of this conflict and its effects on international trade, the countries supporting Ukraine's defense today are likely to become the Ukraine's top trading partners in the future.
Why Copper Is Critical for Data Centers
Copper consumption for data centers in North America is estimated to jump from 197,000 tonnes in 2020 to 238,000 tonnes in 2030.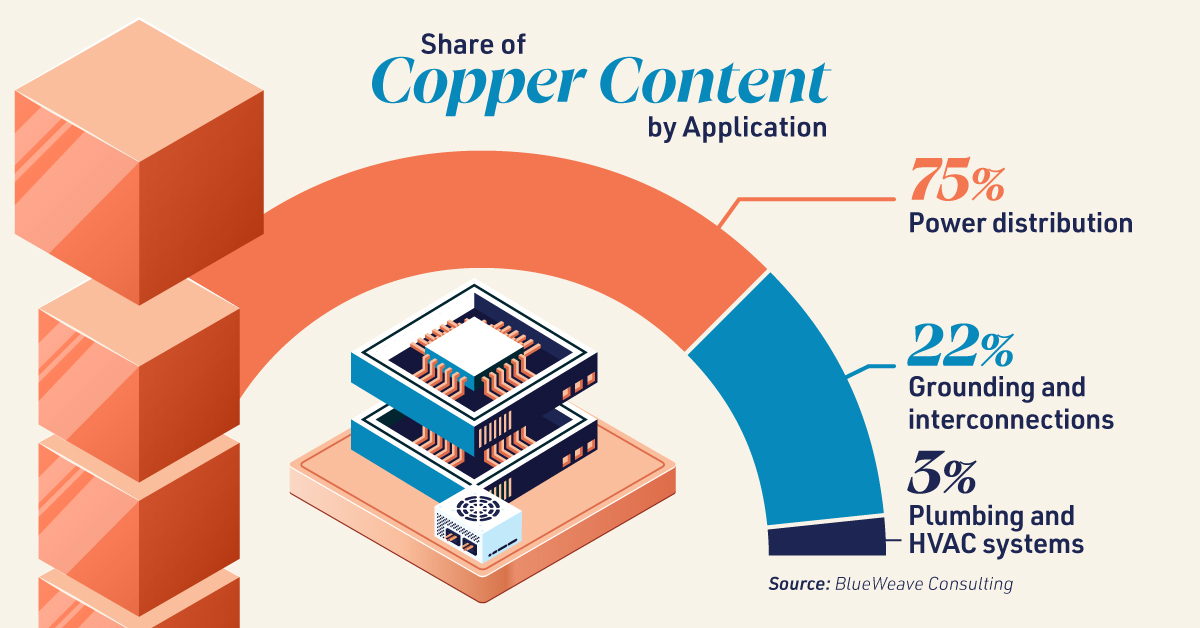 Why Copper Is Critical for Data Centers
Data centers are computer server hubs that collect, store, and process large amounts of data, requiring extensive network infrastructure and electric power supply.
As the North American data center market grows, copper will be a key building block in this infrastructure.
This infographic from the Copper Development Association illustrates the critical role of copper in data center development.
Copper in Technology
Much has been said about the growing demand for critical minerals like copper, nickel, and lithium for clean technologies such as batteries, EVs, solar, and wind power.
Copper, however, has a more extensive role in technology as it is used in wires that connect power grids and data centers around the planet.
As one of the best conductors of electricity, copper maximizes efficiency in the transmission and distribution of electricity. Its thermal conductivity also helps build efficient heat exchangers, which are vital for cooling in data centers.
The inherent ductility and malleability of copper make it ideal for shaping into compact system components, like electrical connectors. In addition, copper can be fully recycled without losing any beneficial properties, providing an excellent solution in a growing green economy.
Data centers use copper across various electrical applications, including:
Power cables
Busbars
Electrical connectors
Heat exchangers and sinks
Power distribution strips
To put the demand into perspective, Microsoft's $500 million data center in Chicago required 2,177 tonnes of copper for construction.
North America's Growing Need for Copper
With the rise of cloud computing and the Internet of Things (IoT), the North American data center market is expanding.
North American data center infrastructure is expected to grow from a $33 billion business in 2020 to $70 billion in 2030 and $185 billion in 2040.
This, in turn, will amplify the demand for copper. Copper consumption for data centers is estimated to jump from 197,000 tonnes in 2020 to 238,000 tonnes in 2030 and 293,000 tonnes in 2040.
The Copper Development Association (CDA) brings the value of copper and its alloys to society to address the challenges of today and tomorrow. Visit www.copper.org to learn more about copper's critical role in data centers.
From Lead to Copper: Replacing America's Aging Water Infrastructure
Investing in the transition from lead to copper is crucial for providing safe water to millions of Americans.
From Lead to Copper: Replacing America's Aging Water Infrastructure
Water service lines, crucial for connecting buildings to the public water supply, are often outdated and built from lead, presenting significant health risks to Americans.
As the government invests billions toward replacing lead service lines, copper pipelines offer a safe, reliable, resilient, and sustainable alternative.
This infographic from the Copper Development Association illustrates how investing in the transition from lead to copper is crucial for providing safe water to millions of Americans.
The Problem with Lead Service Lines
In the 20th century, lead was commonly used for water service lines and plumbing pipes.
However, lead pipes can degrade over time, leading to the release of lead particles into drinking water. Even at low-to-moderate levels, lead exposure can have severe negative health impacts, including:
Hearing loss

Anemia

Kidney impairment

Immune system dysfunction
Today, every state in America has lead service lines (LSLs) that the federal government is actively working to replace.
Besides LSLs, an additional 2.8 million galvanized water pipes also need replacing.
Delivering Safe Water
Copper tubing has become the primary material to replace old water service lines.
The red metal is an antimicrobial material that kills pathogens, and it is also highly corrosion-resistant, with a typical service life of over 50 years.
In addition, copper service lines are impermeable and prevent outside chemicals from leaking into water. Copper tubes can be fully recycled at the end of their useful lives without losing any beneficial properties.
Replacing Lead Service Lines with Copper
If America were to replace all 12 million of its lead and galvanized service lines, it would require more than 650 million feet of copper tubing, equivalent to 180,000 tonnes of metal. To compare, the U.S. produced 22 million tonnes of copper in 2022.
The U.S. has commissioned several large-scale copper recycling projects in recent years, creating opportunities to meet the demand with recycled and mined supply.
However, upgrading the nation's water infrastructure will require over $56 billion, way more than the $15 billion currently provided by the Bipartisan Infrastructure Law.
Visit Copper Development Association to learn more about how copper is crucial for providing safe water to millions of Americans.