Visualizing the World's Largest Iron Ore Producers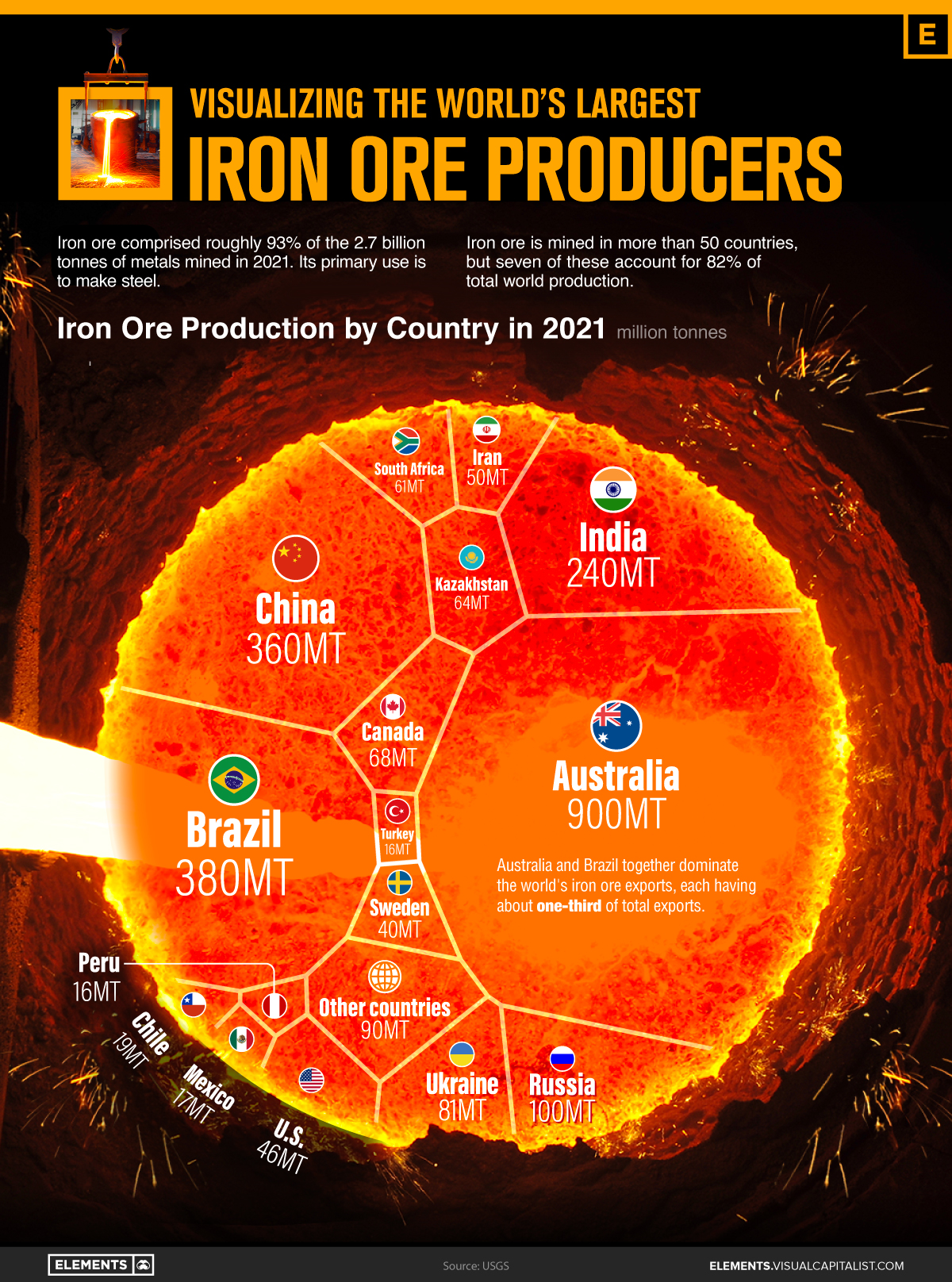 Visualizing the World's Largest Iron Ore Producers
Iron ore comprised roughly 93% of the 2.7 billion tonnes of metals mined in 2021.
It is used primarily (98%) to make steel, with the remaining 2% becoming magnets, auto parts, and catalysts.
Using data from the U.S. Geological Survey, the above infographic lists the world's largest iron ore producers in 2021.
Pilbara and Carajás Iron Ore
Iron is the fourth most abundant element on the planet after oxygen, silicon, and aluminum, constituting about 5% of the Earth's crust.
Australia produced 35% of the iron ore mined last year. Almost 90% of identified iron ore resources in the country occur in Western Australia, especially in the Pilbara region.
The large and dry region is known for its Aboriginal peoples and also for its red earth as a result of a chemical reaction of iron exposed to air and water. The three major Pilbara iron ore producers are also among the top mining companies in the world: BHP Group, Rio Tinto Ltd, and Fortescue Metals.
| Country | 2021 Production (Tonnes) |
| --- | --- |
| 🇦🇺 Australia | 900,000,000 |
| 🇧🇷 Brazil | 380,000,000 |
| 🇨🇳 China | 360,000,000 |
| 🇮🇳 India | 240,000,000 |
| 🇷🇺 Russia | 100,000,000 |
| 🇺🇦 Ukraine | 81,000,000 |
| 🇨🇦 Canada | 68,000,000 |
| 🇿🇦 South Africa | 61,000,000 |
| 🇰🇿 Kazakhstan | 64,000,000 |
| 🇮🇷 Iran | 50,000,000 |
| 🇺🇸 United States | 46,000,000 |
| 🇸🇪 Sweden | 40,000,000 |
| 🇨🇱 Chile | 19,000,000 |
| 🇲🇽 Mexico | 17,000,000 |
| 🇵🇪 Peru | 16,000,000 |
| 🇹🇷 Turkey | 16,000,000 |
| 🌐 Other countries | 90,000,000 |
After Australia, Brazil is the second biggest producer, with iron ore accounting for 80% of the country's mining exports.
Brazil's biggest public company, Vale, is the world's largest producer of iron ore and nickel. The company runs the Carajás mine, the largest iron ore mine in the world. Located in the state of Pará, in the north of the country, the mine is operated as an open-pit mine and is estimated to contain roughly 7.2 billion metric tons of iron ore.
Together, Australia and Brazil dominate the world's iron ore exports, each having about one-third of total exports.
China is the largest consumer of iron ore, used to feed its steel industry.
Despite being the third largest producer, China still imports around 80% of the iron ore it uses each year. The country brought in 1.12 billion tonnes of the commodity last year.
Iron Ore's Role in the Green Economy
Iron ore demand is expected to rise in the coming years as steel plays a crucial role in producing and distributing energy.
Steel is used extensively in agriculture, solar and wind power, and also in infrastructure for hydroelectric.
Furthermore, steel is used for the production of transformers, generators, and electric motors, along with ships, trucks, and trains.
Visualized: Real Interest Rates by Country
Currently, over half of the major economies have negative real interest rates.
Visualized: Real Interest Rates of Major World Economies
Interest rates play a crucial role in the economy because they affect consumers, businesses, and investors alike.
They can have significant implications for people's ability to access credit, manage debts, and buy more expensive goods such as cars and houses.
This graphic uses data from Infinity Asset Management to visualize the real interest rates (ex ante) of 40 major world economies, by subtracting projected inflation over the next 12 months from current nominal rates.
ℹ️ Ex ante is Latin for "before the event", and in this case refers to the fact that this data uses projected inflation rates to calculate real interest rates.
Nominal Interest Rates vs. Real Interest Rates
Nominal interest rates refer to the rate at which money can be borrowed or lent at face value, without considering any other factors like inflation.
Meanwhile, the real interest rate is the nominal interest rate after taking into account inflation, reflecting the true cost of borrowing or lending. Real interest rates can fluctuate over time and are influenced by various factors such as inflation, central bank policies, and economic growth. They can also influence economic growth by affecting investment and consumption decisions.
According to the International Monetary Fund (IMF), since the mid-1980s, real interest rates across several advanced economies have declined steadily.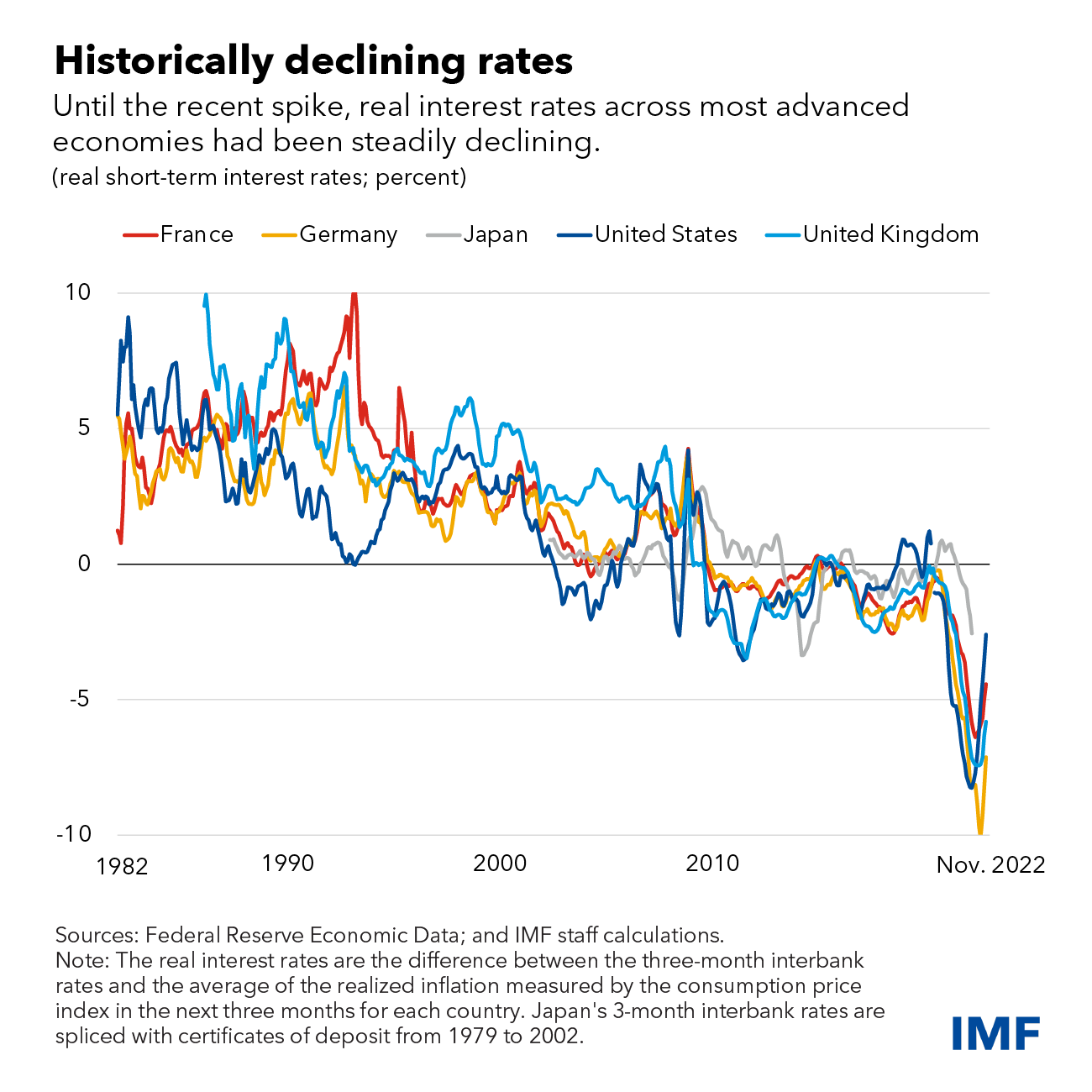 As of March 2023, Brazil has the highest real interest rate among the 40 major economies shown in this dataset.
Below we look at Brazil's situation, along with the data of the four other major economies with the highest real rates in the dataset:
| | Nominal Interest Rate | Real Interest Rate |
| --- | --- | --- |
| 🇧🇷 Brazil | 13.75% | 6.94% |
| 🇲🇽 Mexico | 11.00% | 6.05% |
| 🇨🇱 Chile | 11.25% | 4.92% |
| 🇵🇭 Philippines | 6.00% | 2.62% |
| 🇮🇩 Indonesia | 5.75% | 2.45% |
In general, countries with high interest rates offer investors higher yields on their investments but also come with higher risks due to volatile economies and political instability.
Below are the five countries in the dataset with the lowest real rates:
| | Nominal Interest Rate | Real Interest Rate |
| --- | --- | --- |
| 🇦🇷 Argentina | 78.00% | -19.61% |
| 🇳🇱 Netherlands | 3.50% | -7.42% |
| 🇨🇿 Czech Republic | 7.00% | -7.17% |
| 🇵🇱 Poland | 6.75% | -6.68% |
| 🇧🇪 Belgium | 3.50% | -6.42% |
Hyperinflation, as seen in Argentina, can lead to anomalies in both real and nominal rates, causing problems for the country's broader economy and financial system.
As you can see above, with a 78% nominal interest rate, Argentina's real interest rates remain the lowest on the planet due to a staggering annual inflation rate of over 100%.
Interest Rate Outlook
Increasing inflation and tighter monetary policy have resulted in rapid increases in nominal interest rates recently in many countries.
However, IMF analysis suggests that recent increases could be temporary.
Central banks in advanced economies are likely to ease monetary policy and bring interest rates back to pre-pandemic levels when inflation is brought under control, according to the fund.
Visualizing the Assets and Liabilities of U.S. Banks
Banks play a crucial role in the U.S. economy, and understanding their balance sheets can offer insight into why they sometimes fail.
Understanding the Assets and Liabilities of U.S. Banks
The U.S. banking sector has more than 4,000 FDIC-insured banks that play a crucial role in the country's economy by securely storing deposits and providing credit in the form of loans.
This infographic visualizes all of the deposits, loans, and other assets and liabilities that make up the collective balance sheet of U.S banks using data from the Federal Reserve.
With the spotlight on the banking sector after the collapses of Signature Bank, Silicon Valley Bank, and First Republic bank, understanding the assets and liabilities that make up banks' balance sheets can give insight in how they operate and why they sometimes fail.
Assets: The Building Blocks of Banks' Business
Assets are the foundation of a bank's operations, serving as a base to provide loans and credit while also generating income.
A healthy asset portfolio with a mix of loans along with long-dated and short-dated securities is essential for a bank's financial stability, especially since assets not marked to market may have a lower value than expected if liquidated early.
ℹ️ Mark-to-market means current market prices are being used to value an asset or liability on a balance sheet. If securities are not marked to market, their value could be different once liquidated.
As of Q4 2022, U.S. banks generated an average interest income of 4.54% on all assets.
Loans and Leases
Loans and leases are the primary income-generating assets for banks, making up 53% of the assets held by U.S. banks.
These include:
Real estate loans for residential and commercial properties (45% of all loans and leases)
Commercial and industrial loans for business operations (23% of all loans and leases)
Consumer loans for personal needs like credit cards and auto loans (15% of all loans and leases)
Various other kinds of credit (17% of all loans and leases)
Securities
Securities make up the next largest portion of U.S. banks' assets (23%) at $5.2 trillion. Banks primarily invest in Treasury and agency securities, which are debt instruments issued by the U.S. government and its agencies.
These securities can be categorized into three types:
Held-to-maturity (HTM) securities, which are held until they mature and provide a stable income stream
Available-for-sale (AFS) securities, which can be sold before maturity
Trading securities, held for short-term trading to profit from price fluctuations
Along with Treasury and agency securities which make up the significant majority (80%) of U.S. banks' securities, banks also invest in other securities which are non-government-issued debt instruments like corporate bonds, mortgage-backed securities, and asset-backed securities.
Cash Assets
Cash assets are a small but essential part of U.S. banks' balance sheets, making up $3.1 trillion or 13% of all assets. Having enough cash assets ensures adequate liquidity needed to meet short-term obligations and regulatory requirements.
Cash assets include physical currency held in bank vaults, pending collections, and cash balances in accounts with other banks.
Liabilities: Banks' Financial Obligations
Liabilities represent the obligations banks must fulfill, including customer deposits and borrowings. Careful management of liabilities is essential to maintain liquidity, manage risk, and ensure a bank's overall solvency.
Deposits
Deposits make up the largest portion of banks' liabilities as they represent the money that customers entrust to these institutions. It's important to note that the FDIC insures deposit accounts up to $250,000 per depositor, per insured bank, for each type of account (like single accounts, joint accounts, and retirement accounts).
There are two primary types of deposits, large time deposits and other deposits. Large time deposits are defined by the FDIC as time deposits exceeding $100,000, while other deposits include checking accounts, savings accounts, and smaller time deposits.
U.S. banks had $17.18 trillion in overall deposits as of April 12th 2023, with other deposits accounting for 74% of the overall liabilities while large time deposits made up 9%.
Borrowings
After deposits, borrowings are the next largest liability on the balance sheet of U.S. banks, making up nearly 12% of all liabilities at $2.4 trillion.
These include short-term borrowings from other banks or financial institutions such as Federal Funds and repurchase agreements, along with long-term borrowings like subordinated debt which ranks below other loans and securities in the event of a default.
How Deposits, Rates, and Balance Sheets Affect Bank Failures
Just like any other business, banks have to balance their finances to remain solvent; however, successful banking also relies heavily on the trust of depositors.
While in other businesses an erosion of trust with customers might lead to breakdowns in future business deals and revenues, only in banking can a dissolution in customer trust swiftly turn into the immediate removal of deposits that backstop all revenue-generating opportunities.
Although recent bank collapses aren't solely due to depositors withdrawing funds, bank runs have played a significant role. Most recently, in First Republic's case, depositors pulled out more than $101 billion in Q1 of 2023, which would've been more than 50% of their total deposits, had some of America's largest banks not injected $30 billion in deposits on March 16th.
It's important to remember that the rapidly spreading fires of bank runs are initially sparked by poor asset management, which can sometimes be detected on banks' balance sheets.
A combination of excessive investment in long-dated held-to-maturity securities, one of the fastest rate hiking cycles in recent history, and many depositors fearing for and moving their uninsured deposits of over $250,000 has resulted in the worst year ever for bank failures in terms of total assets.