Visualizing the Size of Mine Tailings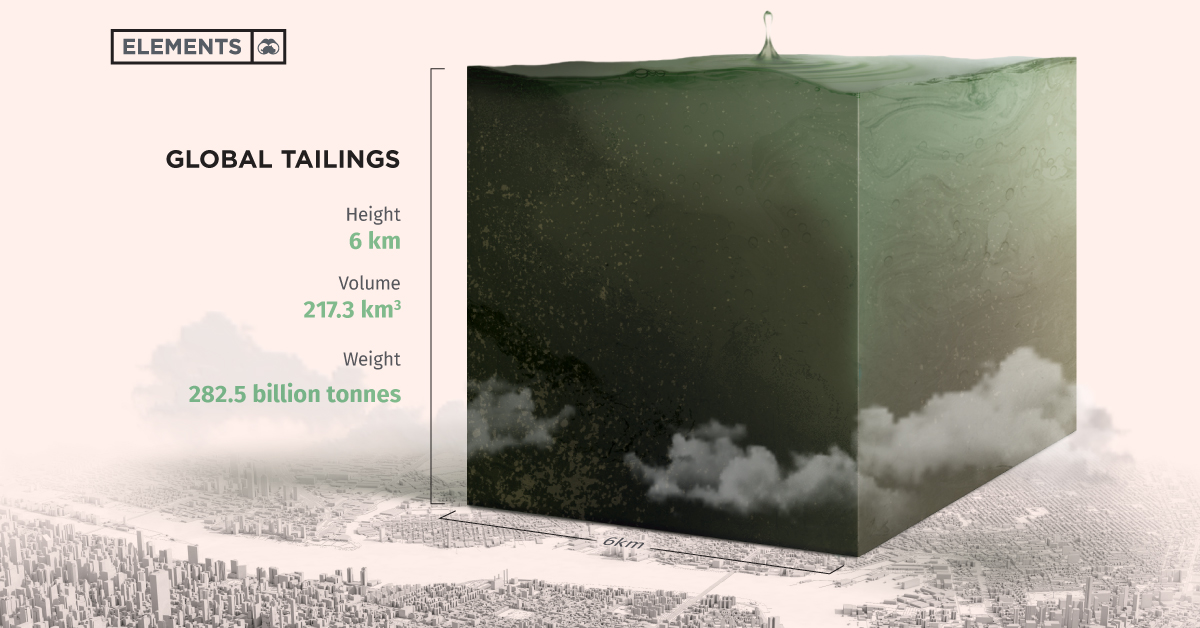 Visualizing the Size of Mine Tailings
On January 25th, 2019, a 10-meter tall wave traveling 120 km/h, washed 10 million m3 of mining waste from the Brumadinho tailings dam over the Brazilian countryside killing somewhere between 270 and 320 people.
This was a manmade disaster, made from mining the materials we use daily. Every copper wire in your house, steel frame in an EV, or any modern appliance comes from mining.
Mining leaves behind waste in the form of tailings stored in dams or ponds around the world. This infographic takes a look at the estimated size of one part of this waste, tailings, visualized next to the skyline of New York City as a benchmark.
Quantifying Mining's Material Impact
In the wake of the Brumadinho tailings failure, the International Council on Mining and Metals (ICMM) began a review with institutional investors and the United Nations Environment Programme (UNEP), to survey tailings facilities around the world.
The Global Tailings Review tracked a total of 1,743 unique facilities containing 44,540,000,000 m3 of tailings. This dataset represents only 30.2% of global commodity production.
However, the review estimated the total number of active, inactive, and closed facilities is around 8,500. If we use the assumptions for the 1,743 estimate to calculate for the 8,500 facilities, a total of 217,330,652,000 m3 of tailings are in storage globally.
What are Tailings?
Not all rock that comes out of the ground is metal. Miners find, remove, and refine rocks that carry a small amount of metal we need.
According to the USGS, 72 billion tonnes of material produced just over 10 billion tonnes of ore. Only 14% mined material makes it to processing for metals.
| Waste rock (tonnes) | Material Sent to Mill (tonnes) | Ore Produced (tonnes) | Tailings (tonnes) |
| --- | --- | --- | --- |
| 72,000,000,000 | 18,800,000,000 | 10,180,000,000 | 8,850,000,000 |
Tailings are what is left over after mills separate the metal from the mined rock. The processed material "tailings" comes from the "tail" end of a mining mill and comprise fine particles mixed with water forming a slurry. Mining companies will store this waste in dams or ponds.
Not All Minerals Are Equal: Tailings Contribution by Commodity
Not all minerals are equal in their contribution to tailings. The grade, quantity, and the process to extract the valuable metals affect each metal's material impact.
| Mineral | % Contribution to Global Tailings |
| --- | --- |
| Copper | 46% |
| Gold | 21% |
| Iron | 9% |
| Coal | 8% |
| Phosphate | 4% |
| Lead and Zinc | 3% |
| Nickel | 2% |
| Platinum Group Elements | 1% |
| Bauxite | 1% |
| Uranium | <1% |
| Chromium | <1% |
| Molybdenum | <1% |
| Tin | <1% |
| Vanadium | <1% |
| Manganese | <1% |
| Niobium | <1% |
| Rare Earths | <1% |
| Lithium | <1% |
| Other minerals | 1% |
| Total | 100% |
A renewable future will be mineral intensive and will inevitably produce more mining waste, but growing awareness around mining's true cost will force companies to minimize and make the most of their waste.
Turning a Liability into an Asset
While tailings are waste, they are not useless. Researchers know there remains economic value in tailings. Natural Resources Canada estimated that there is $10B in total metal value in Canadian gold mining waste.
Rio Tinto has produced borates from a mine in the Mojave Desert which has left behind more than 90 years' worth of tailings. The company was probing the tailings for gold and discovered lithium at a concentration higher than other U.S. projects under development.
According to UBC's Bradshaw Initiative for Minerals and Mining professor Greg Dipple, the mining industry could help society store carbon. For over a decade, he has researched a process in which tailings naturally draws CO₂ from the air and traps it in tailings.
A Material World
While the majority of mining companies manage tailing dams safely, the issue of the material impacts of mining on Earth remains.
Mining of metal has grown on average by 2.7% a year since the 1970s, and will continue to grow. The importance of the size of tailings is critical to address proactively, before it comes rushing through the front door, as it did in Brazil.
The Next Frontier: Mineral Exploration in Saskatchewan
The Next Frontier: Mineral Exploration in Saskatchewan
Lying in the heart of Canada is the next great mineral exploration frontier, Saskatchewan. This humble province lies at the center of one of the greatest mining countries in the world, but despite Canada's long history with mining, Saskatchewan is still open for discovery.
This infographic from our sponsor SKRR Exploration shows where the next mineral frontier for discovery lies in Saskatchewan.
The Road to Resources: Opening for Business
Saskatchewan covers 588,239 square kilometers, roughly the size of Iran or Mongolia, with a population density of only 1.8 persons per square kilometer. This central province sits on the edge of a vast frontier that is rich with mineral resources that could power and feed the world.
In order to encourage investment, Saskatchewan has several incentive programs for the mining industry.
The Targeted Mineral Exploration Incentive: 25% rebate on eligible drilling costs in regions of high potential for base metals, precious metals and diamonds.
The Saskatchewan Mineral Exploration Tax Credit: A non-refundable 10% tax credit to Saskatchewan taxpayers who invest in eligible flow-through shares issued by mining or exploration companies.
A 10-year royalty holiday for new gold and base metal mines.
A 5-year incorporation tax rebate for mineral processing.
While the province is encouraging mineral exploration, there are already proven success stories that are just scraping the surface of the opportunities available.
Resources Ready to Go
In 2020, Saskatchewan sold C$7.4 billion worth of metals and minerals, the fourth highest amount in Canada. Saskatchewan's mining sector provides business opportunities and jobs for over 12,400 individuals across the province, and contributes an additional 25,000 indirect jobs.
Potash: The province has the largest potash industry in the world, accounting for about 1/3 of annual global production and hosting nearly half of the world's known reserves.
Uranium: The world's richest deposits of uranium lie in Saskatchewan, giving the province the ability to produce more uranium with less land surface disturbance than almost anywhere on Earth.
Diamonds: In 2004, Shore Gold discovered diamonds near Fort à La Corne in central Saskatchewan. There is a plan to bring the 66-million carat Star-Orion South project into production.
Base Metals: The Flin Flon mining camp, on the Manitoba-Saskatchewan border, is a large base metal producer region and is estimated to have the highest contained value of ore per square kilometer in Canada for VMS deposits.
Gold: The province holds two multi-million ounce discoveries to date, the Seabee and MacLellan gold mines in the Trans-Hudson geological formation.
There is more to discovery. Exploration expenditures in 2019 were $264 million, and companies planned to spend $242 million in 2020.
SKRR Exploration: Opening a Frontier
SKRR Exploration is leading mineral exploration into Canada's final frontier and has secured prime mineral properties to take advantage of the wave of demand for metals. SKRR has six gold and one base metal exploration projects in the heart of one of the most prospective geological belts in North America.
At the helm of SKRR exploration are two leaders who know the geology of Saskatchewan well and have a proven history of discovery, Ron Neolitzky and Ross McElroy. Neolitzky was inducted into the Canadian Mining Hall of Fame for his development of two successful precious metals mines. McElroy was part of the exploration team that discovered Cameco's McArthur uranium deposit.
SKRR Exploration is bringing together the right elements of Saskatchewan to make the next great discovery.
Visualizing Gold Investment Compared to Global Assets
Gold is an important hedge against inflation and currency depreciation, but how does the precious metal compare against global assets?
How Gold Compares to Global Assets
Gold has been a vital asset for investors and speculators to hedge against uncertainty and currency devaluation, but today it is just a small part of the investment landscape.
While gold investment holdings stand at $1.1T, this figure is dwarfed by various other global assets and funds.
This graphic compares the size of gold investment holdings to global assets, highlighting the difference in dollars invested, and where modern day investors have (or haven't) been allocating their money.
Gold vs. Global Assets
Despite amounting to over $1 trillion dollars, gold investment holdings are a small fish in the large pond of major global assets.
Largely outsized by private equity funds, hedge funds, and more, gold has taken a backseat for today's investors when it comes to where they allocate their capital.
| Asset | Value |
| --- | --- |
| 2020 Gold Investment | $90.0B |
| Total Gold Investment Holdings | $1.1T |
| Top 10 Global Private Equity Funds | $1.9T |
| U.S. Hedge Funds | $3.1T |
| Sovereign Wealth Funds | $7.9T |
| 10 Largest Investment Banks | $32.3T |
| Global Pension Funds | $49.3T |
| 30 Largest U.S. Mutual Funds | $59.0T |
Sources: Mutualfunddirectory.org, Willis Towers, relbanks.com, swfininstitute.org, barclayhedge.com, investopedia.com, CPM, Incrementum AG
Even with 2020's large inflow of gold investment worth $90 billion, gold investment remains small on the scale of the world's financial assets.
With its fairly small market, around 90% of gold's global trading volume flows through three major exchanges, with the remaining volume coming from smaller OTC and secondary markets.
The Major Gold Exchanges Today
Although gold investment has been overtaken by other global assets, it still remains an important investment asset and has one of the most active markets in the world. Gold markets are split among three primary trading hubs which transact millions of dollars in volume every day.
London Metal Exchange (LME): Established in 1877, the LME offers futures contracts for metals including gold.
COMEX: A division of the Chicago Mercantile Exchange (CME) COMEX offers physically settled gold futures and options contracts.
Shanghai Futures Exchange (SHFE) and Shanghai Gold Exchange (SGE): While relatively young, these two exchanges have captured a large amount of gold trading volume, with the SGE being the largest purely physical gold spot exchange in the world.
Gold Exchange Trading Volumes
| Gold Exchange | FY 2020 Trading Volume |
| --- | --- |
| London Metal Exchange (LME) | $160M |
| COMEX | $54.4B |
| Shanghai Futures Exchange (SHFE) | $6.19B |
| Shanghai Gold Exchange (SGE) | $6.22B |
Source: World Gold Council
These three hubs and four exchanges host the majority of the world's gold trading, and saw ~$67B worth of gold trading volume in the fiscal year of 2020.
ETFs are Making Gold Investment Accessible
While the exchanges mentioned above transact millions of dollars worth of gold a day, gold-backed ETFs have made gold more accessible to the everyday investor. The top 3 U.S.-traded gold ETFs have more than $94B in assets under management between each other.
These ETFs offer investors one of the easiest ways to get gold exposure in their investment accounts, and see billions in flows every year.
Quarterly Gold ETF Flows
| Region | Q1 2020 | Q2 2020 | Q3 2020 | Q4 2020 | Q1 2021 | Q2 2021 |
| --- | --- | --- | --- | --- | --- | --- |
| North America | $6.8B | $18.2B | $11.8B | -$5B | -$8.1B | $1.1B |
| Europe | $8.1B | $4.4B | $3.4B | -$2.1B | -$2.4B | $1.6B |
| Asia | $0.7B | $0.5B | $1.2B | -$0.3B | $1B | -$0.1B |
| Other | $0.3B | $0.5B | $0.4B | -$0.3B | $0.1B | -$0.1B |
| Total | $15.9B | $23.6B | $16.8B | -$7.7B | -$9.4B | $2.5B |
Source: World Gold Council
Last year saw record inflows into gold ETFs, as investors sought a safe haven for their capital during the COVID-19 pandemic. However, gold ETFs have seen an overall outflow of $6.1B in 2021 so far, with North American gold ETFs seeing $402M in outflows just this July.
At the same time, European gold ETFs have seen a recent rise in inflows, highlighting a divergence in sentiment between the two regions. In the month of July, European gold ETFs saw $999M worth of inflows, with Asian gold ETFs also registering positive inflows of $54M.
Central Banks Still Believe in Gold's Future
While gold is not attracting immediate investment flow into ETFs, the world's central banks still maintain large amounts of their reserve assets in gold. While they primarily hold gold to hedge against currency depreciation and to diversify their reserves, gold has proved an incredibly valuable investment for central banks over the decades.
Some central banks like the U.S., Germany, and Italy, have more than 50% of their reserves' dollar value in gold, showing truly how much they value the precious metal.
With the world's central banks holding around $1.69T worth of gold in their reserves currently, gold remains an essential investment for both big and small players alike.