Visualizing $65 Trillion in Hidden Dollar Debt
Visualizing $65 Trillion in Hidden Dollar Debt
The scale of hidden dollar debt around the world is huge.
No less than $65 trillion in unrecorded dollar debt circulates across the global financial system in non-U.S. banks and shadow banks. To put in perspective, global GDP sits at $104 trillion.
This dollar debt is in the form of foreign-exchange swaps, which have exploded over the last decade due to years of monetary easing and ultra-low interest rates, as investors searched for higher yields. Today, unrecorded debt from these foreign-exchange swaps is worth more than double the dollar debt officially recorded on balance sheets across these institutions.
Based on analysis from the Bank of International Settlements (BIS), the above infographic charts the rise in hidden dollar debt across non-U.S. financial institutions and examines the wider implications of its growth.
Dollar Debt: A Beginners Guide
To start, we will briefly look at the role of foreign-exchange (forex) swaps in the global economy. The forex market is the largest in the world by a long stretch, with trillions traded daily.
Some of the key players that use foreign-exchange swaps are:
Corporations
Financial institutions
Central banks
To understand forex swaps is to look at the role of currency risk. As we have seen in 2022, the U.S. dollar has been on a tear. When this happens, it hurts company earnings that generate revenue across borders. That's because they earn revenue in foreign currencies (which have likely declined in value against the dollar) but end up converting earnings to U.S. dollars.
In order to reduce currency risk, market participants will buy forex swaps. Here, two parties agree to exchange one currency for another. In short, this helps protect the company from unfavorable foreign exchange rates.
What's more, due to accounting rules, forex swaps are often unrecorded on balance sheets, and as a result are quite opaque.
A Mountain of Debt
Since 2008, the value of this opaque, unrecorded dollar debt has nearly doubled.
Date

Non-U.S. Bank
Unrecorded Debt
Non-U.S. Shadow Bank
Unrecorded Debt
2022*
$39.4T
$26.0T
2021
$37.1T
$25.0T
2020
$34.5T
$22.9T
2019
$32.9T
$21.5T
2018
$32.4T
$20.1T
2017
$31.2T
$18.8T
2016
$27.9T
$17.0T
2015
$25.1T
$15.6T
2014
$30.0T
$17.0T
2013
$30.8T
$15.7T
2012
$28.9T
$15.9T
2011
$27.5T
$14.7T
2010
$24.8T
$15.0T
2009
$21.4T
$12.1T
2008
$21.9T
$12.4T
*As of June 30, 2022
Driving its rise in part was an era of rock-bottom interest rates globally. As investors sought out higher returns, they took on greater leverage—and forex swaps are one example of this.
Now, as interest rates have been rising, forex swaps have increased amid higher market volatility as investors look to hedge currency risk. This appears in both non-U.S. banks and non-U.S. shadow banks, which are unregulated financial intermediaries.
Overall, the value of unrecorded debt is staggering. An estimated $39 trillion is held by non-U.S. banks along with $26 trillion in overseas shadow banks around the world.
Past Case Studies
Why does the massive growth in dollar debt present risks?
During the market crashes of 2008 and 2020, forex swaps faced a funding squeeze. To borrow U.S. dollars, market participants had to pay high rates. A lot of this hinged on the impact of extreme volatility on these swaps, putting pressure on funding rates.
Here are two examples of how volatility can heighten risk in the forex market:
Exchange-rate volatility: Sharp swings in USD can spur a liquidity crunch
U.S. interest-rate volatility: Sudden rate fluctuations can mean much higher costs for these trades
In both cases, the U.S. central bank had to step in to provide liquidity in the market and prevent dollar shortages. This was done through pumping cash into the system and creating swap lines with other non-U.S. banks such as the Bank of Canada or the Bank of Japan. These were designed to protect from declining currency values and a liquidity crunch.
Dollar Debt: The Wider Implications
The risk from growing dollar debt and these swap lines arises when a non-U.S. bank or shadow bank may not be able to hold up their end of the agreement. In fact, on a daily basis, there is an estimated $2.2 trillion in forex swaps exposed to settlement risk.
Given its vast scale, this dollar debt could have greater systemic spillover effects. If participants fail to pay it could undermine financial market stability. Because demand for U.S. dollars increases during market uncertainty, a worsening economic climate could potentially expose the forex market to more vulnerabilities.
All the Metals We Mined in One Visualization
This infographic visualizes the 2.8 billion tonnes of metals mined in 2022.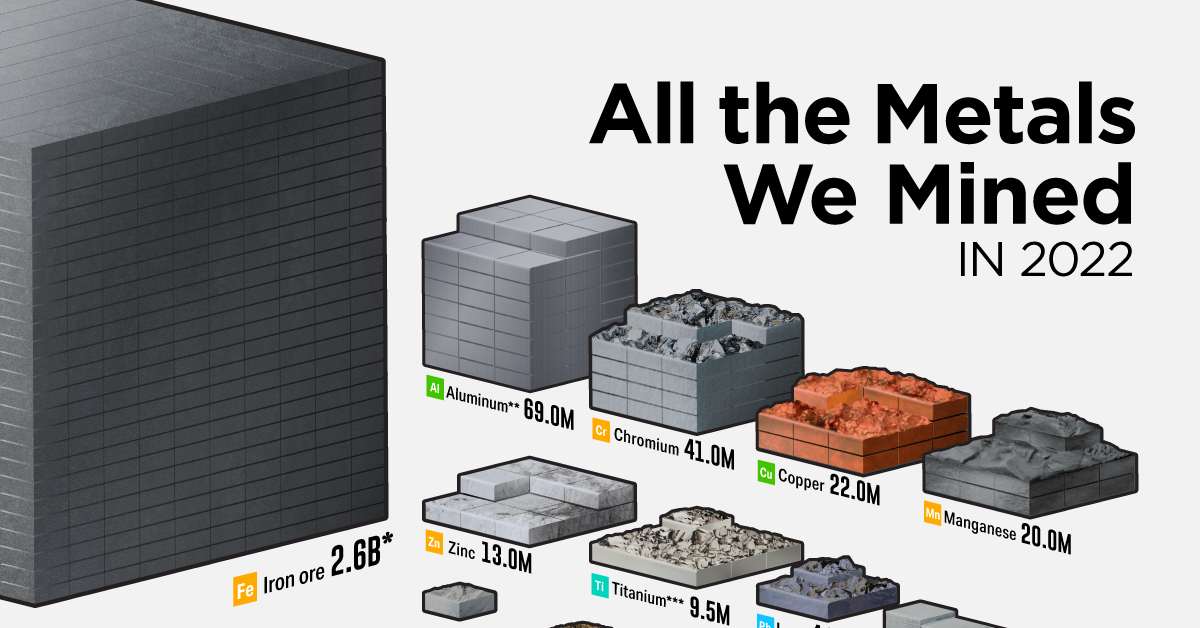 All the Metals We Mined in One Visualization
Metals are a big part of our daily lives, found in every building we enter and all devices we use.
Today, major industries that directly consume processed mineral materials contribute 14% of the United States economy.
The above infographic visualizes all 2.8 billion tonnes of metals mined in 2022 and highlights each metal's largest end-use using data from the United States Geological Survey (USGS).
Iron Ore Dominance
Iron ore dominates the metals mining landscape, comprising 93% of the total mined. In 2022, 2.6 billion tonnes of iron ore were mined, containing about 1.6 billion tonnes of iron.
| Metal/Ore | Quantity Mined in 2022 (tonnes) | % of Total |
| --- | --- | --- |
| Iron ore | 2,600,000,000 | 93.3% |
| Industrial metals | 185,111,835 | 6.6% |
| Technology and Precious Metals | 1,500,008 | 0.05% |
| Total | 2,786,611,843 | 100% |
Percentages may not add up to 100 due to rounding.
Iron ores are found in various geologic environments, such as igneous, metamorphic, or sedimentary rocks, and can contain over 70% iron, with many falling in the 50-60% range.
Combined with other materials like coke and limestone, iron ore is primarily used in steel production. Today, almost all (98%) iron ore is dedicated to steelmaking.
The ore is typically mined in about 50 countries, but Australia, Brazil, China, and India are responsible for 75% of the production.
Because of its essential role in infrastructure development, iron ore is one of the most crucial materials underpinning urbanization and economic growth.
Industrial Metals
Industrial metals occupy the second position on our list, constituting 6.6% of all metals mined in 2022. These metals, including copper, aluminum, lead, and zinc, are employed in construction and industrial applications.
Aluminum constituted nearly 40% of industrial metal production in 2022. China was responsible for 56% of all aluminum produced.
| Industrial Metals | 2022 Mine Production (tonnes) | % of Total |
| --- | --- | --- |
| Aluminum | 69,000,000 | 37.3% |
| Chromium | 41,000,000 | 22.1% |
| Copper | 22,000,000 | 11.9% |
| Manganese | 20,000,000 | 10.8% |
| Zinc | 13,000,000 | 7.0% |
| Titanium (mineral concentrates) | 9,500,000 | 5.1% |
| Lead | 4,500,000 | 2.4% |
| Nickel | 3,300,000 | 1.8% |
| Zirconium Minerals (Zircon) | 1,400,000 | 0.8% |
| Magnesium | 1,000,000 | 0.5% |
| Strontium | 340,000 | 0.2% |
| Uranium | 49,355 | 0.03% |
| Bismuth | 20,000 | 0.01% |
| Mercury | 2,200 | 0.00% |
| Beryllium | 280 | 0.00% |
| Total | 185,111,835 | 100% |
In the second position is chromium, which plays a primary role in rendering stainless steel corrosion-resistant. South Africa led chromium production, accounting for 44% of the total mined last year.
Technology and Precious Metals
Despite representing less than 1% of all the metals mined, technology metals have been on the news over the last few years as countries and companies seek these materials to reduce carbon emissions and improve productivity.
| Technology and Precious Metals | 2022 Mine Production (tonnes) | % of Total |
| --- | --- | --- |
| Tin | 310,000 | 20.7% |
| Rare Earth Oxides | 300,000 | 20.0% |
| Molybdenum | 250,000 | 16.7% |
| Cobalt | 190,000 | 12.7% |
| Lithium | 130,000 | 8.7% |
| Vanadium | 100,000 | 6.7% |
| Tungsten | 84,000 | 5.6% |
| Niobium | 79,000 | 5.3% |
| Silver | 26,000 | 1.7% |
| Cadmium | 24,000 | 1.6% |
| Gold | 3,100 | 0.2% |
| Tantalum | 2,000 | 0.1% |
| Indium | 900 | 0.1% |
| Gallium | 550 | 0.04% |
| Platinum Group Metals | 400 | 0.03% |
| Rhenium | 58 | 0.004% |
| Total | 1,500,008 | 100% |
They include lithium and cobalt, used in electric vehicles and battery storage, and rare earths, used in magnets, metal alloys, and electronics. Many of them are considered critical for countries' security due to their role in clean energy technologies and dependency on other nations to supply domestic demand.
However, despite increasing interest in these metals, they are still behind precious metals such as gold and silver regarding market size.
The gold market, for example, reached $196 billion in 2022, compared to $10.6 billion for the rare earths market.
Visualizing Mining's Footprint in British Columbia
Mining represents 7% of British Columbia's GDP despite only accounting for 0.04% of the land use.
Visualizing Mining's Footprint in British Columbia
British Columbia is considered a global leader in the development of socially and environmentally responsible resources.
An estimated 54% of the province's total land is protected, making it one of the world's greenest mining hubs.
This graphic by the B.C. Regional Mining Alliance (BCRMA) details mining's footprint in the province.
A Tier 1 Jurisdiction for Mining
British Columbia covers almost 95 million hectares (234 million acres), more than any European country except Russia, and more than any U.S. state except Alaska.
As the largest mining province in Canada, BC registered $18 billion in revenue from the industry in 2022.
British Columbia stands as Canada's sole producer of molybdenum, which finds applications in metallurgy and chemistry. Additionally, B.C. is the country's leader producer of copper and steelmaking coal, besides gold and silver.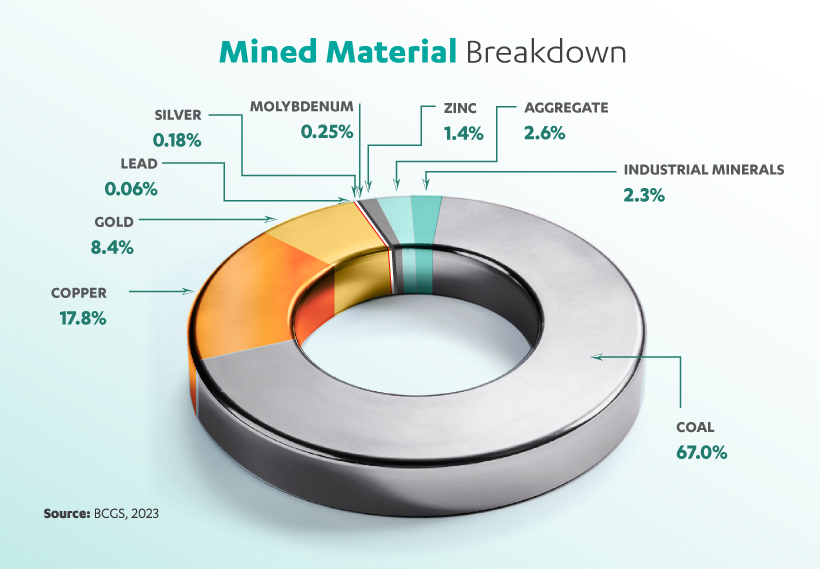 At the heart of British Columbia's mining industry lies the Golden Triangle, one of the hottest mineral exploration districts in the world.
More than 150 mines have operated in the area since prospectors first arrived at the end of the 19th century. The region alone is endowed with minerals worth more than $800 billion.
How Green is B.C. Mining
Mining represents 7% of the province's Gross Domestic Product (GDP), despite only accounting for 0.04% of the land use. In comparison, farmland demands 3% of the land, bringing $2.1 billion (0.8%) per year.
| | Land Use in B.C. | Revenue (2022, CAD $) |
| --- | --- | --- |
| Mining | 0.04% | $18.0 billion |
| Oil & Gas | 0.4% | $9.5 billion |
| Infrastructure | 1% | $25.0 billion |
| Farmland | 3% | $2.1 billion |
| Forest | 62% | $13.3 billion |
Mining operations are also supported by a stable, transparent, and effective policy environment. The province ranked as the world's least risky for mining in 2017 and 2018.
In addition, mineral exploration has received ample support from local Indigenous communities. Today, mining accounts for over two-thirds of all indigenous people employed in the extractives sector.
According to the International Energy Agency, up to six times more minerals and metals will be needed by 2040 to accelerate the energy transition.
In this scenario, British Columbia is well positioned to support the transition to a low-carbon future and make a significant contribution to climate action.
The BCRMA is a strategic partnership between indigenous groups, industry, and government representatives that aims to promote B.C.'s mining opportunities internationally.