The Largest Copper Mines in the World by Capacity
The Largest Copper Mines in the World
Copper is one of the most-used metals in the world, for good reason.
Global copper production has expanded with populations and economies, especially in China, which consumed 54% of the world's refined copper in 2020. Copper's demand comes from various industries, ranging from construction to renewable energy.
But before copper reaches its array of end-uses, miners have to extract and refine from deposits within the ground. So where are the world's largest copper mines, and just how large are they?
Types of Copper Deposits
The location of mines ultimately depends on the occurrence and discovery of copper deposits. There are two main types of copper deposits:
Porphyry deposits:
These are copper ore bodies formed from hydrothermal fluids from magma chambers that lie deep below the deposit.
Sediment-hosted deposits:
These deposits are formed when copper-bearing fluids mix with permeable sedimentary and volcanic rocks.
Copper is primarily sourced from porphyry deposits, which are concentrated in the Americas. Therefore, many of the world's largest copper mines operate in this region.
Top 20 Copper Mines by Capacity
North, South, and Central America collectively host 15 of the 20 largest copper mines. These three regions combine the capacity for nearly 36% of global copper production in 2020.
Rank
Mine
Country
Annual Production
Capacity (tonnes)
Capacity as a %
Global Production†
1
Escondida
Chile 🇨🇱
1,400,000
7.0%
2
Collahuasi
Chile 🇨🇱
610,000
3.1%
3
Buenavista del Cobre
Mexico 🇲🇽
525,000
2.6%
4
Morenci
U.S. 🇺🇸
520,000
2.6%
5
Cerro Verde II
Peru 🇵🇪
500,000
2.5%
6*
Antamina
Peru 🇵🇪
450,000
2.3%
6*
Polar Division
Russia 🇷🇺
450,000
2.3%
8
Las Bambas
Peru 🇵🇪
430,000
2.2%
9
Grasberg
Indonesia 🇮🇩
400,000
2.0%
10
El Teniente
Chile 🇨🇱
399,000
2.0%
11*
Chuquicamata
Chile 🇨🇱
370,000
1.9%
11*
Los Bronces
Chile 🇨🇱
370,000
1.9%
11*
Los Pelambres
Chile 🇨🇱
370,000
1.9%
14
Kansanshi
Zambia 🇿🇲
340,000
1.7%
15
Radomiro Tomic
Chile 🇨🇱
330,000
1.7%
16*
Kamoto
Congo 🇨🇩
300,000
1.5%
16*
Cobre Panama
Panama 🇵🇦
300,000
1.5%
18
Bingham Canyon
U.S. 🇺🇸
280,000
1.4%
19
Toquepala
Peru 🇵🇪
265,000
1.3%
20
Sentinel
Zambia 🇿🇲
260,000
1.3%
*Mines with equal capacities have the same rankings. †2020
The Escondida Mine in Chile is by far the world's largest copper mine. Its annual capacity of 1.4 million tonnes means that it can produce more copper than the second and third-largest mines combined.
Porphyry copper deposits are often characterized by lower grade ores and are mined in open pits. As a result, some of the top copper mines are also among the world's largest open pits. The Bingham Canyon Mine (seen below) in Utah, United States, is the deepest open pit with a depth of 1.2 km. It's also the largest man-made excavation on Earth, spanning 4 km wide.
Chuquicamata and Escondida are the second and third-deepest open pits, respectively.
Indonesia's Grasberg Mine is another notable name on this list. It produces both gold and copper on a massive scale and has the world's largest known reserve of gold and the second-largest reserve of copper.
Overall, the top 20 mines have the capacity to produce nearly nine million tonnes of copper annually—representing 44% of global production in 2020. However, with demand for refined copper expected to rise 31% between 2020 and 2030, these existing sources of supply might not be enough.
Falling Grades, Rising Demand: New Mines on the Block?
According to the International Energy Agency, average copper ore grades in Chile have declined by 30% in the last 15 years. Since Chile's mines produce more than one-fourth of the world's copper, these falling ore grades could be a cause for concern—especially with a deficit looming over the market for refined copper.
New copper mining projects are becoming more valuable and it wouldn't be surprising to see fresh names on the list of the largest copper mines. For example, the Kamoa-Kakula Mine, which started production in May 2021, is expected to churn out 800,000 tonnes of copper annually after expansion. That would make it the second-largest copper mine by capacity.
Why Copper Is Critical for Data Centers
Copper consumption for data centers in North America is estimated to jump from 197,000 tonnes in 2020 to 238,000 tonnes in 2030.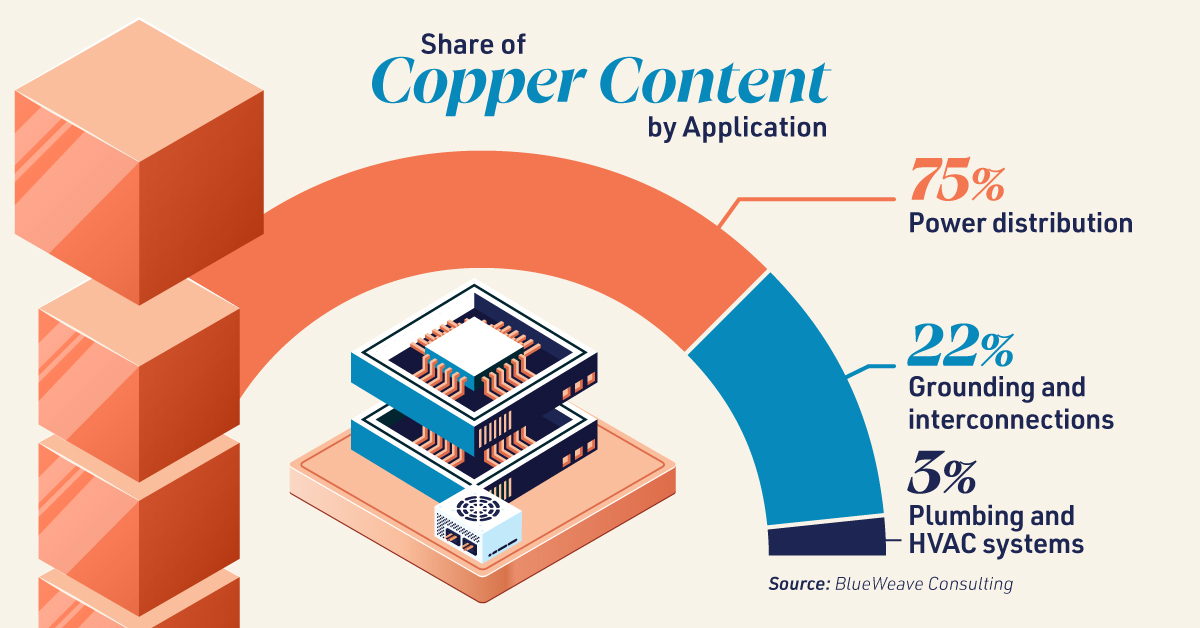 Why Copper Is Critical for Data Centers
Data centers are computer server hubs that collect, store, and process large amounts of data, requiring extensive network infrastructure and electric power supply.
As the North American data center market grows, copper will be a key building block in this infrastructure.
This infographic from the Copper Development Association illustrates the critical role of copper in data center development.
Copper in Technology
Much has been said about the growing demand for critical minerals like copper, nickel, and lithium for clean technologies such as batteries, EVs, solar, and wind power.
Copper, however, has a more extensive role in technology as it is used in wires that connect power grids and data centers around the planet.
As one of the best conductors of electricity, copper maximizes efficiency in the transmission and distribution of electricity. Its thermal conductivity also helps build efficient heat exchangers, which are vital for cooling in data centers.
The inherent ductility and malleability of copper make it ideal for shaping into compact system components, like electrical connectors. In addition, copper can be fully recycled without losing any beneficial properties, providing an excellent solution in a growing green economy.
Data centers use copper across various electrical applications, including:
Power cables
Busbars
Electrical connectors
Heat exchangers and sinks
Power distribution strips
To put the demand into perspective, Microsoft's $500 million data center in Chicago required 2,177 tonnes of copper for construction.
North America's Growing Need for Copper
With the rise of cloud computing and the Internet of Things (IoT), the North American data center market is expanding.
North American data center infrastructure is expected to grow from a $33 billion business in 2020 to $70 billion in 2030 and $185 billion in 2040.
This, in turn, will amplify the demand for copper. Copper consumption for data centers is estimated to jump from 197,000 tonnes in 2020 to 238,000 tonnes in 2030 and 293,000 tonnes in 2040.
The Copper Development Association (CDA) brings the value of copper and its alloys to society to address the challenges of today and tomorrow. Visit www.copper.org to learn more about copper's critical role in data centers.
From Lead to Copper: Replacing America's Aging Water Infrastructure
Investing in the transition from lead to copper is crucial for providing safe water to millions of Americans.
From Lead to Copper: Replacing America's Aging Water Infrastructure
Water service lines, crucial for connecting buildings to the public water supply, are often outdated and built from lead, presenting significant health risks to Americans.
As the government invests billions toward replacing lead service lines, copper pipelines offer a safe, reliable, resilient, and sustainable alternative.
This infographic from the Copper Development Association illustrates how investing in the transition from lead to copper is crucial for providing safe water to millions of Americans.
The Problem with Lead Service Lines
In the 20th century, lead was commonly used for water service lines and plumbing pipes.
However, lead pipes can degrade over time, leading to the release of lead particles into drinking water. Even at low-to-moderate levels, lead exposure can have severe negative health impacts, including:
Hearing loss

Anemia

Kidney impairment

Immune system dysfunction
Today, every state in America has lead service lines (LSLs) that the federal government is actively working to replace.
Besides LSLs, an additional 2.8 million galvanized water pipes also need replacing.
Delivering Safe Water
Copper tubing has become the primary material to replace old water service lines.
The red metal is an antimicrobial material that kills pathogens, and it is also highly corrosion-resistant, with a typical service life of over 50 years.
In addition, copper service lines are impermeable and prevent outside chemicals from leaking into water. Copper tubes can be fully recycled at the end of their useful lives without losing any beneficial properties.
Replacing Lead Service Lines with Copper
If America were to replace all 12 million of its lead and galvanized service lines, it would require more than 650 million feet of copper tubing, equivalent to 180,000 tonnes of metal. To compare, the U.S. produced 22 million tonnes of copper in 2022.
The U.S. has commissioned several large-scale copper recycling projects in recent years, creating opportunities to meet the demand with recycled and mined supply.
However, upgrading the nation's water infrastructure will require over $56 billion, way more than the $15 billion currently provided by the Bipartisan Infrastructure Law.
Visit Copper Development Association to learn more about how copper is crucial for providing safe water to millions of Americans.