Ranked: Top 25 Nations Producing Battery Metals for the EV Supply Chain
How to Use: Click the arrows on the left/right to navigate between current and projected rankings.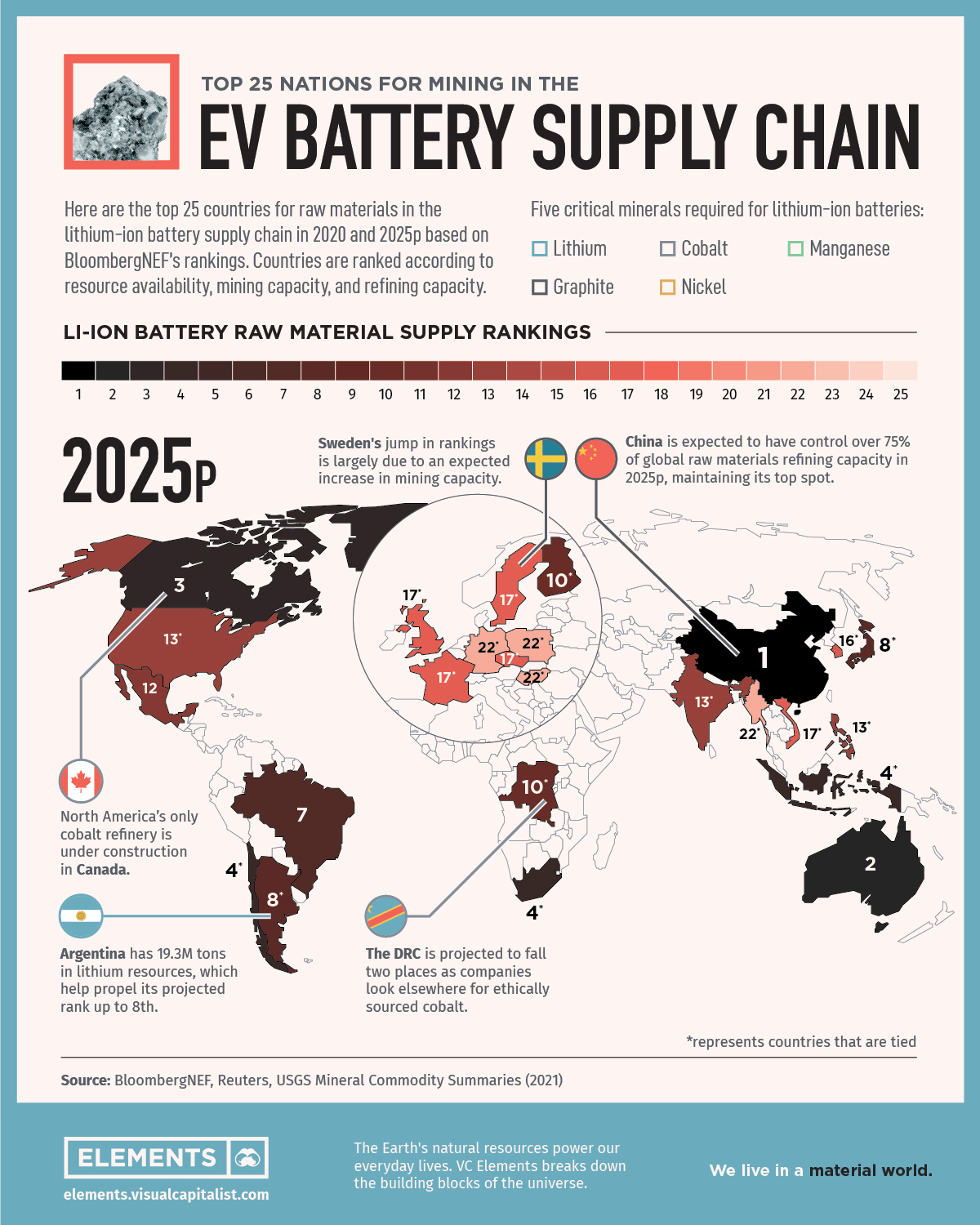 Battery metals top 25 2020
Battery metals top 25 2025
The Role of Mining in the EV Battery Supply Chain
Batteries are one of the most important and expensive components of electric vehicles (EVs). The vast majority of EVs use lithium-ion (Li-ion) batteries, which harness the properties of minerals and elements to power the vehicles. But batteries do not grow on trees—the raw materials for them, known as "battery metals", have to be mined and refined.
The above graphic uses data from BloombergNEF to rank the top 25 countries producing the raw materials for Li-ion batteries.
Battery Metals: The Critical Raw Materials for EV Batteries
The raw materials that batteries use can differ depending on their chemical compositions. However, there are five battery minerals that are considered critical for Li-ion batteries:
Cobalt
Graphite
Lithium
Manganese
Nickel
Miners extract these minerals from economically viable deposits and refine them from their raw forms into high-quality products and chemicals for EV batteries.
The Top 25 Nations Supplying Battery Metals
Some countries are more crucial than others to the battery metal supply chain. BloombergNEF ranked the top 25 countries according to the following methodology:
First, they tallied the mineral resources, mining capacity, and refining capacity in 2020 and projected commissioned capacity by 2025 for the five key metals listed above in each country.
Then, to determine the overall score for each country, BloombergNEF categorized the countries' capacities into five bands. Countries in the lowest band received a score of 1 and those in the highest band received a score of 5.
The overall score is the result of averaging the scores across the five categories for each country.
Now that we have a better understanding of how the rankings work, here are the top 25 nations for raw materials in the Li-ion supply chain in 2020 and 2025.
| Country | 2020 Rank | 2025 Projected Rank | Change in Rank |
| --- | --- | --- | --- |
| China | 1 | 1 | 0 |
| Australia | 2 | 2 | 0 |
| Brazil | 3 | 7 | -4 |
| Canada | 4 | 3 | +1 |
| South Africa | 5 | 4 | +1 |
| Chile | 6 | 4 | +2 |
| Indonesia | 7 | 4 | +3 |
| Democratic Republic of Congo (DRC) | 8 | 10 | -2 |
| India | 9 | 13 | -4 |
| Philippines | 9 | 13 | -4 |
| Finland | 11 | 10 | +1 |
| Japan | 12 | 8 | +4 |
| Argentina | 12 | 8 | +4 |
| Mexico | 12 | 12 | 0 |
| U.S. | 15 | 13 | +2 |
| Vietnam | 16 | 17 | -1 |
| South Korea | 17 | 16 | +1 |
| Germany | 17 | 22 | -5 |
| U.K. | 17 | 17 | 0 |
| France | 17 | 17 | 0 |
| Czech Republic | 17 | 17 | 0 |
| Sweden | 22 | 17 | +5 |
| Poland | 22 | 22 | 0 |
| Hungary | 22 | 22 | 0 |
| Thailand | 22 | 22 | 0 |
China's dominance in the rankings shows that refining capacity is just as important, if not more, as access to raw materials and mining capacity.
China does not boast an abundance of battery metal deposits but ranks first largely due to its control over 80% of global raw material refining capacity. Additionally, China is the world's largest producer of graphite, the primary anode material for Li-ion batteries.
Australia comes in at number two due to its massive lithium production capacity and nickel reserves. Following Australia is Brazil, one of the world's top 10 producers of graphite, nickel, manganese, and lithium.
On the other end of the spectrum, Poland, Hungary, Sweden, and Thailand are tied at rank 22. However, it's important to note that these are among the top 10 countries for cell and component manufacturing—the next step in the lithium-ion battery supply chain.
Countries on the Rise
Sweden's rank rises five places between 2020 and 2025p, largely due to an expected increase in its mining capacity with nickel and graphite projects in the pipeline. Argentina is projected to jump up to eighth place thanks to its massive lithium resources and multiple mining projects in advanced stages.
Moreover, Japan is projected to move up four places with its first lithium hydroxide refining plant under construction. In addition, Japanese miner Sumitomo Metal Mining is planning to double battery metal production by 2028.
Although China will likely maintain its dominance for the foreseeable future, other countries are ramping up their mining and refining capacities. Given the increasing importance of EVs, it will be interesting to see how the battery metals supply chain evolves going forward.
The Road to EV Adoption: Fast Lanes and Potholes
Electric vehicles are a key piece of the clean energy puzzle. So what's driving EV adoption, and what's slowing it down?
The Road to EV Adoption: Fast Lanes and Potholes
Electric vehicles (EVs) are a key piece of the clean energy puzzle.
However, the road to electrification is influenced by various factors. While some are helping speed up the switch to EVs, others are slowing it down.
The above infographic from Rock Tech Lithium outlines the fast lanes accelerating mainstream EV adoption, and the potholes slowing it down.
The Fast Lanes Accelerating EV Adoption
From government policies to falling battery prices, a number of factors are putting EVs in the fast lane to consumer adoption.
Factor #1:
Promoting Policies
The shift to a clean energy future is slowly moving from a goal to a reality.
Governments around the world have made automobile electrification a key part of public policy. More than 20 countries are targeting a complete phase-out of vehicles that emit greenhouse gases over the next two decades. Furthermore, 35 countries have pledged for net-zero economies by 2050, where EVs will play a key role.
As an example, here's a recent tweet that U.S. President Joe Biden wrote before signing an executive order to make 50% of the U.S. auto fleet electric by 2030:
"The future of the auto industry is electric—and made in America."
—President Biden on Twitter
Given the increasing importance of EVs, it's no surprise that governments are not only promoting auto electrification but also incentivizing it.
Factor #2:
Consumer Awareness
The rapid growth of the EV market is partly due to consumers that are choosing to go electric.
Rising awareness around the risks of climate change as well as vehicle improvements from EV manufacturers is spurring EV adoption among consumers. Between 2015 and 2020, consumer spending on EVs increased by 561%, up from $18 billion to $119 billion.
As more consumers switch to EVs, the market will continue to grow.
Factor #3:
More Models
EV manufacturers are recognizing the need for a wider variety of vehicles to meet the needs of different consumers.
The number of available EV models has increased from 86 in 2015 to over 360 in 2020, and thanks to recent announcements from the auto industry, this trend is likely to extend over the next decade.
| Company | # of New EV Models Announced | Year |
| --- | --- | --- |
| Volkswagen | 75 | 2025 |
| Ford | 40 | 2022 |
| GM | 30 | 2025 |
| Hyundai-Kia1 | 29 | 2025 |
| BMW | 25 | 2023 |
| Renault-Nissan2 | 20 | 2022 |
| Toyota | 15 | 2025 |
| Total | 234 | N/A |
1Hyundai is the parent company of Kia Motors.
2Refers to the Renault-Nissan-Mitsubishi Alliance.
Source: IEA
With more models available, consumers have a wider variety of cars to choose from, reducing the barriers to EV adoption.
Factor #4:
Falling Battery Prices
Batteries are the most expensive and important components of EVs.
Improvements in battery technology, in addition to expanding production, have driven down the cost of EV batteries. As battery costs fall, so do EV prices, bringing EVs closer to price-parity with gas-powered cars.
| Year | Battery Pack Price ($/kWh) | % Price Drop Since 2010 |
| --- | --- | --- |
| 2010 | $1,191 | 0% |
| 2011 | $924 | 22% |
| 2012 | $726 | 39% |
| 2013 | $668 | 44% |
| 2014 | $592 | 50% |
| 2015 | $384 | 68% |
| 2016 | $295 | 75% |
| 2017 | $221 | 81% |
| 2018 | $181 | 85% |
| 2019 | $157 | 87% |
| 2020 | $137 | 89% |
Source: BloombergNEF
According to BloombergNEF, at the battery pack price point of $100/kWh, EV prices will become competitive with gas-powered cars, providing a boost to electrification.
All of the above factors are playing a major role in accelerating the EV transition. So what's slowing it down?
The Potholes Slowing Down EV Adoption
Although the EV market is growing exponentially, it's still in its early days, with various obstacles to overcome on the way to mainstream penetration.
Pothole #1:
The Supply of Battery Metals
EV batteries rely on the properties of various battery metals to power EVs. In fact, a single EV contains around 207 kg of metals.
As EV adoption grows, the demand for these critical minerals is expected to reach unprecedented highs. In turn, this could result in supply shortages for metals like lithium, cobalt, and graphite, potentially slowing down the growth of the EV market.
To avoid potential shortages, EV manufacturers like Tesla and Volkswagen are vertically integrating to mine their own metals, while governments work to build domestic and independent metal supply chains.
Pothole #2:
Charging Infrastructure
With more EVs on the roads, drivers need more places to plug in and recharge.
However, most countries are lagging behind in the installation of public chargers. The global average ratio of public chargers to EV stock is less than 0.15. This means that on average, there are less than 3 chargers for every 20 EVs.
But there are signs of optimism. Global charging infrastructure has doubled since 2017, and governments are incentivizing charger installations with subsidies and tax rebates.
Pothole #3:
Charging Times
While filling up gas tanks takes less than five minutes, it can take up to eight hours to fully charge an EV battery.
Fast chargers that use direct current can fully charge EVs in a couple of hours, but they're more expensive to install. However, the majority of publicly available chargers are slow, making it inconvenient for drivers to charge on the go.
As charging technology improves, faster chargers are being developed to boost charge times. According to Bloomberg, new ultra-fast chargers can fully charge EVs in less than 30 minutes. Furthermore, the market share of fast chargers is expected to grow from 15% today to 27% by 2030.
Pothole #4:
Range Anxiety
Compared to gas-powered vehicles, EVs do not go the distance yet.
Limited driving ranges are known to cause "range anxiety"—the fear of running out of power—among EV drivers, presenting a hurdle for mainstream EV adoption. Additionally, the lack of charging infrastructure reinforces the problem of limited ranges.
However, consistent improvements in battery technology are resulting in longer driving ranges. Between 2015 and 2020, the average range for battery EVs increased by 60%. With further technological improvements, extended ranges will allow EVs be compete more aggressively with their gas-guzzling counterparts.
The Decade of the Electric Vehicle
The EV market is growing at a remarkable rate. EV makers sold around three million vehicles in 2020, up 155% from just over one million vehicles sold in 2017.
With several factors driving EV adoption and stakeholders working to overcome the industry's obstacles, mainstream adoption of EVs is on the horizon.
How Much Land is Needed to Power the U.S. with Solar?
Solar power is essential for the clean energy transition, but how much land is needed to power the U.S. using solar panels?
How Much Land is Needed to Power the U.S. with Solar?
The Biden administration has set a goal of reaching 100% clean electricity throughout the U.S. by 2035, and solar power is a key for this American energy transition.
In the last decade alone, solar has experienced an average annual growth rate of 42% in the U.S. thanks to federal tax credits, declining costs, and increasing demand. It is projected that more than one in seven American homes will have a solar power system by 2030.
To put this trend into perspective, this graphic uses data from the United States Department of Energy to see how much land would be needed to power the entire country with solar panels.
Solar Panels Across the Ocean State
The U.S. has 102.9 gigawatts of total solar installed capacity which is equivalent to 965 square miles, roughly the size of the country's smallest state, Rhode Island. This current solar capacity generates enough electricity to power 18.6 million American homes, which is nearly 13% of the nation's households.
According to a report from the National Renewable Energy Laboratory, roughly 22,000 square miles of solar panel-filled land (about the size of Lake Michigan) would be required to power the entire country, including all 141 million households and businesses, based on 13-14% efficiency for solar modules.
Many solar panels, however, reach 20% efficiency, which could reduce the necessary area to just about 10,000 square miles, equivalent to the size of Lake Erie.
Solar Installations Spreading Across the States
Today, solar represents only 3% of the total U.S. electrical generation.
While California has traditionally dominated the market, other states like Florida and Texas are expanding rapidly, boosted by the residential market.
Large companies with clean energy goals such as Walmart, Apple, Target and Amazon have also helped push solar adoption to near-record levels in 2021.
Despite having a high installation cost, the technology tends to bring savings in the long term. An average-sized residential system has dropped from a price of $40,000 in 2010 to roughly $20,000 in 2020. Along with this, solar panels can save between $10,000-$30,000 over a 30-year lifetime.
Between land and rooftops, the United States has more than enough space to build all the solar panels necessary to power the country. Until then, the future of clean electricity will also depend on hydro, nuclear, geothermal, and wind energy.