Prove Your Metal: Top 10 Strongest Metals on Earth
Prove Your Metal: Top 10 Strongest Metals on Earth
The use of metals and the advancement of human civilization have gone hand in hand — and throughout the ages, each metal has proved its worth based on its properties and applications.
Today's visualization from Viking Steel Structures outlines the 10 strongest metals on Earth and their applications.
What are Metals?
Metals are solid materials that are typically hard, shiny, malleable, and ductile, with good electrical and thermal conductivity. But not all metal is equal, which makes their uses as varied as their individual properties and benefits.
The periodic table below presents a simple view of the relationship between metals, nonmetals, and metalloids, which you can easily identify by color.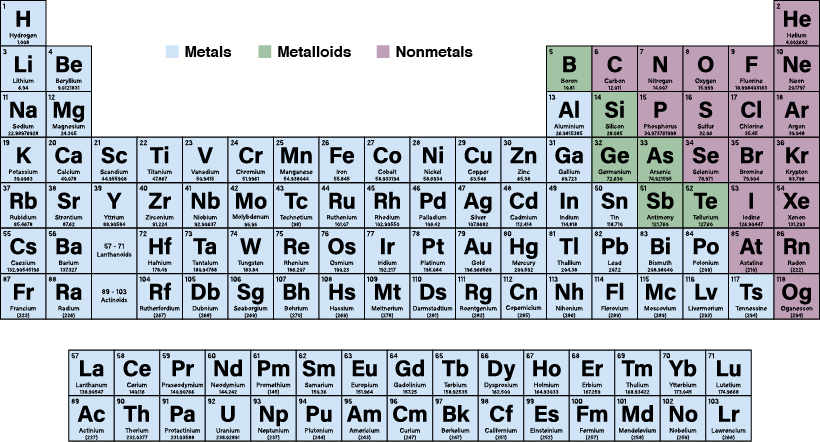 While 91 of the 118 elements of the periodic table are considered to be metals, only a few of them stand out as the strongest.
What Makes a Metal Strong?
The strength of a metal depends on four properties:
Tensile Strength: How well a metal resists being pulled apart
Compressive Strength: How well a material resists being squashed together
Yield Strength: How well a rod or beam of a particular metal resists bending and permanent damage
Impact Strength: The ability to resist shattering upon impact with another object or surface
Here are the top 10 metals based on these properties.
The Top 10 Strongest Metals
| Rank | Type of Metal | Example Use | Atomic Weight | Melting Point |
| --- | --- | --- | --- | --- |
| #1 | Tungsten | Making bullets and missiles | 183.84 u | 3422°C / 6192 °F |
| #2 | Steel | Construction of railroads, roads, other infrastructure and appliances | n/a | 1371°C / 2500°F |
| #3 | Chromium | Manufacturing stainless steel | 51.96 u | 1907°C / 3465°F, |
| #4 | Titanium | In the aerospace Industry, as a lightweight material with strength | 47.87 u | 1668°C / 3032°F |
| #5 | Iron | Used to make bridges, electricity, pylons, bicycle chains, cutting tools and rifle barrels | 55.85 u | 1536°C / 2800°F |
| #6 | Vanadium | 80% of vanadium is alloyed with iron to make steel shock and corrosion resistance | 50.942 u | 1910°C / 3470°F |
| #7 | Lutetium | Used as catalysts in petroleum production. | 174.96 u | 1663 °C / 3025°F |
| #8 | Zirconium | Used in nuclear power stations. | 91.22 u | 1850°C / 3.362°F |
| #9 | Osmium | Added to platinum or indium to make them harder. | 190.2 u | 3000°C / 5,400°F |
| #10 | Tantalum | Used as an alloy due to its high melting point and anti-corrosion. | 180.94 u | 3,017°C / 5462°F |
Out of the Forge and into Tech: Metals for the Future
While these metals help to forge the modern world, there is a new class of metals that are set to create a new future.
Rare Earth elements (REEs) are a group of metals do not rely on their strength, but instead their importance in applications in new technologies, including those used for green energy.
| Metal | Uses |
| --- | --- |
| Neodymium | Magnets containing neodymium are used in green technologies such as the manufacture of wind turbines and hybrid cars. |
| Lanthanum | Used in catalytic converters in cars, enabling them to run at high temperatures |
| Cerium | This element is used in camera and telescope lenses. |
| Praseodymium | Used to create strong metals for use in aircraft engines. |
| Gadolinium | Used in X-ray and MRI scanning systems, and also in television screens. |
| Yttrium, terbium, europium | Making televisions and computer screens and other devices that have visual displays. |
If the world is going to move towards a more sustainable and efficient future, metals—both tough and smart—are going to be critical. Each one will serve a particular purpose to build the infrastructure and technology for the next generation.
Our ability to deploy technology with the right materials will test the world's mettle to meet the challenges of tomorrow—so choose wisely.
What is the Cost of Europe's Energy Crisis?
As European gas prices soar, countries are introducing policies to try and curb the energy crisis.
What is the Cost of Europe's Energy Crisis?
Europe is scrambling to cut its reliance on Russian fossil fuels.
As European gas prices soar eight times their 10-year average, countries are introducing policies to curb the impact of rising prices on households and businesses. These include everything from the cost of living subsidies to wholesale price regulation. Overall, funding for such initiatives has reached $276 billion as of August.
With the continent thrown into uncertainty, the above chart shows allocated funding by country in response to the energy crisis.
The Energy Crisis, In Numbers
Using data from Bruegel, the below table reflects spending on national policies, regulation, and subsidies in response to the energy crisis for select European countries between September 2021 and July 2022. All figures in U.S. dollars.
Country
Allocated Funding
Percentage of GDP
Household Energy Spending,
Average Percentage
🇩🇪 Germany
$60.2B
1.7%
9.9%
🇮🇹 Italy
$49.5B
2.8%
10.3%
🇫🇷 France
$44.7B
1.8%
8.5%
🇬🇧 U.K.
$37.9B
1.4%
11.3%
🇪🇸 Spain
$27.3B
2.3%
8.9%
🇦🇹 Austria
$9.1B
2.3%
8.9%
🇵🇱 Poland
$7.6B
1.3%
12.9%
🇬🇷 Greece
$6.8B
3.7%
9.9%
🇳🇱 Netherlands
$6.2B
0.7%
8.6%
🇨🇿 Czech Republic
$5.9B
2.5%
16.1%
🇧🇪 Belgium
$4.1B
0.8%
8.2%
🇷🇴 Romania
$3.8B
1.6%
12.5%
🇱🇹 Lithuania
$2.0B
3.6%
10.0%
🇸🇪 Sweden
$1.9B
0.4%
9.2%
🇫🇮 Finland
$1.2B
0.5%
6.1%
🇸🇰 Slovakia
$1.0B
1.0%
14.0%
🇮🇪 Ireland
$1.0B
0.2%
9.2%
🇧🇬 Bulgaria
$0.8B
1.2%
11.2%
🇱🇺 Luxembourg
$0.8B
1.1%
n/a
🇭🇷 Croatia
$0.6B
1.1%
14.3%
🇱🇻 Lativia
$0.5B
1.4%
11.6%
🇩🇰 Denmark
$0.5B
0.1%
8.2%
🇸🇮 Slovenia
$0.3B
0.5%
10.4%
🇲🇹 Malta
$0.2B
1.4%
n/a
🇪🇪 Estonia
$0.2B
0.8%
10.9%
🇨🇾 Cyprus
$0.1B
0.7%
n/a
Source: Bruegel, IMF. Euro and pound sterling exchange rates to U.S. dollar as of August 25, 2022.
Germany is spending over $60 billion to combat rising energy prices. Key measures include a $300 one-off energy allowance for workers, in addition to $147 million in funding for low-income families. Still, energy costs are forecasted to increase by an additional $500 this year for households.
In Italy, workers and pensioners will receive a $200 cost of living bonus. Additional measures, such as tax credits for industries with high energy usage were introduced, including a $800 million fund for the automotive sector.
With energy bills predicted to increase three-fold over the winter, households in the U.K. will receive a $477 subsidy in the winter to help cover electricity costs.
Meanwhile, many Eastern European countries—whose households spend a higher percentage of their income on energy costs— are spending more on the energy crisis as a percentage of GDP. Greece is spending the highest, at 3.7% of GDP.
Utility Bailouts
Energy crisis spending is also extending to massive utility bailouts.
Uniper, a German utility firm, received $15 billion in support, with the government acquiring a 30% stake in the company. It is one of the largest bailouts in the country's history. Since the initial bailout, Uniper has requested an additional $4 billion in funding.
Not only that, Wien Energie, Austria's largest energy company, received a €2 billion line of credit as electricity prices have skyrocketed.
Deepening Crisis
Is this the tip of the iceberg? To offset the impact of high gas prices, European ministers are discussing even more tools throughout September in response to a threatening energy crisis.
To reign in the impact of high gas prices on the price of power, European leaders are considering a price ceiling on Russian gas imports and temporary price caps on gas used for generating electricity, among others.
Price caps on renewables and nuclear were also suggested.
Given the depth of the situation, the chief executive of Shell said that the energy crisis in Europe would extend beyond this winter, if not for several years.
The Inflation Factor: How Rising Food and Energy Prices Impact the Economy
From rising inflation to food insecurity, we show why energy price shocks have far-reaching effects on the global economy.
How Rising Food and Energy Prices Impact the Economy
Since Russia's invasion of Ukraine, the effects of energy supply disruptions are cascading across everything from food prices to electricity to consumer sentiment.
In response to soaring prices, many OECD countries are tapping into their strategic petroleum reserves. In fact, since March, the U.S. has sold a record one million barrels of oil per day from these reserves. This, among other factors, has led gasoline prices to fall more recently—yet deficits could follow into 2023, causing prices to increase.
With data from the World Bank, the above infographic charts energy shocks over the last half century and what this means for the global economy looking ahead.
Energy Price Shocks Since 1979
How does today's energy price shock compare to previous spikes in real terms?
| U.S.$/bbl Equivalent | Crude Oil | Natural Gas | Coal |
| --- | --- | --- | --- |
| 2022* | $93 | $170 | $61 |
| 2008 | $127 | $100 | $46 |
| 1979 | $119 | $72 | $33 |
*2022 forecast
As the above table shows, the annual price of crude oil is forecasted to average $93 per barrel equivalent in 2022⁠. By comparison, during the 2008 and 1979 price shocks, crude oil averaged $127 and $119 per barrel, respectively.
What distinguishes the 2022 energy spike is that prices have soared across all fuels. Where price shocks were more or less isolated in the past, many countries such as Germany and the Netherlands are looking to coal to make up for oil supply disruptions. Meanwhile, European natural gas prices have hit record highs.
Food prices have also spiked. Driven by higher input costs across fuel, chemicals, and fertilizer, agriculture commodity prices are forecasted to rise 18% in 2022. Fertilizer prices alone could increase 70% in part due to Russia's dominance of the global fertilizer market—exporting more than any country worldwide.
What are 3 Ripple Effects of Rising Energy Prices?
Oil feeds into nearly everything, from food to smartphones. In fact, the price of oil influences as much as 64% of food price movements.
How could energy and food shocks affect the world economy in the near future, and why is a lot riding on the price of oil?
1. Rising Global Inflation
In 2022, inflation became a global phenomenon—impacting 100% of advanced countries and 87% of emerging markets and developing economies analyzed by the World Bank.
| Countries With Inflation Above Target | 2019 | 2020 | 2021 | Apr 2022 |
| --- | --- | --- | --- | --- |
| Emerging Markets and Developing Economies | 20% | 20% | 55% | 87% |
| Advanced Economies | 9% | 8% | 67% | 100% |
Sample includes 31 emerging markets and developing economies and 12 advanced economies
By contrast, roughly two-thirds of advanced economies and just over half of emerging markets experienced inflation above target in 2021.
This has contributed to tighter monetary conditions. The table below shows how rising inflation in the U.S. has corresponded with interest rate hikes since the 1980s:
Date
Core CPI at Beginning of Cycle
Magnitude of Rate Hikes
Over Course of Tightening Cycle

1979-81
9.3%
9.0 p.p
1983-84
4.6%
3.0 p.p
1986-89
3.6%
4.0 p.p
1994-95
2.8%
3.0 p.p
1999-00
2.0%
1.75 p.p
2004-06
1.9%
4.25 p.p.
2015-19
2.1%
2.25 p.p
2022-23
6.4%
2.75 p.p
2023 is an estimate based on market expectations of the level of the Fed Funds rate in mid-2023. U.S. Core CPI for 2023 based on latest data available.
In many cases, when the U.S. has rapidly tightened monetary policy in response to price pressures, emerging markets and developing economies have experienced financial crises amid higher borrowing costs.
2. Slower Global Growth
Energy price shocks could add greater headwinds to global growth prospects:
| Global Growth Scenarios | 2021 | 2022 | 2023 |
| --- | --- | --- | --- |
| Baseline | 5.7% | 2.9% | 3.0% |
| Including Fed tightening | | 2.6% | 2.4% |
| Including Energy price spike | | 2.2% | 1.6% |
| Including China COVID-19 | | 2.1% | 1.5% |
Together, price spikes, hawkish monetary policy, and COVID-19 lockdowns in China could negatively impact global growth.
3. Rising Food Insecurity and Social Unrest
Even before the energy price shock of 2022, global food insecurity was increasing due to COVID-19 and mounting inflationary pressures.
| Number of People in Acute Food Insecurity | 2020 | 2021 |
| --- | --- | --- |
| Sub-Saharan Africa | 97M | 119M |
| Middle East and North Africa | 30M | 32M |
| South Asia | 16M | 29M |
| Latin America and the Caribbean | 12M | 13M |
Sustained food shortages and high food prices could send millions into acute food insecurity.
In addition, high fuel and food prices are often correlated with mass protests, political violence, and riots. While Sri Lanka and Peru have already begun to see heightened riots, Turkey and Egypt are also at risk for social unrest as the cost of living accelerates and food insecurity worsens.
Global Challenges
Since World War II, oil price shocks have been a major constraint on economic growth. As the war in Ukraine continues, the outlook for today's energy market is far from clear as a number of geopolitical factors could sway oil price movements and its corresponding effects.