Prove Your Metal: Top 10 Strongest Metals on Earth
Prove Your Metal: Top 10 Strongest Metals on Earth
The use of metals and the advancement of human civilization have gone hand in hand — and throughout the ages, each metal has proved its worth based on its properties and applications.
Today's visualization from Viking Steel Structures outlines the 10 strongest metals on Earth and their applications.
What are Metals?
Metals are solid materials that are typically hard, shiny, malleable, and ductile, with good electrical and thermal conductivity. But not all metal is equal, which makes their uses as varied as their individual properties and benefits.
The periodic table below presents a simple view of the relationship between metals, nonmetals, and metalloids, which you can easily identify by color.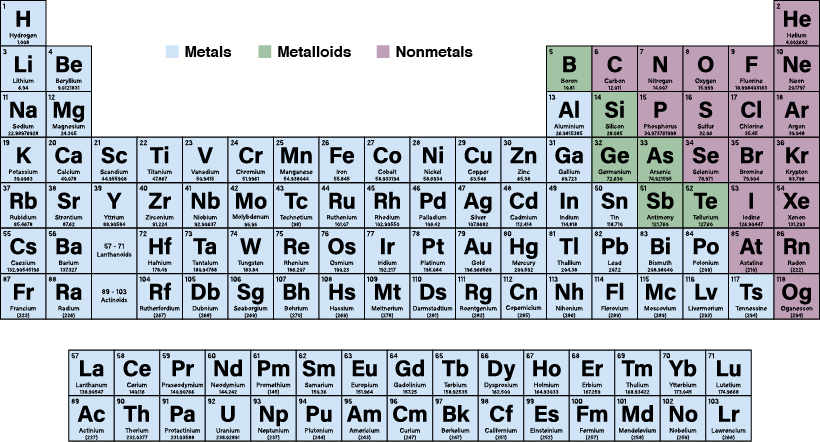 While 91 of the 118 elements of the periodic table are considered to be metals, only a few of them stand out as the strongest.
What Makes a Metal Strong?
The strength of a metal depends on four properties:
Tensile Strength: How well a metal resists being pulled apart
Compressive Strength: How well a material resists being squashed together
Yield Strength: How well a rod or beam of a particular metal resists bending and permanent damage
Impact Strength: The ability to resist shattering upon impact with another object or surface
Here are the top 10 metals based on these properties.
The Top 10 Strongest Metals
| Rank | Type of Metal | Example Use | Atomic Weight | Melting Point |
| --- | --- | --- | --- | --- |
| #1 | Tungsten | Making bullets and missiles | 183.84 u | 3422°C / 6192 °F |
| #2 | Steel | Construction of railroads, roads, other infrastructure and appliances | n/a | 1371°C / 2500°F |
| #3 | Chromium | Manufacturing stainless steel | 51.96 u | 1907°C / 3465°F, |
| #4 | Titanium | In the aerospace Industry, as a lightweight material with strength | 47.87 u | 1668°C / 3032°F |
| #5 | Iron | Used to make bridges, electricity, pylons, bicycle chains, cutting tools and rifle barrels | 55.85 u | 1536°C / 2800°F |
| #6 | Vanadium | 80% of vanadium is alloyed with iron to make steel shock and corrosion resistance | 50.942 u | 1910°C / 3470°F |
| #7 | Lutetium | Used as catalysts in petroleum production. | 174.96 u | 1663 °C / 3025°F |
| #8 | Zirconium | Used in nuclear power stations. | 91.22 u | 1850°C / 3.362°F |
| #9 | Osmium | Added to platinum or indium to make them harder. | 190.2 u | 3000°C / 5,400°F |
| #10 | Tantalum | Used as an alloy due to its high melting point and anti-corrosion. | 180.94 u | 3,017°C / 5462°F |
Out of the Forge and into Tech: Metals for the Future
While these metals help to forge the modern world, there is a new class of metals that are set to create a new future.
Rare Earth elements (REEs) are a group of metals do not rely on their strength, but instead their importance in applications in new technologies, including those used for green energy.
| Metal | Uses |
| --- | --- |
| Neodymium | Magnets containing neodymium are used in green technologies such as the manufacture of wind turbines and hybrid cars. |
| Lanthanum | Used in catalytic converters in cars, enabling them to run at high temperatures |
| Cerium | This element is used in camera and telescope lenses. |
| Praseodymium | Used to create strong metals for use in aircraft engines. |
| Gadolinium | Used in X-ray and MRI scanning systems, and also in television screens. |
| Yttrium, terbium, europium | Making televisions and computer screens and other devices that have visual displays. |
If the world is going to move towards a more sustainable and efficient future, metals—both tough and smart—are going to be critical. Each one will serve a particular purpose to build the infrastructure and technology for the next generation.
Our ability to deploy technology with the right materials will test the world's mettle to meet the challenges of tomorrow—so choose wisely.
Purchasing Power of the U.S. Dollar Over Time
$1 in 1913 had the same purchasing power as $26 in 2020. This chart shows how the purchasing power of the dollar has changed over time.
What is Purchasing Power?
The purchasing power of a currency is the amount of goods and services that can be bought with one unit of the currency.
For example, one U.S. dollar could buy 10 bottles of beer in 1933. Today, it's the cost of a small McDonald's coffee. In other words, the purchasing power of the dollar—its value in terms of what it can buy—has decreased over time as price levels have risen.
Tracking the Purchasing Power of the Dollar
In 1913, the Federal Reserve Act granted Federal Reserve banks the ability to manage the money supply in order to ensure economic stability. Back then, a dollar could buy 30 Hershey's chocolate bars.
As more dollars came into circulation, average prices of goods and services increased while the purchasing power of the dollar fell. By 1929, the value of the Consumer Price Index (CPI) was 73% higher than in 1913, but a dollar was now enough only for 10 rolls of toilet paper.
| Year | Event | Purchasing Power of $1 | What a Dollar Buys |
| --- | --- | --- | --- |
| 1913 | Creation of the Federal Reserve System | $26.14 | 30 Hershey's chocolate bars |
| 1929 | Stock market crash | $15.14 | 10 rolls of toilet paper |
| 1933 | Gold possession criminalized | $19.91 | 10 bottles of beer |
| 1944 | Bretton Woods agreement | $14.71 | 20 bottles of Coca-Cola |
| 1953 | End of the Korean War | $9.69 | 10 bags of pretzels |
| 1964 | Escalation of the Vietnam War | $8.35 | 1 drive-in movie ticket |
| 1971 | End of the gold standard | $6.39 | 17 oranges |
| 1987 | "Black Monday" stock market crash | $2.28 | 2 boxes of crayons |
| 1997 | Asian financial crisis | $1.61 | 4 grapefruits |
| 2008 | Global Financial crisis | $1.20 | 2 lemons |
| 2020 | COVID-19 pandemic | $1.00 | 1 McDonald's coffee |
Between 1929-1933, the purchasing power of the dollar actually increased due to deflation and a 31% contraction in money supply before eventually declining again. Fast forward to 1944 and the U.S. dollar, fixed to gold at a rate of $35/oz, became the world's reserve currency under the Bretton Woods agreement.
Meanwhile, the U.S. increased its money supply in order to finance the deficits of World War II followed by the Korean war and the Vietnam war. Hence, the buying power of the dollar reduced from 20 bottles of Coca-Cola in 1944 to a drive-in movie ticket in 1964.
By the late 1960s, the number of dollars in circulation was too high to be backed by U.S. gold reserves. President Nixon ceased direct convertibility of U.S. dollars to gold in 1971. This ended both the gold standard and the limit on the amount of currency that could be printed.
More Dollars in the System
Money supply (M2) in the U.S. has skyrocketed over the last two decades, up from $4.6 trillion in 2000 to $19.5 trillion in 2021.
The effects of the rise in money supply were amplified by the financial crisis of 2008 and more recently by the COVID-19 pandemic. In fact, around 20% of all U.S. dollars in the money supply, $3.4 trillion, were created in 2020 alone.
How will the purchasing power of the dollar evolve going forward?
Getting Gold Exposure: Bullion vs. ETFs vs. Mining Stocks
There are various investment methods to get gold exposure. Whether it's gold bullion, ETFs, or mining stocks, which one works best for you?
How to Get Gold Exposure in Your Portfolio, Explained
A lot of talking heads say, "Buy gold!" but don't really explain exactly how to buy gold or get exposure to the precious metal.
There are options when it comes to getting exposure to the precious metal, and each one has upsides and downsides worth being mindful of.
Whether you're interested in holding physical gold in a safe storage space or simply want to add some gold exposure to your investment portfolio, this infographic shows you the differences between gold bullion, gold ETFs, and gold mining stocks.
What to Consider Before Investing in Gold
There are some key considerations to be aware of before you begin investing.
While below are some of the main factors to keep in mind as you pick a gold investment method, be sure to research each method and its properties thoroughly before investing.
Downside and Volatility Risk
The first consideration for any kind of investment should always be how much drawdown you're willing to stomach before pulling your money out.
When the COVID-19 pandemic resulted in a price drop across the board for just about every kind of asset, the price of physical gold and gold-backed ETFs held up very differently compared to individual gold mining stocks and gold mining indices.
Case Study: Gold vs. Mining Stocks Drawdown and Returns
| Asset | Drawdown from March high to March low | Returns from March low to 2020 high |
| --- | --- | --- |
| Spot gold and gold ETFs | -14.8% | 42.9% |
| Barrick Gold Corporation | -42.1% | 146.8% |
| Gold Miners ETF (GDX) | -46.0% | 182.9% |
| Junior Gold Miners ETF (GDXJ) | -52.7% | 237.9% |
While physical gold and bullion ETFs (which track gold's price movements) tend to be more resilient during market downturns, they also offer less upside compared to gold mining stocks and indices during bull markets.
Junior miners or exploration companies offer the greatest volatility and potential upside, but carry the highest risk. When investing in any mining company, concrete results from their planning and drilling along with efficient execution in setting up projects and production will best determine the stock's valuation.
Active vs. Passive Management
Some investors like to actively manage their investments while others prefer a more passive "set and forget" approach.
Each approach has its merits, however, gold ETFs and mining stocks are better suited for more active investors, while shipping and transport costs for physical gold can add up if buying and selling frequently.
Determine whether you're going to be actively managing your gold exposure or if you're going to be letting your investment sit for a while. This way you can determine the best method to reduce fees and commissions.
Three Types of Gold Exposure: Pros and Cons
Now, let's dive into the three main types of gold exposure: gold bullion, gold ETFs, and gold mining stocks and ETFs.
1. Gold Bullion
If you're looking to purchase physical gold in the form of bullion, there are a lot of considerations to keep in mind. These range from the various fees you'll pay to where and how you'll be storing and protecting your gold.
Many bullion dealers offer storage as a service, reducing shipping costs and the extra work of finding somewhere secure to keep your gold.
Fixed Position Sizes and Liquidity
When buying gold bullion it's important to remember that you are buying coins, bars, or ingots of gold. This means that if you're looking to sell off half of your gold position but only have a single 1oz gold coin, you won't be able to!
Due to this, gold bullion might not be the best option for those interested in actively managing their exposure or for those with smaller amounts of capital.
Buying and Selling Commissions
Just about every gold dealer will charge commissions on any buying or selling, which are typically <1% of the value of the order with lower commissions for larger volumes. Some dealers include their commissions as a premium directly onto their prices.
Storage Costs
Storing gold bullion with gold dealers or storage services will incur yearly storage costs that are typically a percentage of your holdings.
While some storage providers have low percentages, they will often have minimum monthly or yearly storage fees. For investors purchasing small amounts of gold it's important to not let these fees eat up too much of your investment.
Fees range from 0.12% to 1.5% annually, with some storage services providing fee discounts for larger volumes of gold
While purchases of investment-grade bullion are tax-exempt, taxes are charged on storage fees.
Reputable gold storage services offer full insurance coverage on your bullion stored with them and will keep your gold physically separate from the company's gold and off the company balance sheet. Some will even provide customers extra peace of mind with pictures of their bullion, typically for an additional cost.
Withdrawal Commissions and Shipping
If you've been storing your gold with a dealer but want it closer to home, you'll have to pay withdrawal commissions along with shipping costs. Some dealers charge a flat rate per bullion or withdrawal, while others charge a percentage of your holdings.
If you're having bullion sent to you without storing it at the dealer, you'll just pay for shipping and insurance. These are typically flat fees along with a percentage of the dollar value of your order (ranging from 0.4% to 7.5% depending on the amount and types of bullion).
Before holding your gold privately it's important to know:
Privately held gold is sometimes not fully trusted when sold back to bullion markets, and can lose some of its value.
Privately held gold is usually less physically safe compared to gold in a vault, and is almost always more expensive to insure.
2. Gold ETFs
Exchange-traded funds (ETFs) are a more approachable option to get exposure to gold for those with some experience purchasing shares using online brokers and exchanges.
Gold ETFs enable investors to have exposure to gold's price while avoiding storage, shipping, and insurance fees. There are also fewer liquidity bottlenecks and tighter spreads with gold ETFs compared to gold bullion.
When buying gold ETFs it is important to remember that in most cases, you never actually own any physical gold. Even though these funds are backed by physical gold, you cannot redeem your shares in exchange for gold.
Buying and Selling Commissions: When buying or selling shares of an ETF you'll likely pay commissions. These commissions are decided by the brokerages and are typically below $10 per buy and sell order, with some brokerages offering commission-free trading to cut costs for active traders.
Expense Ratios: Similar to storage fees on gold bullion kept in a vault, gold ETFs charge a yearly expense ratio to cover the costs of management and operations. Expense ratios are typically quite low, ranging from 0.17% to 0.75%, and are taken directly from your investment.
3. Gold Mining Stocks and ETFs
Gold mining stocks and mining ETFs are the most distant from physical gold, and offer exposure to the operating profits, losses, or even discoveries of mining or exploration companies.
Mining ETFs (like the GDX and GDXJ) are a basket of mining stocks for purchase as a single share, helping spread out the operational and concentration risk of investing in a single mining company. Mining ETFs are typically less volatile than individual mining stocks, but can still offer increased returns compared to gold bullion and gold ETFs.
Similar to gold ETFs, mining stocks and mining ETFs have:
Buying and selling commissions decided by your online brokerage
Annual expense ratios for mining ETFs
Potential for dividends depending on the individual mining stock
If buying individual gold stocks, it is important to know that the prospects of any one company can differ incredibly. For this reason, it's crucial to invest in quality companies, and to have an understanding at factors at play such as management competence, jurisdiction, or project quality and economics.
Find a Gold Investment Method that Works Best for You
Be aware that the methods discussed in this article aren't the only ways to invest in gold.
If you're willing to learn a bit more about contract structures and more complex fee structures, look into gold futures contracts. For those with some options understanding and experience, buying call options is another way to get gold exposure. Rare coins and jewelry are another investment method that also carries some artistic value.
Whatever you pick, make sure to thoroughly research your investment, its transaction and price mechanisms, and the commissions and fees you'll be paying.
All of the investment methods discussed have differing tax implications depending on where you reside, which could influence your decision on how you invest in gold.