Prove Your Metal: Top 10 Strongest Metals on Earth
Prove Your Metal: Top 10 Strongest Metals on Earth
The use of metals and the advancement of human civilization have gone hand in hand — and throughout the ages, each metal has proved its worth based on its properties and applications.
Today's visualization from Viking Steel Structures outlines the 10 strongest metals on Earth and their applications.
What are Metals?
Metals are solid materials that are typically hard, shiny, malleable, and ductile, with good electrical and thermal conductivity. But not all metal is equal, which makes their uses as varied as their individual properties and benefits.
The periodic table below presents a simple view of the relationship between metals, nonmetals, and metalloids, which you can easily identify by color.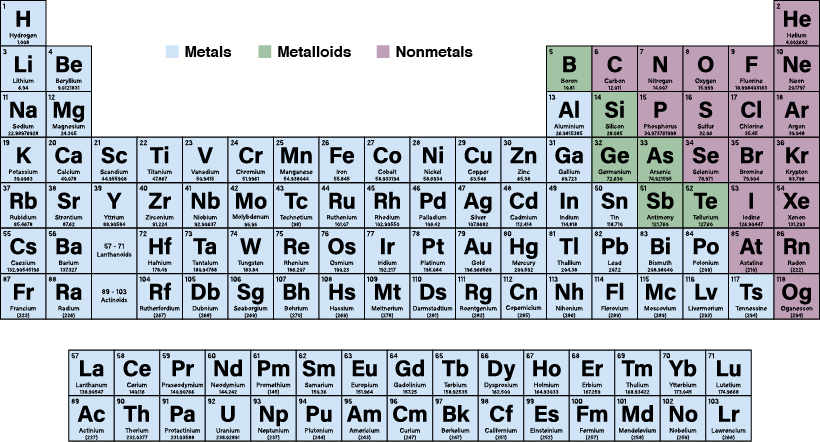 While 91 of the 118 elements of the periodic table are considered to be metals, only a few of them stand out as the strongest.
What Makes a Metal Strong?
The strength of a metal depends on four properties:
Tensile Strength: How well a metal resists being pulled apart
Compressive Strength: How well a material resists being squashed together
Yield Strength: How well a rod or beam of a particular metal resists bending and permanent damage
Impact Strength: The ability to resist shattering upon impact with another object or surface
Here are the top 10 metals based on these properties.
The Top 10 Strongest Metals
| Rank | Type of Metal | Example Use | Atomic Weight | Melting Point |
| --- | --- | --- | --- | --- |
| #1 | Tungsten | Making bullets and missiles | 183.84 u | 3422°C / 6192 °F |
| #2 | Steel | Construction of railroads, roads, other infrastructure and appliances | n/a | 1371°C / 2500°F |
| #3 | Chromium | Manufacturing stainless steel | 51.96 u | 1907°C / 3465°F, |
| #4 | Titanium | In the aerospace Industry, as a lightweight material with strength | 47.87 u | 1668°C / 3032°F |
| #5 | Iron | Used to make bridges, electricity, pylons, bicycle chains, cutting tools and rifle barrels | 55.85 u | 1536°C / 2800°F |
| #6 | Vanadium | 80% of vanadium is alloyed with iron to make steel shock and corrosion resistance | 50.942 u | 1910°C / 3470°F |
| #7 | Lutetium | Used as catalysts in petroleum production. | 174.96 u | 1663 °C / 3025°F |
| #8 | Zirconium | Used in nuclear power stations. | 91.22 u | 1850°C / 3.362°F |
| #9 | Osmium | Added to platinum or indium to make them harder. | 190.2 u | 3000°C / 5,400°F |
| #10 | Tantalum | Used as an alloy due to its high melting point and anti-corrosion. | 180.94 u | 3,017°C / 5462°F |
Out of the Forge and into Tech: Metals for the Future
While these metals help to forge the modern world, there is a new class of metals that are set to create a new future.
Rare Earth elements (REEs) are a group of metals do not rely on their strength, but instead their importance in applications in new technologies, including those used for green energy.
| Metal | Uses |
| --- | --- |
| Neodymium | Magnets containing neodymium are used in green technologies such as the manufacture of wind turbines and hybrid cars. |
| Lanthanum | Used in catalytic converters in cars, enabling them to run at high temperatures |
| Cerium | This element is used in camera and telescope lenses. |
| Praseodymium | Used to create strong metals for use in aircraft engines. |
| Gadolinium | Used in X-ray and MRI scanning systems, and also in television screens. |
| Yttrium, terbium, europium | Making televisions and computer screens and other devices that have visual displays. |
If the world is going to move towards a more sustainable and efficient future, metals—both tough and smart—are going to be critical. Each one will serve a particular purpose to build the infrastructure and technology for the next generation.
Our ability to deploy technology with the right materials will test the world's mettle to meet the challenges of tomorrow—so choose wisely.
Charting the Gold-to-Silver Ratio Over 200 Years
The gold-to-silver ratio used to define the value of currencies and still remains an important metric for metals investors today.
Charting 200 Years of the Gold-to-Silver Ratio
Gold and silver have been precious and monetary metals for millennia, with the gold-to-silver ratio having been measured since the days of Ancient Rome.
Historically, the ratio between gold and silver played an important role in ensuring coins had their appropriate value, and it remains an important technical metric for metals investors today.
This graphic charts 200 years of the gold-to-silver ratio, plotting the pivotal historical events that have shaped its peaks and valleys.
What is the Gold-to-Silver Ratio?
The gold-to-silver ratio represents the amount of silver ounces equivalent to a single ounce of gold, enabling us to see if one of the two precious metals is particularly under or overvalued.
Currently, the ratio sits at about 80 ounces of silver equivalent to one ounce of gold. This is after the ratio spiked to new highs of 123.3 during the COVID-19 pandemic.
While gold is primarily viewed as an inflation and recession hedge, silver is also an industrial metal and asset. The ratio between the two can reveal whether industrial metals demand is on the rise or if an economic slowdown or recession may be looming.
The History of the Gold-to-Silver Ratio
Long before the gold-to-silver ratio was allowed to float freely, the ratio between these two metals was fixed by empires and governments to control the value of their currency and coinage.
The earliest recorded instance of the gold-to-silver ratio dates back to 3200 BCE, when Menes, the first king of Ancient Egypt set a ratio of 2.5:1. Since then, the ratio has only seen gold's value rise as empires and governments became more familiar with the scarcity and difficulty of production for the two metals.
Gold and Silver's Ancient Beginnings
Ancient Rome was one of the earliest ancient civilizations to set a gold-to-silver ratio, starting as low as 8:1 in 210 BCE. Over the decades, varying gold and silver inflows from Rome's conquests caused the ratio to fluctuate between 8-12 ounces of silver for every ounce of gold.
By 46 BCE, Julius Caesar had established a standard gold-to-silver ratio of 11.5:1, shortly before it was bumped to 11.75:1 under emperor Augustus.
As centuries progressed, ratios around the world fluctuated between 6-12 ounces of silver for every ounce of gold, with many Middle Eastern and Asian empires and nations often valuing silver more highly than Western counterparts, thus having a lower ratio.
The Rise of the Fixed Ratio
By the 18th century, the gold-to-silver ratio was being redefined by the U.S. government's Coinage Act of 1792 which set the ratio at 15:1. This act was the basis for U.S. coinage, defining coins' values by their metallic compositions and weights.
Around the same time period, France had enacted a ratio of 15.5:1, however, neither of these fixed ratios lasted long. The growth of the industrial revolution and the volatility of two world wars resulted in massive fluctuations in currencies, gold, and silver. By the 20th century, the ratio had already reached highs of around 40:1, with the start of World War II further pushing the ratio to a high of nearly 100:1.
Recently in 2020, the ratio set new highs of more than 123:1, as pandemic fears saw investors pile into gold as a safe-haven asset. While the gold-to-silver ratio has since fallen to roughly 80:1, runaway inflation and a potential recession has put gold in the spotlight again, likely bringing further volatility to this historic ratio.
2022's Stores of Value: Gold, Oil and Grains
The start of 2022 has seen commodities surge with crude oil, gold, and grains acting as the new stores of value.
Gold, Oil and Grains Emerge as 2022's Stores of Value
2022 started off with a slump for equity and cryptocurrency prices, but real assets like gold, crude oil, and agricultural commodities have more than held their dollar value.
Even before Russia's invasion of Ukraine resulted in extreme uncertainty over energy and raw material exports from both nations, commodities had already started to outperform other assets.
This graphic looks at how five key assets have performed in 2022 thus far, comparing the prices of WTI crude oil, the Invesco DB Agriculture Fund, gold, the S&P 500, and bitcoin.
Commodities Surge to Start off 2022
Just a few months into 2022 and commodities have already surged by double digits while nearly every other asset class has struggled to hold its value. Equity indices have continued to slide downwards from their all-time highs set in January of this year, with the S&P 500 down 13.4% from its all-time high.
Although the Energy sector of the S&P 500 is up 33.4% and the Information Technology sector is down 18.9% YTD, tech makes up more than a quarter of the index at 28.1% while Energy only makes up 3.7%. Other speculative tech assets like bitcoin and other cryptocurrencies have also significantly drawn down in 2022, with bitcoin down 16.3% and the total crypto sector's market cap down by 22.4%.
| Asset | 2021 Performance | 2022 Performance YTD |
| --- | --- | --- |
| WTI Crude Oil | +56.4% | +34.4% |
| Invesco DB Agriculture Fund | +22.4% | +10.4% |
| Gold | -3.6% | +6.7% |
| S&P 500 | +26.9% | -12.4% |
| Bitcoin | +59.4% | -16.3% |
Source: TradingView
Prices as of March 14, 2022
In the meantime, commodity investors have seen record-breaking rallies and volatility, especially in the energy and agricultural sectors. Crude oil is already up 34.4% in 2022 after WTI Crude reached highs of $129 a barrel, and the Invesco DB Agriculture fund which tracks wheat, corn, soybeans, and other agricultural commodities is up 10.4% YTD.
Gold Recovers 2021's Losses as Rate Hike Looms
While 2021 saw metals and energy prices surge, precious metals like gold and silver lagged behind the pack with negative returns. However, the Fed's suggestion of raising interest rates has seen investors move out of speculative growth assets and into gold which has historically outperformed other assets in tightening cycles.
Russia's invasion of Ukraine has also spurred investors towards gold in a flight to safety, with the yellow metal's price rallying by more than six percent in February, the month of the invasion.
As Russia is cut off and cuts itself off from trade with the U.S. and other Western countries, a new trade system with China that primarily uses gold-backed settlement akin to the petroyuan could push gold prices even higher.
Sanctions and Supply Shocks Fuel Crude Oil and Wheat Rallies
Not long after the U.S. announced sanctions against Russia alongside the European Union and G7 nations, Russia immediately responded with comprehensive export bans against 48 different countries including the U.S. and the EU.
Currently, Russia is one of the biggest crude oil exporters in the world and exported around 4.7 million barrels of crude oil a day for a total export value of $110 billion in 2021.
Agriculture and specifically wheat prices have also surged as the invasion began, as both Russia and Ukraine are two of the world's biggest wheat exporters. As a result of the uncertainty around these vital agricultural exports, wheat prices have skyrocketed nearly 40% over the past two months, and Russia has added fuel to the fire with a temporary grain export ban against ex-Soviet nations.
While the start of 2022 has seen a sizable shift in value towards commodities, we'll see if these prices stabilize while stocks and crypto recover, or if this year is the beginning of a new commodity supercycle.