Visualizing the Power of Gold Versus Currencies
The Power of Gold Versus Currencies
Since the gold standard was abandoned in 1971, the relationship in value between currencies and gold has moved in only one direction: down.
At that time, U.S. President Richard Nixon suspended the convertibility of the dollar into gold, effectively bringing the Bretton Woods system to an end.
Today's visualization comes from the In Gold We Trust report, and it shows that over the last 40 years, the purchasing power of the world's most popular currencies have declined significantly against the precious metal.
Turbulent Years
In the first decade after the gold standard was abandoned, the international monetary system was seriously shaken. Several U.S. recessions, coupled with international conflicts and high price inflation put the world's reserve currency under enormous pressure.
During the 1973-74 oil crisis the price of gold rose 65%. In 1978, U.S. bonds had to be issued in the hard currencies of the Swiss franc and the German mark–the so-called Carter bonds.
The next decade saw the rehabilitation of the dollar through a highly restrictive monetary policy run by the Federal Reserve that led to sky-high interest rates. The trend continued with the fall of the communist Eastern Bloc in the early 1990s.
The Erosion of Purchasing Power is Accelerating
Gold is still the universal reserve asset to which central banks, investors, and private individuals return in times of crisis. Since 1971, the average annual growth rate of the metal price in U.S. dollars is just over 10%. Since the Euro was introduced in 1999, the gold price in EUR has risen by 356%, or on average 7.8% per year.
Unsurprisingly, over the last 40 years, the best performing G-10 currency was the Swiss franc, largely due to its close relationship with gold. The Swiss National Bank has one of the largest reserves worldwide.
| Country | Gold Reserve (Tonnes) | Value (US$ billions) |
| --- | --- | --- |
| 🇺🇸 United States | 8,133.46 | $493.6 |
| 🇩🇪 Germany | 3,362.45 | $204.1 |
| 🇮🇹 Italy | 2,451.84 | $148.8 |
| 🇫🇷 France | 2,436.19 | $147.8 |
| 🇷🇺 Russia | 2,298.53 | $139.5 |
| 🇨🇳 China | 1,948.31 | $118.2 |
| 🇨🇭 Switzerland | 1,040.00 | $63.1 |
| 🇯🇵 Japan | 765.22 | $46.4 |
| 🇮🇳 India | 676.64 | $41.1 |
| 🇳🇱 Netherlands | 612.45 | $37.2 |
Despite significant corrections, gold was able to outperform virtually every other asset class and above all, every other currency between 2001 and 2019.
Gold breakout
Amid the turmoil brought about by Covid-19, investors again increased their exposure to gold. In August, the metal price surpassed $2,000 per ounce for the first time ever.
As political and economic tensions tend to endure over the next decades, so does gold's role as an anchor during uncertain times.
How the Savings Account Became a Destroyer of Wealth
The interest income needed to beat inflation since 1994 has varied, but in the last 13 years, savings accounts failed to live up to the task.
How the Savings Account Became a Destroyer of Wealth
Has saving money ever been less rewarding? The average U.S. personal savings account now returns about $100, or 0.1% per $100,000 in interest income on deposits. This is well below the $1,283 per $100,000 required to beat inflation.
In fact, savings accounts have been eroding household wealth for some 13 years. This data from JP Morgan reveals that the interest income needed to beat inflation has consistently fell short tracking back to 2008-2009.
This is a result of ultra low interest rates, as the amount needed to beat inflation has remained fairly steady. When interest rates took a nosedive during the Great Recession, so too did the earnings potential on savings accounts.
Withering Interest Income
Typically, banks and financial institutions pay interest on deposits to incentivize keeping your money with them. These deposits are funneled into their lending business, where they charge higher rates. The difference is called net interest margin, a common financial industry metric.
All things equal, rates go up when demand for loans exceeds the supply of loanable funds, and go down when the reverse holds true. But central bank money printing has altered this equation. With quite literally trillions injected via quantitative easing, the money supply, or supply of loanable funds, has skyrocketed well past any expected level of demand. As a result, rates today are near 700-year lows.
Can The Savings Account Be Saved?
If interest rates do pick back up, the returns on the typical savings account should follow.
Interestingly, one factor that could buoy returns on savings is inflation itself, which is starting to rise. Given one of the Fed's mandates is to control inflation, any prolonged and serious uptick could mean opening the monetary policy tool box and influencing matters to offset this. This includes raising rates, possibly well above inflation.
An ultra low rate environment has become the status quo for over a decade now, though some market commentators say rates could have a reversion to the mean moment. But the macro environment is highly unpredictable, so how and when that happens is truly anybody's guess.
Visualizing the Size of Mine Tailings
This infographic is a unique look at the estimated 217 billion m³ of mine tailings around the world.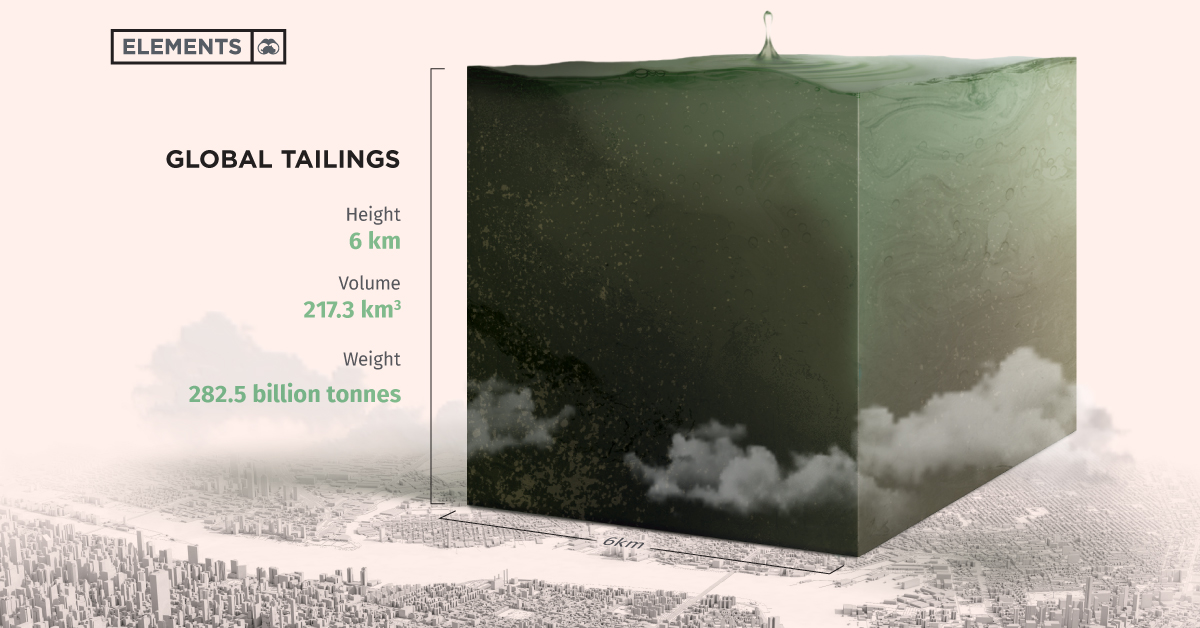 Visualizing the Size of Mine Tailings
On January 25th, 2019, a 10-meter tall wave traveling 120 km/h, washed 10 million m3 of mining waste from the Brumadinho tailings dam over the Brazilian countryside killing somewhere between 270 and 320 people.
This was a manmade disaster, made from mining the materials we use daily. Every copper wire in your house, steel frame in an EV, or any modern appliance comes from mining.
Mining leaves behind waste in the form of tailings stored in dams or ponds around the world. This infographic takes a look at the estimated size of one part of this waste, tailings, visualized next to the skyline of New York City as a benchmark.
Quantifying Mining's Material Impact
In the wake of the Brumadinho tailings failure, the International Council on Mining and Metals (ICMM) began a review with institutional investors and the United Nations Environment Programme (UNEP), to survey tailings facilities around the world.
The Global Tailings Review tracked a total of 1,743 unique facilities containing 44,540,000,000 m3 of tailings. This dataset represents only 30.2% of global commodity production.
However, the review estimated the total number of active, inactive, and closed facilities is around 8,500. If we use the assumptions for the 1,743 estimate to calculate for the 8,500 facilities, a total of 217,330,652,000 m3 of tailings are in storage globally.
What are Tailings?
Not all rock that comes out of the ground is metal. Miners find, remove, and refine rocks that carry a small amount of metal we need.
According to the USGS, 72 billion tonnes of material produced just over 10 billion tonnes of ore. Only 14% mined material makes it to processing for metals.
| Waste rock (tonnes) | Material Sent to Mill (tonnes) | Ore Produced (tonnes) | Tailings (tonnes) |
| --- | --- | --- | --- |
| 72,000,000,000 | 18,800,000,000 | 10,180,000,000 | 8,850,000,000 |
Tailings are what is left over after mills separate the metal from the mined rock. The processed material "tailings" comes from the "tail" end of a mining mill and comprise fine particles mixed with water forming a slurry. Mining companies will store this waste in dams or ponds.
Not All Minerals Are Equal: Tailings Contribution by Commodity
Not all minerals are equal in their contribution to tailings. The grade, quantity, and the process to extract the valuable metals affect each metal's material impact.
| Mineral | % Contribution to Global Tailings |
| --- | --- |
| Copper | 46% |
| Gold | 21% |
| Iron | 9% |
| Coal | 8% |
| Phosphate | 4% |
| Lead and Zinc | 3% |
| Nickel | 2% |
| Platinum Group Elements | 1% |
| Bauxite | 1% |
| Uranium | <1% |
| Chromium | <1% |
| Molybdenum | <1% |
| Tin | <1% |
| Vanadium | <1% |
| Manganese | <1% |
| Niobium | <1% |
| Rare Earths | <1% |
| Lithium | <1% |
| Other minerals | 1% |
| Total | 100% |
A renewable future will be mineral intensive and will inevitably produce more mining waste, but growing awareness around mining's true cost will force companies to minimize and make the most of their waste.
Turning a Liability into an Asset
While tailings are waste, they are not useless. Researchers know there remains economic value in tailings. Natural Resources Canada estimated that there is $10B in total metal value in Canadian gold mining waste.
Rio Tinto has produced borates from a mine in the Mojave Desert which has left behind more than 90 years' worth of tailings. The company was probing the tailings for gold and discovered lithium at a concentration higher than other U.S. projects under development.
According to UBC's Bradshaw Initiative for Minerals and Mining professor Greg Dipple, the mining industry could help society store carbon. For over a decade, he has researched a process in which tailings naturally draws CO₂ from the air and traps it in tailings.
A Material World
While the majority of mining companies manage tailing dams safely, the issue of the material impacts of mining on Earth remains.
Mining of metal has grown on average by 2.7% a year since the 1970s, and will continue to grow. The importance of the size of tailings is critical to address proactively, before it comes rushing through the front door, as it did in Brazil.