How Is Aluminum Made?
How to Use: Click the arrows on the right to see the next stage of aluminum production.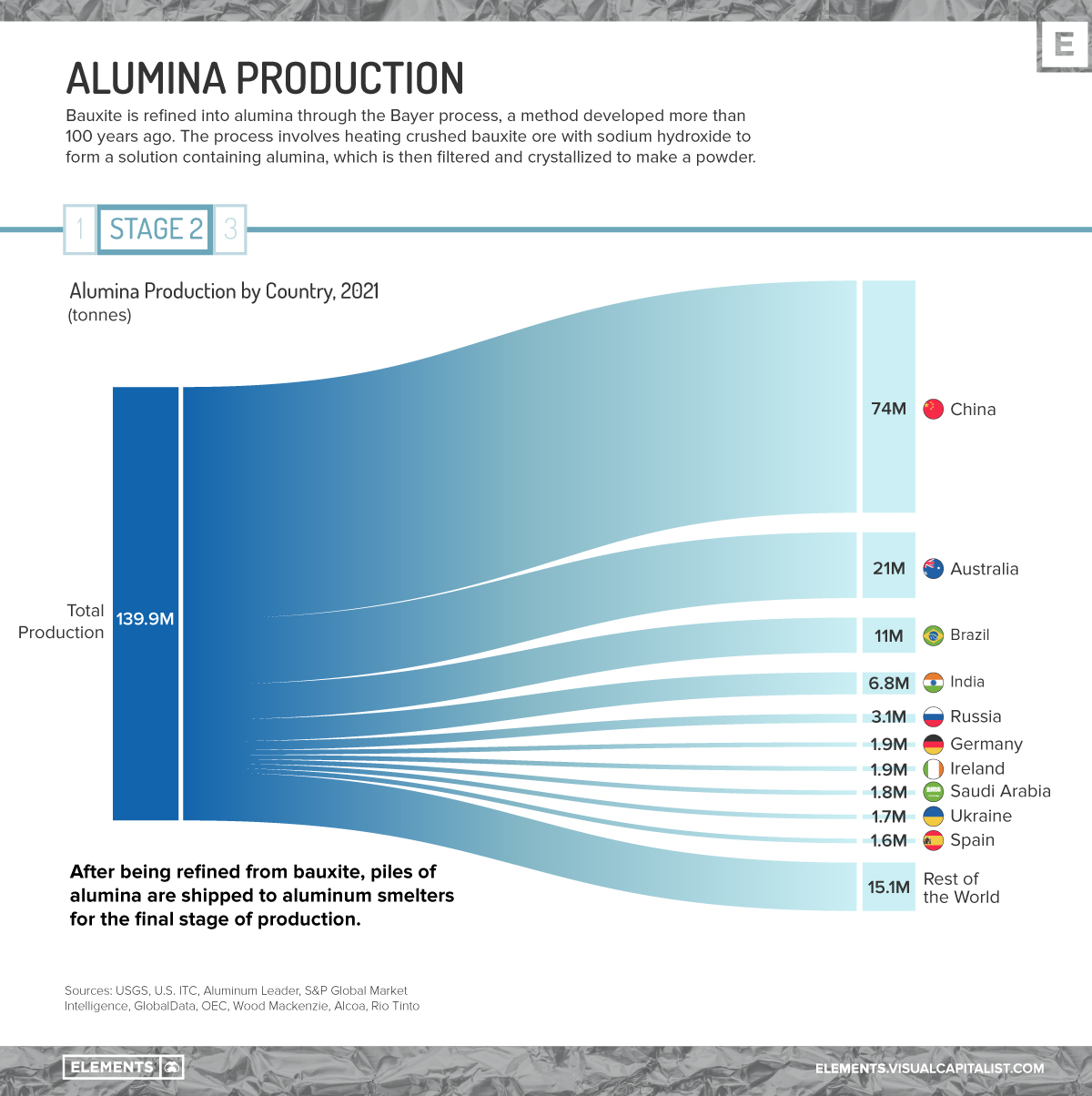 how-is-aluminum-made-stage-1
How is Aluminum Made?
Aluminum is one of our most widely-used metals, found in everything from beer cans to airplane parts.
However, the lightweight metal doesn't occur naturally, and producing it is a complex process.
The above infographics use data from the USGS, Aluminium Leader, and other sources to break down the three stages of aluminum production.
The Three Stages of Aluminum Production
Each year, the world produces around 390 million tonnes of bauxite rock, and 85% of it is used to make aluminum.
Bauxites are rocks composed of aluminum oxides along with other minerals and are the world's primary source of aluminum. After mining, bauxite is refined into alumina, which is then converted into aluminum.
Therefore, aluminum typically goes from ore to metal in three stages.
Stage 1: Mining Bauxite
Bauxite is typically extracted from the ground in open-pit mines, with just three countries—Australia, China, and Guinea—accounting for 72% of global mine production.
| Country | 2021 Mine Production of Bauxite (tonnes) | % of Total |
| --- | --- | --- |
| Australia 🇦🇺 | 110,000,000 | 28.2% |
| China 🇨🇳 | 86,000,000 | 22.1% |
| Guinea 🇬🇳 | 85,000,000 | 21.8% |
| Brazil 🇧🇷 | 32,000,000 | 8.2% |
| India 🇮🇳 | 22,000,000 | 5.6% |
| Indonesia 🇮🇩 | 18,000,000 | 4.6% |
| Russia 🇷🇺 | 6,200,000 | 1.6% |
| Jamaica 🇯🇲 | 5,800,000 | 1.5% |
| Kazakhstan 🇰🇿 | 5,200,000 | 1.3% |
| Saudi Arabia 🇸🇦 | 4,300,000 | 1.1% |
| Rest of the World 🌍 | 15,500,000 | 4.0% |
| Total | 390,000,000 | 100.0% |
Australia is by far the largest bauxite producer, and it's also home to the Weipa Mine, the biggest bauxite mining operation globally.
Guinea, the third-largest producer, is endowed with more than seven billion tonnes of bauxite reserves, more than any other country. Additionally, Guinea is the top exporter of bauxite globally, with 76% of its bauxite exports going to China.
After bauxite is out of the ground, it is sent to refineries across the globe to make alumina, marking the second stage of the production process.
Stage 2: Alumina Production
In the 1890s, Austrian chemist Carl Josef Bayer invented a revolutionary process for extracting alumina from bauxite. Today—over 100 years later—some 90% of alumina refineries still use the Bayer process to refine bauxite.
Here are the four key steps in the Bayer process:
Digestion:
Bauxite is mixed with sodium hydroxide and heated under pressure. At this stage, the sodium hydroxide selectively dissolves aluminum oxide from the bauxite, leaving behind other minerals as impurities.
Filtration:
Impurities are separated and filtered from the solution, forming a residue known as red mud. After discarding the mud, aluminum oxide is converted into sodium aluminate.
Precipitation:
The sodium aluminate solution is cooled and precipitated into a solid, crystallized form of aluminum hydroxide.
Calcination:
The aluminum hydroxide crystals are washed and heated in calciners to form pure aluminum oxide—a sandy white material known as alumina.
The impurities or red mud left behind in the alumina production process is a major environmental concern. In fact, for every tonne of alumina, refineries produce 1.2 tonnes of red mud, and there are over three billion tonnes of it stored in the world today.
China, the second-largest producer and largest importer of bauxite, supplies more than half of the world's alumina.
| Country | 2021 alumina production (tonnes) | % of total |
| --- | --- | --- |
| China 🇨🇳 | 74,000,000 | 53% |
| Australia 🇦🇺 | 21,000,000 | 15% |
| Brazil 🇧🇷 | 11,000,000 | 8% |
| India 🇮🇳 | 6,800,000 | 5% |
| Russia 🇷🇺 | 3,100,000 | 2% |
| Germany 🇩🇪 | 1,900,000 | 1% |
| Ireland 🇮🇪 | 1,900,000 | 1% |
| Saudi Arabia 🇸🇦 | 1,800,000 | 1% |
| Ukraine 🇺🇦 | 1,700,000 | 1% |
| Spain 🇪🇸 | 1,600,000 | 1% |
| Rest of the World 🌍 | 15,100,000 | 11% |
| Total | 139,900,000 | 100% |
Several major producers of bauxite, including Australia, Brazil, and India, are among the largest alumina producers, although none come close to China.
Alumina has applications in multiple industries, including plastics, cosmetics, and chemical production. But of course, the majority of it is shipped to smelters to make aluminum.
Stage 3: Aluminum Production
Alumina is converted into aluminum through electrolytic reduction. Besides alumina itself, another mineral called cryolite is key to the process, along with loads of electricity. Here's a simplified overview of how aluminum smelting works:
In aluminum smelter facilities, hundreds of electrolytic reduction cells are filled up with molten cryolite.
Alumina (composed of two aluminum atoms and three oxygen atoms) is then dumped into these cells, and a strong electric current breaks the chemical bond between aluminum and oxygen atoms.
The electrolysis results in pure liquid aluminum settling at the bottom of the cell, which is then purified and cast into its various shapes and sizes.
China dominates global aluminum production and is also the largest consumer. Its neighbor India is the second-largest producer, making only a tenth of China's output.
| Country | 2021 Aluminum Smelter Production (tonnes) | % of total |
| --- | --- | --- |
| China 🇨🇳 | 39,000,000 | 59% |
| India 🇮🇳 | 3,900,000 | 6% |
| Russia 🇷🇺 | 3,700,000 | 6% |
| Canada 🇨🇦 | 3,100,000 | 5% |
| United Arab Emirates 🇦🇪 | 2,600,000 | 4% |
| Australia 🇦🇺 | 1,600,000 | 2% |
| Bahrain 🇧🇭 | 1,500,000 | 2% |
| Iceland 🇮🇸 | 880,000 | 1% |
| U.S. 🇺🇸 | 880,000 | 1% |
| Rest of the World 🌍 | 9,400,000 | 14% |
| Total | 66,560,000 | 100% |
As is the case for alumina production, some of the countries that produce bauxite and alumina also produce aluminum, such as India, Australia, and Russia.
Roughly a quarter of annually produced aluminum is used by the construction industry. Another 23% goes into vehicle frames, wires, wheels, and other parts of the transportation industry. Aluminum foil, cans, and packaging also make up another major end-use with a 17% consumption share.
Aluminum's widespread applications have made it one of the most valuable metal markets. In 2021, the global aluminum market was valued at around $245.7 billion, and as consumption grows, it's projected to nearly double in size to $498.5 billion by 2030.
Mapped: How the Energy Crisis Impacts Global Food Insecurity
Exploring global food insecurity through the lens of the energy crisis and rising food costs.
Mapped: How the Energy Crisis Impacts Global Food Insecurity
Food insecurity occurs when an individual does not have access to the adequate quantity or quality of food they require to meet their biological needs.
A disruption in supply chains, rising input costs, and inadequate weather can all have a direct impact on global food security, all of which have been in play in recent years.
Using data from the Food and Agriculture Organization (FAO) of the United Nations, let's do a deep dive into food insecurity around the world and discuss how rising energy costs can drive up food prices, exacerbating food insecurity.
The State of Global Food Insecurity
The latest data from the FAO marks 29.3% of the entire world population to be moderately or severely food insecure, with 40% of this population experiencing severe food insecurity. Based on FAO definitions, here is what that means:
A moderately food insecure person experiences uncertainty about their ability to obtain food, unwillingly compromising the quantity and/or the quality of food they consume
A severely food insecure person lacks access to food, enduring prolonged periods of time without eating
The African continent bears most of the burden when it comes to global food insecurity, with 14 out of the top 15 most food-insecure countries being in this region. The data also paints a relatively grim picture for Middle Eastern and South American countries, while North America and Western Europe have moderate or severe food insecurity marked below 10%.
| Country | Prevalence of moderate or severe food insecurity (3-year average, 2019-2021) |
| --- | --- |
| 🇨🇬 Congo | 88.7% |
| 🇸🇱 Sierra Leone | 86.7% |
| 🇸🇸 South Sudan | 86.4% |
| 🇭🇹 Haiti | 82.5% |
| 🇨🇫 Central African Republic | 81.3% |
| 🇲🇼 Malawi | 81.3% |
| 🇱🇷 Liberia | 80.6% |
It's difficult to pinpoint the prevalence of African food insecurity to just one cause. Climate change, conflict in Africa, government debt, and Russia's invasion of Ukraine have all contributed in different ways to worsening food security conditions in this region.
The Russia-Ukraine conflict, for instance, led to European aid for African countries to drop substantially, while grain exports from both Ukraine and Russia fell as ports in the Black Sea experienced disruptions. The war has also caused a disruption in fertilizer supplies, with Russia being the top exporter of fertilizer, along with a substantial rise in farming input costs as energy prices soared in 2022.
How Energy Prices Trickle Down to Food Prices
Food prices have risen substantially in the last year due to surging energy prices and supply chain disruptions. The FAO food price index, which measures the change in international prices of a basket of food commodities, saw a 14.3% increase between 2021 and 2022.
| Index | % change in price since 2021 |
| --- | --- |
| General Food Price Index | 14.3% |
| Meat | 10.4% |
| Dairy | 19.6% |
| Cereals | 17.9% |
| Vegetable oils | 13.9% |
| Sugar | 4.7% |
As seen above, individual commodity indices followed this trend, with dairy and cereal prices bearing the brunt.
Energy costs trickle down to food prices in a variety of ways. The simple correlation between historic oil and corn prices, seen below, can paint a telling picture.
What's interesting is that the International Monetary Fund (IMF) predicts that the effects of the 2022 energy cost crisis may not have even fully materialized yet.
According to their research, a 1% increase in fertilizer prices can boost food commodity prices by 0.45% within four quarters. With natural gas, a major input for nitrogen-based fertilizer, being 150% more expensive in 2022 than in 2021, this may be a cause for concern in the upcoming months.
Relatedly, a rise in fertilizer costs is also connected to harvest levels in upcoming seasons. Reduced use of fertilizer as a result of high costs can lead to diminished crop yields, and the IMF predicts that a 1% drop in global harvests bumps food commodity prices by 8.5%, potentially indicating that the worst of it for food prices—and for global food security—is still yet to come.
Looking Ahead to 2023
Food security is a fundamental aspect of human existence and plays an important role in the steady economic growth and prosperity of nations. While we may be tempted to believe that we're heading in the right direction on a global scale, the FAO paints a different picture, specifically for Africa.
2030 predictions for global undernourishment forecast an 11.5% increase in hunger in Africa, while world hunger at large is predicted to decrease. With global inflation looming high and food prices still under the influence of 2022 events, addressing hunger in Africa is as crucial as ever to improve the overall well-being and development of the continent.
What is the FIFA World Cup Trophy Made Of?
This infographic explores the history and composition of the FIFA World Cup trophy ahead of the 22nd edition of the competition.
What is the FIFA World Cup Trophy Made Of?
Soccer is one of the world's most popular sports with approximately 3.5 billion fans globally.
It was in Uruguay, in 1930, that the very first FIFA World Cup was held. It has occurred once every four years since then (except in 1942 and 1946 due to World War II).
This year, 92 years after its start, the 22nd FIFA World Cup tournament is scheduled to take place in Qatar. The highly anticipated event involves 32 national teams that will compete to win one of the most prestigious titles and a historic trophy.
So, what is the coveted FIFA World Cup trophy made up of?
The History and Composition of FIFA World Cup Trophies
Since its debut in the first FIFA World Cup tournament, in 1930, there have been two iterations of the World Cup trophy. Both trophies were made with a combination of metals and rare stones.
Until 1970, the Jules Rimet Trophy, designed by the French sculptor Abel Lafleur, glorified the winning team. A redesigned version of the trophy by Silvio Gazzaniga replaced the original in the 1974 FIFA World Cup tournament.
The Jules Rimet Trophy
Commonly called the Coupe du Monde (French for World Cup), the Jules Rimet trophy was officially renamed in 1946, honoring the then FIFA president Jules Rimet on his 25th Anniversary in office.
The trophy had a height of 35cm and weighed 3.8kg. It was made of gold-plated sterling silver and featured Nike, the Greek Goddess of Victory, holding an octagonal cup. The base of the trophy was made from a semi-precious stone called lapis lazuli. Golden plates were attached to each side of the base and they held the names of the winning teams from 1930 to 1970.
Since the beginning, it was agreed that the first team to win the World Cup three times would get to permanently keep the trophy. In 1970, Brazil marked its third victory by beating Italy in the finals and took the Jules Rimet trophy home.
However, in 1983, the trophy that even survived World War 2 was stolen from the Brazilian Football Confederation (CBF) headquarters in Rio de Janeiro and was never found. The only original piece of the Jules Rimet trophy in existence is the base that was replaced in 1954 to accommodate more winning-team names.
The FIFA World Cup Trophy
After handing over Abel Lafleur's original trophy to Brazil in 1970, FIFA held a design competition in search of a new World Cup trophy. The association received 53 submissions from seven countries and Silvio Gazzaniga's design of two human figures holding the Earth in their hands won the competition.
This new trophy is 36.5cm tall and weighs 6.17kg. It is made from 5kg of 18-karat gold and two layers of malachite. The base of the trophy is 13cm in diameter and the names of all winning teams since 1974 along with the years are engraved on it. This current iteration of the World Cup trophy can accommodate the names of 17 winning countries and years.
Unlike the Jules Rimet trophy, the current iteration of the trophy will not be handed over to a team definitively. It permanently belongs to the International Federation of Association Football (FIFA) and is secured at its Zurich headquarters.
However, a gold-plated bronze replica of the cup referred to as the World Cup Winners' Trophy is given to every winning team.
Battle Royal: The 2022 FIFA World Cup
The 2022 FIFA World Cup tournament is long awaited by billions of passionate soccer fans.
It could be the final opportunity for two of the world's best players—Cristiano Ronaldo, and Lionel Messi—to lift the World Cup trophy as they supposedly plan to retire from international games before the next World Cup.
This year, will your favorite national team be able to pose for a victory picture holding the golden trophy in their hands?