The Energy and Mineral Riches of the Arctic
The Energy and Mineral Riches of the Arctic
The Arctic has been the fascination of many people for centuries.
Hundreds of years ago, the Europeans saw the Arctic's frigid waters as a potential gateway to the Pacific. The region has also been home to many unique native cultures such as the Inuits and Chukchi. Lastly, it goes without saying that the Arctic is unsurpassed in many aspects of its natural beauty, and lovers of the environment are struck by the region's millions of acres of untouched land and natural habitats.
However, the Arctic is also one of the last frontiers of natural resource discovery, and underneath the tundra and ice are vast amounts of undiscovered oil, natural gas, and minerals. That's why there is a high-stakes race for Arctic domination between countries such as the United States, Norway, Russia, Denmark, and Canada.
Today's infographic highlights the size of some of these resources in relation to global reserves to help create context around the potential significance of this untapped wealth.
In terms of oil, it's estimated that the Arctic has 90 billion barrels of oil that is yet to be discovered. That's equal to 5.9% of the world's known oil reserves – about 110% of Russia's current oil reserves, or 339% of U.S. reserves.
For natural gas, the potential is even higher: the Arctic has an estimated 1,669 trillion cubic feet of gas, equal to 24.3% of the world's current known reserves. That's equal to 500% of U.S. reserves, 99% of Russia's reserves, or 2,736% of Canada's natural gas reserves.
Most of these hydrocarbon resources, about 84%, are expected to lay offshore.
There are also troves of metals and minerals, including gold, diamonds, copper, iron, zinc, and uranium. However, these are not easy to get at. Starting a mine in the Arctic can be an iceberg of costs: short shipping seasons, melting permafrost, summer swamps, polar bears, and -50 degree temperatures make the Arctic tough to be economic.
Original graphic by: 911 Metallurgist
How Much Gold is a Bitcoin Worth?
Bitcoin has long been dubbed "digital gold", but how much gold is a bitcoin worth and how do market caps of the two assets compare?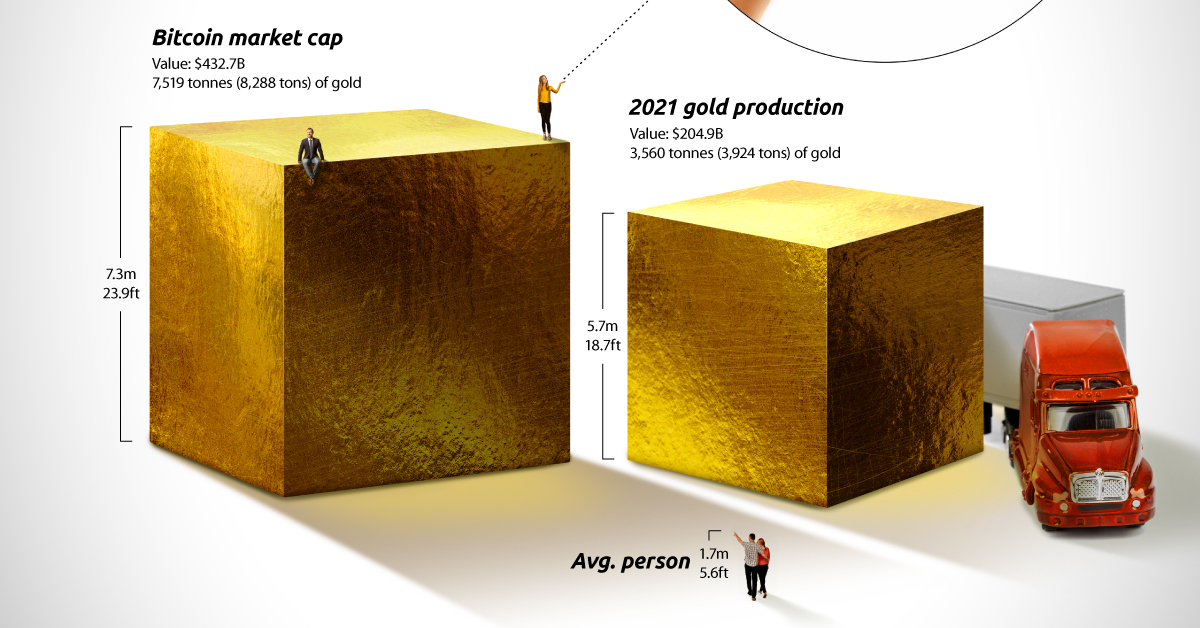 Visualizing a Bitcoin's Dollar Value in Gold
Gold has been a store of value in recessions and financial crises, but over the last decade, bitcoin has started to steal its thunder. Sometimes even being dubbed "digital gold", the cryptocurrency has echoed gold's epic booms and busts except with much more volatility.
While most people have held gold in the form of jewelry or in various electronic devices, bitcoin remains a physically intangible asset that is stored on digital ledgers and secured with cryptographic keys.
Using price data from TradingView, this graphic compares the two assets by showing how much gold is equivalent to one bitcoin, while also visualizing bitcoin's market capitalization and 2021 gold production in the form of gold cubes.
What is a Bitcoin's Weight in Gold?
With a single bitcoin worth around $22,600 at the time of the visualization, this is equivalent to a small cube of gold just over 20 cm3, with each side measuring around 2.7 centimeters, or just over one inch.
This tiny gold cube that fits in the palm of a hand is not only worth $22,600, but also weighs an impressive 12.6 troy ounces (just under 0.8 lbs or around 357 grams) thanks to gold's extremely high density of 19.32 g/cm3.
When converting the value of bitcoin's entire market capitalization of $432.7 billion to physical gold, the gold cube would be 7.3 m (23.9 ft), taller than four people stacked on top of each other. To put this in perspective, we also visualized the amount of gold mined in 2021, which was around $204.9 billion worth, weighing in at 3,560.7 tonnes.
Comparing Bitcoin's Digital Gold to Physical Gold
In its short 13-year lifespan bitcoin has grown tremendously to reach nearly half a trillion in market capitalization currently, but compared to gold it's still small.
Just 2021's gold production was worth nearly half of bitcoin's entire market cap, and with gold's market cap estimated to be around $11.7 trillion, it's more than 20 times larger than that of the cryptocurrency's.
While at first this might seem like a drawback for bitcoin, its small market cap has partially enabled its stratospheric price increases in bull runs.
Due to bitcoin's smaller market cap, money flowing into bitcoin results in a larger percentage increase than if the same amount of money flowed into gold, giving the cryptocurrency more potential upside but also much more volatility as money moves in and out.
A Tale of Two Stores of Value
While gold has long been a safe haven asset or store of value for investors, in 2021 bitcoin and other cryptocurrencies got all the attention as the orange coin's price surged by 59% and reached an all-time high of $69,000. However, since the start of 2022, bitcoin's price has fallen by 49%, and is more than 65% from its all-time high of last year.
As a result of all this volatility, bitcoin is now below any price traded in 2021, meaning anyone who bought bitcoin in 2021 and held on is now down on their investment.
Meanwhile, gold fell by 4% in 2021, and is down another 2% in 2022, so while gold buyers of 2021 are also down on their investment, they've had a much smoother ride with smaller losses along the way.
Whatever lies ahead for these two unique assets, in terms of market cap size, returns, and volatility, the digital gold that is bitcoin has a long way to go before it catches up to the real thing.
3 Reasons for the Fertilizer and Food Shortage
Bad weather, the war in Ukraine, and a shortage of fertilizer have led to fears of a global food crisis. Here are three factors you should know.
3 Reasons for the Fertilizer and Food Shortage
Bad weather, the Russian invasion of Ukraine, and a shortage of fertilizer have led to fears of a global food crisis.
This infographic will help you understand the problem by highlighting three key factors behind the mounting food crisis.
#1: The Fertilizer Shortage
Since the beginning of the Russian invasion of Ukraine in February 2022, the war has disrupted shipments of fertilizer, an essential source of nutrients for crops.
Russia is the world's top exporter of nitrogen fertilizer and ranks second in phosphorus and potassium fertilizer exports. Belarus, a Russian ally also contending with Western sanctions, is another major fertilizer producer. In addition, both countries collectively account for over 40% of global exports of the crop nutrient potash.
Here are the top 20 fertilizer exporters globally:
| Rank | Country | Exports Value (Billions in USD) |
| --- | --- | --- |
| #1 | 🇷🇺 Russia | $12.5 |
| #2 | 🇨🇳 China | $10.9 |
| #3 | 🇨🇦 Canada | $6.6 |
| #4 | 🇲🇦 Morocco | $5.7 |
| #5 | 🇺🇸 United States | $4.1 |
| #6 | 🇸🇦 Saudi Arabia | $3.6 |
| #7 | 🇳🇱 Netherlands | $2.9 |
| #8 | 🇧🇪 Belgium | $2.6 |
| #9 | 🇴🇲 Oman | $2.6 |
| #10 | 🇶🇦 Qatar | $2.2 |
| #11 | 🇩🇪 Germany | $1.5 |
| #12 | 🇮🇱I srael | $1.5 |
| #13 | 🇪🇬 Egypt | $1.5 |
| #14 | 🇱🇹 Lithuania | $1.4 |
| #15 | 🇩🇿 Algeria | $1.4 |
| #16 | 🇪🇸 Spain | $1.3 |
| #17 | 🇯🇴 Jordan | $1.3 |
| #18 | 🇵🇱 Poland | $1.2 |
| #19 | 🇲🇾 Malaysia | $1.0 |
| #20 | 🇳🇬 Nigeria | $1.0 |
The main destination of fertilizer exports from Russia are large economies like India, Brazil, China, and the United States.
However, many developing countries—including Mongolia, Honduras, Cameroon, Ghana, Senegal, and Guatemala—rely on Russia for at least one-fifth of their fertilizer imports.
Furthermore, the war intensified trends that were already disrupting supply, such as increased hoarding by major producing nations like China and sharp jumps in the price of natural gas, a key feedstock for fertilizer production.
#2: Global Grain Exports
The blockade of Ukrainian ports by Russia's Black Sea fleet, along with Western sanctions against Russia, has worsened global supply chain bottlenecks, causing inflation in food and energy prices around the world.
This is largely because Russia and Ukraine together account for nearly one-third of the global wheat supply. Wheat is one of the most-used crops in the world annually, used to make a variety of food products like bread and pasta. Additionally, Ukraine is also a major exporter of corn, barley, sunflower oil, and rapeseed oil.
| Producer | Grain Exports in Million Tons (MT) |
| --- | --- |
| 🇺🇸 United States | 93MT |
| 🇷🇺 Russia & 🇺🇦 Ukraine | 87MT |
| 🇦🇷 Argentina | 56MT |
| 🇪🇺 EU | 50MT |
| 🇧🇷 Brazil | 44MT |
| Other | 87MT |
As a result of the blockade, Ukraine's exports of cereals and oilseed dropped from six million tonnes to two million tonnes per month. After two months of negotiations, the two countries signed a deal to reopen Ukrainian Black Sea ports for grain exports, raising hopes that the international food crisis can be eased.
#3: Recent Food Shortages
Besides the war in Ukraine, factors including the COVID-19 pandemic and climate change resulted in nearly one billion people going hungry last year, according to United Nations.
France's wine industry saw its smallest harvest since 1957 in 2021, with an estimated loss of $2 billion in sales due to increasingly higher temperatures and extreme weather conditions.
Heat, drought, and floods also decimated crops in Latin America, North America, and India in recent months. Between April 2020 and December 2021, coffee prices increased 70% after droughts and frost destroyed crops in Brazil.
In the face of multiple crises, the World Bank recently announced financial support of up to $30 billion to existing and new projects in areas such as agriculture, nutrition, social protection, water, and irrigation.