20 Common Metal Alloys and What They're Made Of
Every day, you're likely to encounter metals that cannot be found anywhere on the periodic table.
You may play a brass instrument while wearing a white gold necklace – or maybe you cook with a cast iron skillet and store your leftovers in a stainless steel refrigerator.
It's likely that you know these common metal alloys by name, and you can probably even imagine what they look and feel like. But do you know what base metals these alloys are made of, exactly?
Common Metal Alloys
Today's infographic comes to us from Alan's Factory Outlet, and it breaks down metal and non-metal components that go into popular metal alloys.
In total, 20 alloys are highlighted, and they range from household names (i.e. bronze, sterling silver) to lesser-known metals that are crucial for industrial purposes (i.e. solder, gunmetal, magnox).
Humans make metal alloys for various reasons.
Some alloys have long-standing historical significance. For example, electrum is a naturally-occurring alloy of gold and silver (with trace amounts of copper) that was used to make the very first metal coins in ancient history.
However, most of the common metal alloys on the above list are actually human inventions that are used to achieve practical purposes. Some were innovated by brilliant metallurgists, while others were discovered by fluke, but they've all had an ongoing impact on our species over time.
Alloys with an Impact
The Bronze Age (3,000 BC – 1,200 BC) is an important historical period that is rightfully named after one game-changing development: the ability to use bronze. This alloy, made from copper and tin, was extremely useful to our ancestors because it is much stronger and harder than its component metals.
Steel is another great example of an alloy that has changed the world. It is one of the most important and widely-used metals today. Without steel, modern civilization (skyscrapers, bridges, etc.) simply wouldn't be possible.
While nobody knows exactly who invented steel, the alloy has a widely-known cousin that was likely invented in somewhat accidental circumstances.
In 1912, English metallurgist Harry Brearley had been tasked with finding a more erosion-resistant steel for a small arms manufacturer, trying many variations of alloys with none seeming to be suitable. However, in his scrap metal heap – where almost all of the metals he tried were rusting – there was one gun barrel that remained astonishingly untouched.
The metal alloy – now known to the world as stainless steel – was a step forward in creating a corrosion-resistant steel that is now used in many applications ranging from medical uses to heavy industry.
Visualizing Mining's Footprint in British Columbia
Mining represents 7% of British Columbia's GDP despite only accounting for 0.04% of the land use.
Visualizing Mining's Footprint in British Columbia
British Columbia is considered a global leader in the development of socially and environmentally responsible resources.
An estimated 54% of the province's total land is protected, making it one of the world's greenest mining hubs.
This graphic by the B.C. Regional Mining Alliance (BCRMA) details mining's footprint in the province.
A Tier 1 Jurisdiction for Mining
British Columbia covers almost 95 million hectares (234 million acres), more than any European country except Russia, and more than any U.S. state except Alaska.
As the largest mining province in Canada, BC registered $18 billion in revenue from the industry in 2022.
British Columbia stands as Canada's sole producer of molybdenum, which finds applications in metallurgy and chemistry. Additionally, B.C. is the country's leader producer of copper and steelmaking coal, besides gold and silver.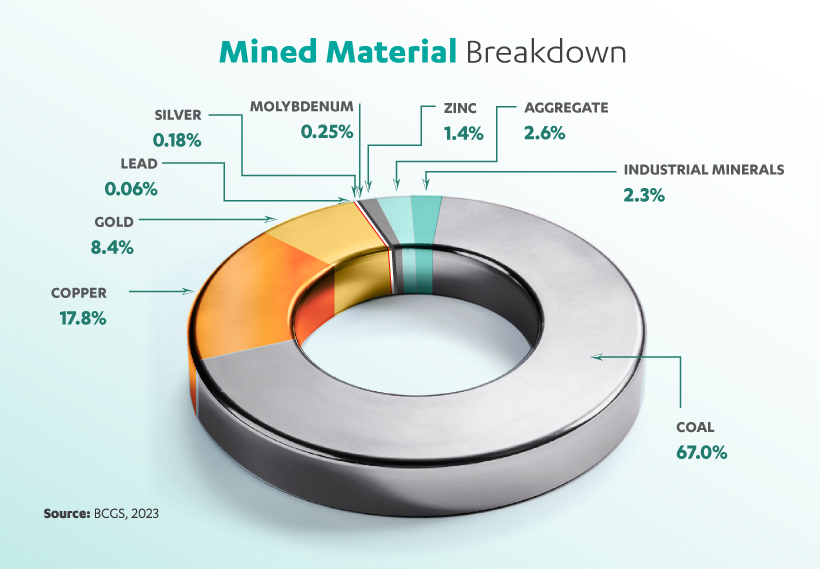 At the heart of British Columbia's mining industry lies the Golden Triangle, one of the hottest mineral exploration districts in the world.
More than 150 mines have operated in the area since prospectors first arrived at the end of the 19th century. The region alone is endowed with minerals worth more than $800 billion.
How Green is B.C. Mining
Mining represents 7% of the province's Gross Domestic Product (GDP), despite only accounting for 0.04% of the land use. In comparison, farmland demands 3% of the land, bringing $2.1 billion (0.8%) per year.
| | Land Use in B.C. | Revenue (2022, CAD $) |
| --- | --- | --- |
| Mining | 0.04% | $18.0 billion |
| Oil & Gas | 0.4% | $9.5 billion |
| Infrastructure | 1% | $25.0 billion |
| Farmland | 3% | $2.1 billion |
| Forest | 62% | $13.3 billion |
Mining operations are also supported by a stable, transparent, and effective policy environment. The province ranked as the world's least risky for mining in 2017 and 2018.
In addition, mineral exploration has received ample support from local Indigenous communities. Today, mining accounts for over two-thirds of all indigenous people employed in the extractives sector.
According to the International Energy Agency, up to six times more minerals and metals will be needed by 2040 to accelerate the energy transition.
In this scenario, British Columbia is well positioned to support the transition to a low-carbon future and make a significant contribution to climate action.
The BCRMA is a strategic partnership between indigenous groups, industry, and government representatives that aims to promote B.C.'s mining opportunities internationally.
Mapped: The 10 Largest Undeveloped Silver Deposits in the World
Global silver demand is poised to soar in the next decade, driven by emerging technologies like EVs and solar power.
Ranked: The Largest Undeveloped Silver Deposits in the World
Global silver demand is poised to soar in the next decade, driven by emerging technologies like electric vehicles and solar power.
Silver demand from solar alone has grown from less than 50 million ounces (Moz) a decade ago to an expected 160 Moz in 2023.
So, where will the necessary supply come from to meet this surge? This graphic from Discovery Silver shows the largest undeveloped silver deposits in the world.
Silver in Green Technology
Silver is a vital part of solar cells. The metal is converted into paste and coated onto silicon wafers to make solar arrays.
When sunlight hits the silicon, silver helps to transport the generated electricity for immediate use or store it in batteries. A typical solar panel can contain as much as 20 grams of silver.
Silver's conductivity and corrosion resistance are vital in electronics, especially electric vehicles where nearly all electrical connections rely on the metal. Over 50 million ounces of silver are used every year to enhance conductivity in powered seats, windows, and other vehicle electronics.
In 2022, 27% of all silver consumption in the U.S. was attributed to electrical and electronics, while 10% was linked to solar technology.
Global Silver Demand Rising
With the increasing demand for new technologies combined with physical investment (bars) demand, the silver market saw a 237.7 Moz deficit in 2022, an all-time record.
2023 silver industrial demand is forecasted to rise by 4% to a new record high.
However, according to the Silver Institute, mined output is expected to decline over the next five years.
In this scenario, new mines are expected to play an important role in meeting the demand.
Currently, the world's top 10 undeveloped silver deposits contain 984 Moz. Discovery Silver's Cordero project in Mexico leads the ranking:
| Rank | Project | Owner | Country | Contained Silver Reserves (Moz) |
| --- | --- | --- | --- | --- |
| 1 | Cordero | Discovery Silver | Mexico | 266 |
| 2 | Corani | Bear Creek Mining Corporation | Peru | 229 |
| 3 | Prognoz | Polymetal International plc | Russia | 125 |
| 4 | Bowdens | Silver Mines Limited | Australia | 66 |
| 5 | Santa Ana | Formerly Bear Creek | Peru | 63 |
| 6 | Fuwan | Minco Silver Corporation | China | 55 |
| 7 | Nueva Esperanza | Kingsgate Consolidated Limited | Chile | 48 |
| 8 | Vares | Adriatic Metals PLC | Bosnia & Herzegovina | 47 |
| 9 | Terronera | Endeavour Silver Corp. | Mexico | 47 |
| 10 | Menkechka | GeoProMining Ltd. | Russia | 38 |
Cordero is located in Chihuahua State in Mexico, one of the world's most prolific silver producing regions.
Once in production, it is expected to become one of the top three silver mines in the world.
As silver demand is expected to soar, Discovery Silver offers direct investment exposure to this paradigm shift through its Cordero Project. Click here to learn more about Discovery Silver.