12 Stunning Visualizations of Gold Show Its Rarity
For the companies exploring for gold, a deposit that has more than one gram of gold for every tonne of earth is an exciting prospect. In fact, in our 2013 report summarizing the world's gold deposits, we found that the average grade of gold deposits in the world is around that amount: about 1.01 g/t.
Think about that for a moment. One gram (0.035 oz) is equal to the mass of a small paper clip. This small amount of gold is usually not even in one place – it is dispersed through a tonne of rock and dirt in smaller amounts, most of the time invisible to the naked eye. For some companies that have the stars align with easy metallurgy, a deposit near surface, and open pit potential, this gram per tonne deposit may even somehow be economic.
It's hard to believe that such a small amount of gold could be worth so much, and that is why great visualizations can help us understand the rarity of this yellow metal. Luckily, the folks at Demonocracy.info have done the heavy lifting for us, putting together a series of 3D visualizations of gold bullion bars showcasing the world's gold that has been mined thus far. Note: these visualizations are a couple of years old and optimistically have the value of gold pegged at US$2,000 per oz, presumably for the ease of calculations.
For those interested, we have also put together a similar slideshow on the topic, showing how much gold, silver, copper, and other metals are mined each year.

Smaller denominations of gold plates: 1 gram, 5 grams, 10 grams, 20 grams, and 1 troy oz of gold.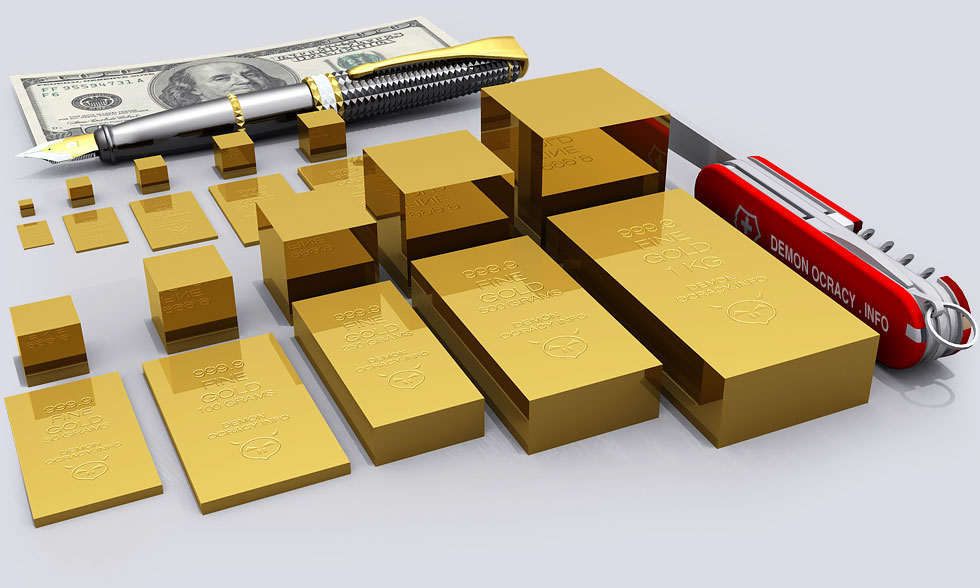 Larger denominations of gold plates: 50 grams, 100 grams, 250 grams, 500 grams, and 1 kg of gold.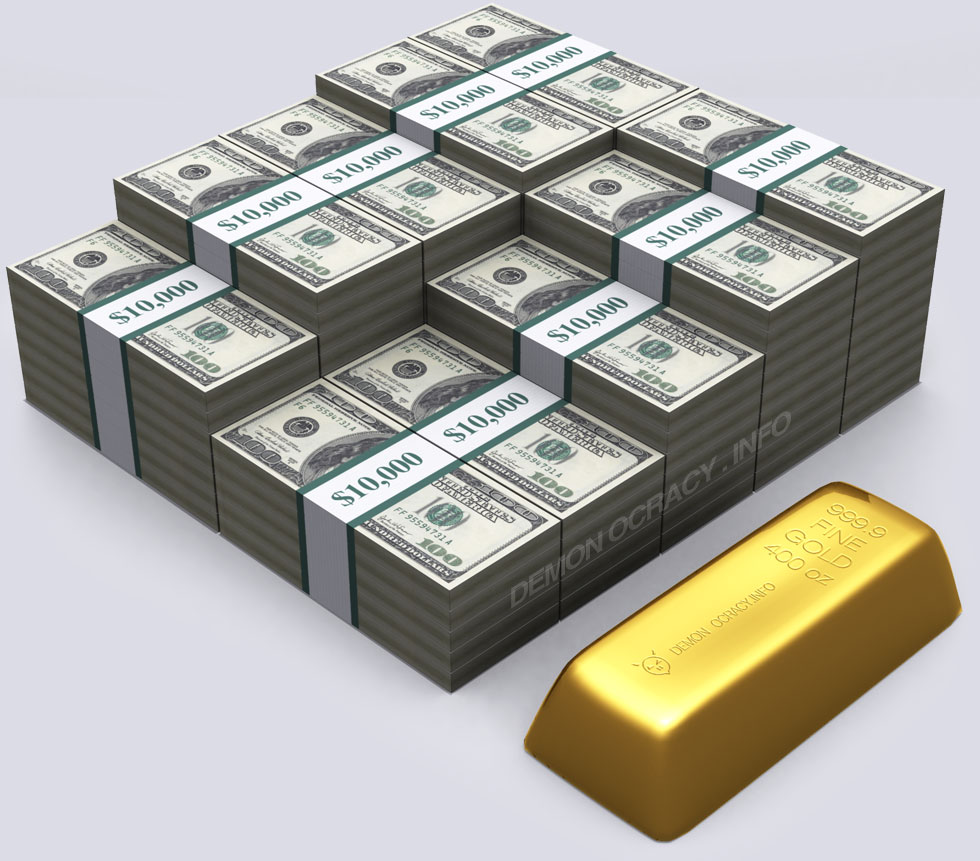 This 400 oz gold bar, at $2,000 per oz gold, is worth the $800,000 cash beside it. The gold bar is extremely heavy, weighing more than three full milk jugs.

Here's what one tonne of gold looks like. At $2,000 per oz, it's worth $64.3 million.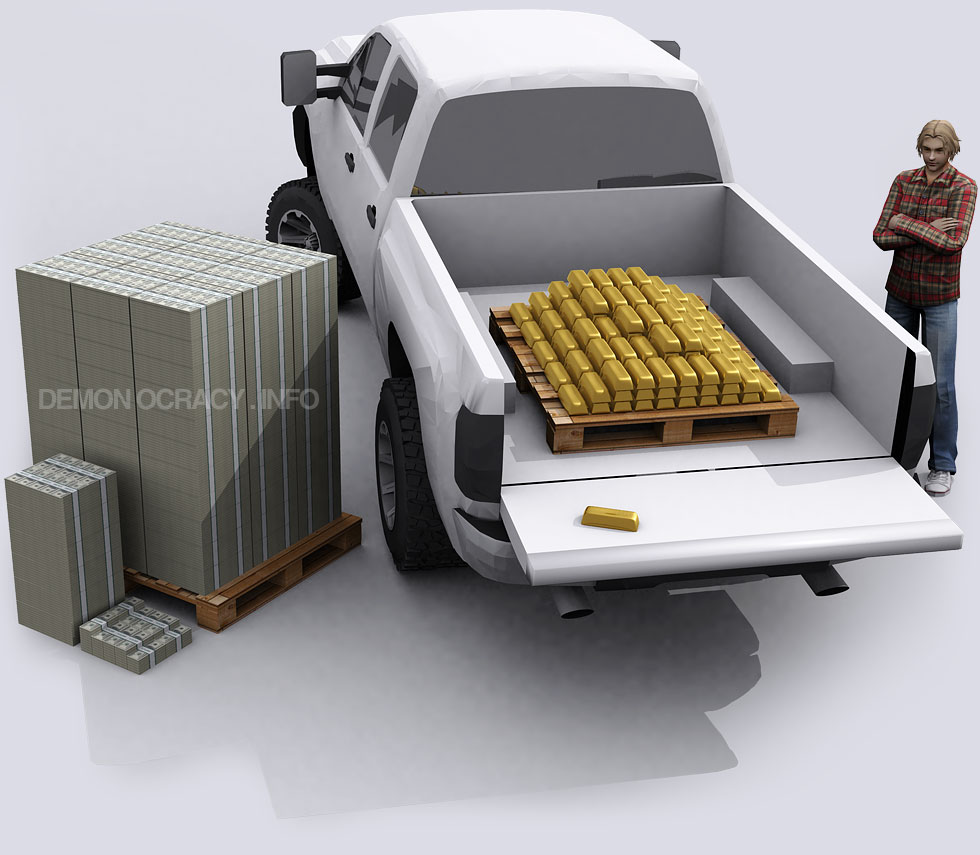 Gold is so heavy that the suspension of an average truck would break if it held anymore than pictured above. Even if the truck's suspension broke, the load of gold in the back could buy 2,660 brand new trucks at an MSRP of $40,000 per truck.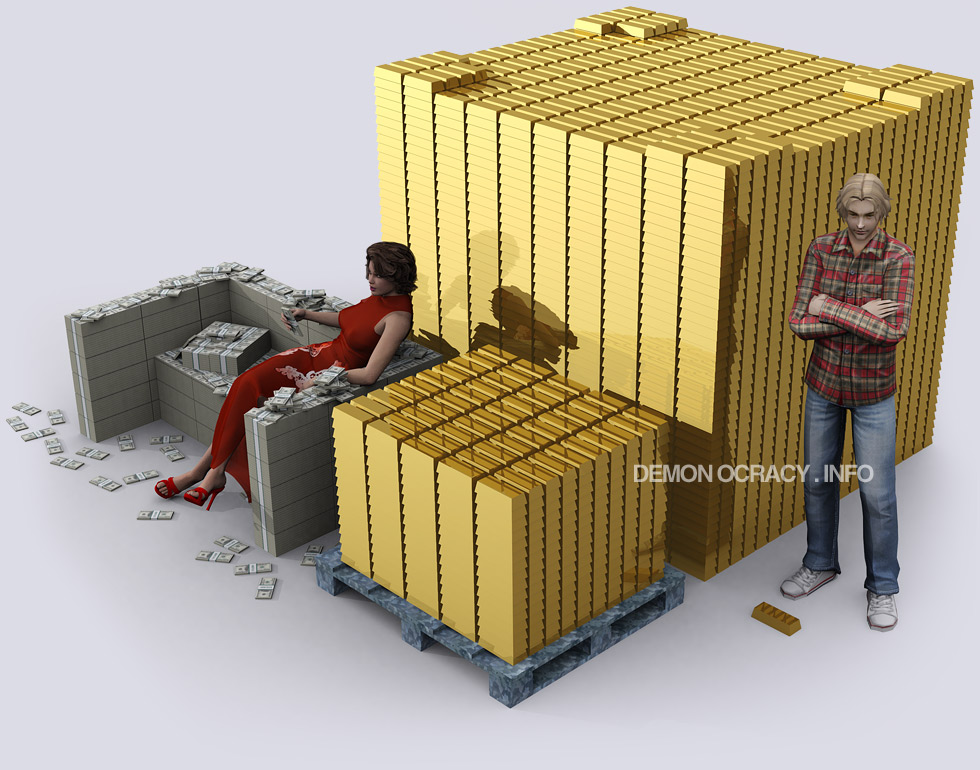 Here's 10 tonnes of gold compared to 100 tonnes of the yellow metal.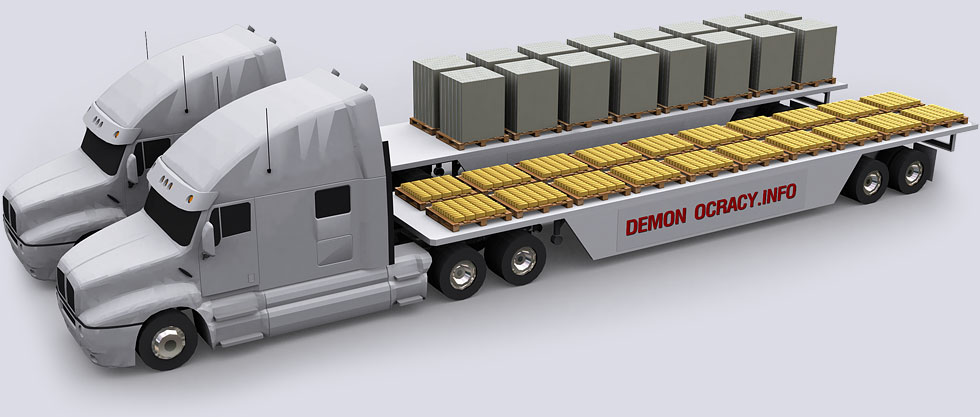 This semi-truck is carrying the maximum load it can legally carry, which is about about 25 tonnes. Here there are 24.88 tonnes of gold, worth $1.6 billion.


The Northrop Grumman B2 Spirit Bomber program cost $44.75 Billion for a total of 21 units built, which averages to $2,130,952,380 per unit. Shown here is the amount of gold it costs to buy one unit.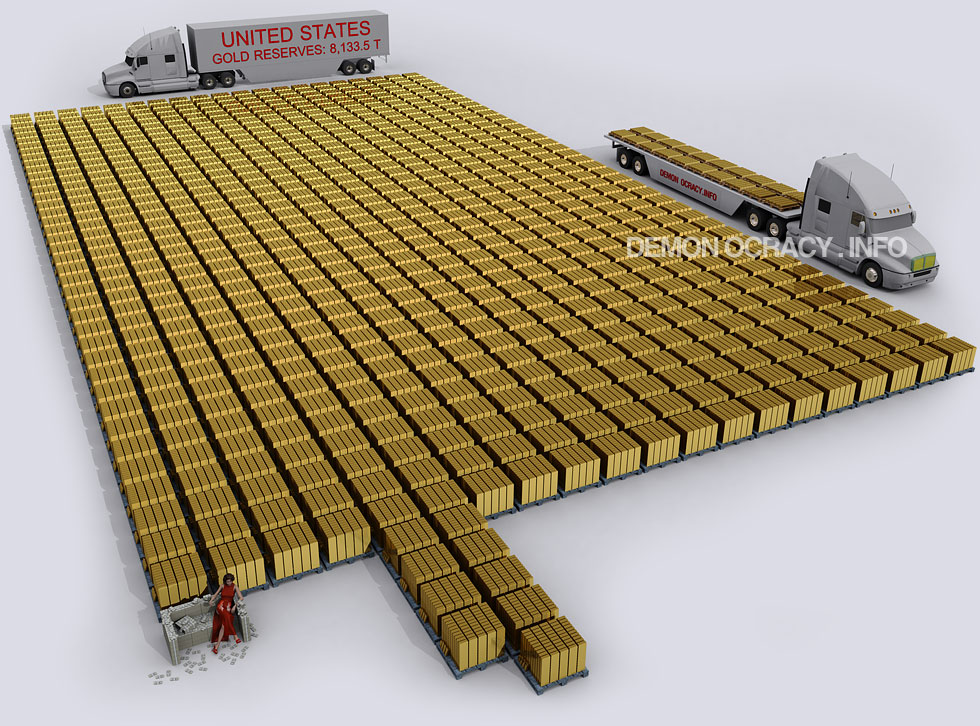 Here's the entire gold reserves of the United States government, which is 8,133.5 tonnes.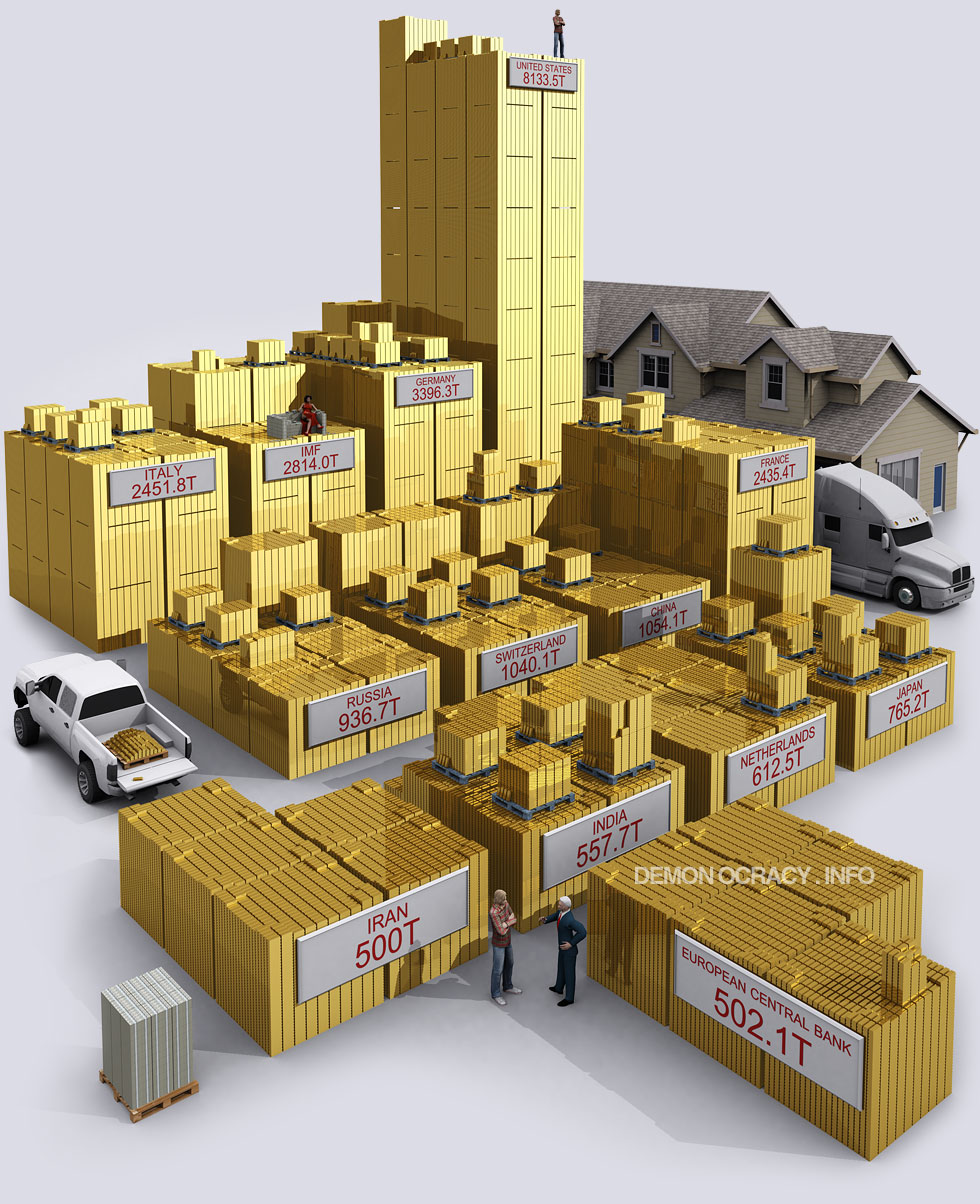 Here's the world's gold reserves by government circa 2012. This is slightly outdated, with China and Russia both having significant increases since then.


All gold mined in history, stacked in 400 oz bars. The 166,500 tonnes here is actually divided into four levels: the bottom level is jewelry (50.5% of all gold), the 2nd level is private investment (18.7%), the third level is world governments (17.4%), and the highest level is other uses for gold such as industry (13.4%).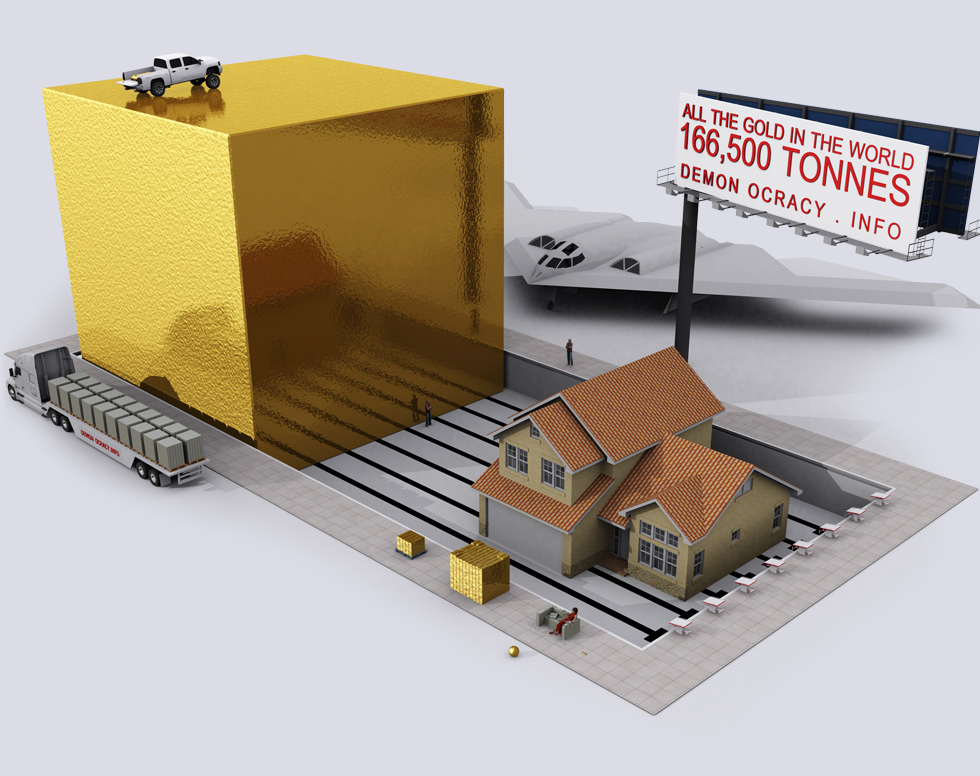 Lastly, we finish off with an image of all of the world's mined gold in one cube with dimensions of 20.5m. If it was all melted, it would fit within the confines of an Olympic Swimming Pool.
Want to learn everything you need to know about gold in about 20 minutes? Our five-part Gold Series covers everything from its rich history, supply and geology, demand drivers, investment properties, and market trends.
Visualizing Peru's Silver Mining Strength
With a rich history of mining, Peru plays a vital role in supplying the world with silver for clean energy technologies and electrification.
Visualizing Peru's Silver Mining Strength
Peru's silver mining industry is critical as the world progresses towards a clean energy transition. Silver's use in EVs, solar energy, and mobile technologies will require ready supplies to meet demand.
Peru will be centre stage as the world's second-largest producer of the precious metal.
This graphic sponsored by Silver X showcases Peru's silver mining strength on the global scale, putting in perspective the country's prolific production.
Global Silver Production by Country
Mexico, Peru, and China dominate global silver production, with these countries producing more than double the silver of any other country outside of the top three.
In terms of regional production, Central and South America provide the backbone for the world's silver industry. With five nations in the top 10 producers, these regions delivered ~50% of the world's 2020 silver production.
| Country | 2020 Silver Production (in million ounces) | Share of Global Silver Production |
| --- | --- | --- |
| Mexico | 178.1 | 22.7% |
| Peru | 109.7 | 14.0% |
| China | 108.6 | 13.8% |
| Chile | 47.4 | 6.0% |
| Australia | 43.8 | 5.6% |
| Russia | 42.5 | 5.4% |
| Poland | 39.4 | 5.0% |
| United States | 31.7 | 4.0% |
| Bolivia | 29.9 | 3.8% |
| Argentina | 22.9 | 2.9% |
| World Total | 784.4 | 100% |
Along with being the top silver mining regions in the world, Central and South America silver production expects to have the strongest rebound in 2021.
While global silver production could increase by 8.2%, Central and South America's production could rise by 12.1%.
Peru can feed this growth, with the country's exploration investment forecast for this year expected to reach up to $300 million with over 60 projects currently in various stages of development.
The South American Powerhouse: Peru's Silver Mining Strength
Despite its current silver production, there remains more to mine and explore. In fact, Peru holds the majority of the world's silver reserves with 18.2%, making it the global focal point for silver exploration and future production.
| Country | Silver Reserves (in tons) | Share of World Silver |
| --- | --- | --- |
| Peru | 91,000 | 18.2% |
| China | 41,000 | 8.2% |
| Mexico | 37,000 | 7.4% |
| Chile | 26,000 | 5.2% |
| Australia | 25,000 | 5.0% |
| Other countries | 280,000 | 56% |
| World total | 500,000 | 100% |
While 2020 and 2021 saw slowdowns in mineral production, Peru's metallic mining subsector increased by 5.1% in August 2021 compared to the same month last year. The country's National Institute of Statistics and Informatics also highlighted a double-digit rise in silver production of 22.7% compared to August of last year.
Satiating the World's Silver Demand
As silver demand is forecasted to increase by 15% just in 2021, silver supply constraints are a clear roadblock for clean energy technologies and electric vehicle production. With Peru's annual silver production forecasted to grow by more than 27% by 2024, the country is looking to solve the world's growing silver supply crunch.
The nation's strong credit ratings and well-established mining sector offers investors a unique opportunity to tap into the growth of Peru and its silver industry, while powering renewable energy and electric vehicle production.
As a Peru-based mineral development and exploration company, Silver X Mining is working to produce and uncover the silver deposits that will provide the world with the metal it needs for cleaner technologies.
The Next Frontier: Mineral Exploration in Saskatchewan
The Next Frontier: Mineral Exploration in Saskatchewan
Lying in the heart of Canada is the next great mineral exploration frontier, Saskatchewan. This humble province lies at the center of one of the greatest mining countries in the world, but despite Canada's long history with mining, Saskatchewan is still open for discovery.
This infographic from our sponsor SKRR Exploration shows where the next mineral frontier for discovery lies in Saskatchewan.
The Road to Resources: Opening for Business
Saskatchewan covers 588,239 square kilometers, roughly the size of Iran or Mongolia, with a population density of only 1.8 persons per square kilometer. This central province sits on the edge of a vast frontier that is rich with mineral resources that could power and feed the world.
In order to encourage investment, Saskatchewan has several incentive programs for the mining industry.
The Targeted Mineral Exploration Incentive: 25% rebate on eligible drilling costs in regions of high potential for base metals, precious metals and diamonds.
The Saskatchewan Mineral Exploration Tax Credit: A non-refundable 10% tax credit to Saskatchewan taxpayers who invest in eligible flow-through shares issued by mining or exploration companies.
A 10-year royalty holiday for new gold and base metal mines.
A 5-year incorporation tax rebate for mineral processing.
While the province is encouraging mineral exploration, there are already proven success stories that are just scraping the surface of the opportunities available.
Resources Ready to Go
In 2020, Saskatchewan sold C$7.4 billion worth of metals and minerals, the fourth highest amount in Canada. Saskatchewan's mining sector provides business opportunities and jobs for over 12,400 individuals across the province, and contributes an additional 25,000 indirect jobs.
Potash: The province has the largest potash industry in the world, accounting for about 1/3 of annual global production and hosting nearly half of the world's known reserves.
Uranium: The world's richest deposits of uranium lie in Saskatchewan, giving the province the ability to produce more uranium with less land surface disturbance than almost anywhere on Earth.
Diamonds: In 2004, Shore Gold discovered diamonds near Fort à La Corne in central Saskatchewan. There is a plan to bring the 66-million carat Star-Orion South project into production.
Base Metals: The Flin Flon mining camp, on the Manitoba-Saskatchewan border, is a large base metal producer region and is estimated to have the highest contained value of ore per square kilometer in Canada for VMS deposits.
Gold: The province holds two multi-million ounce discoveries to date, the Seabee and MacLellan gold mines in the Trans-Hudson geological formation.
There is more to discovery. Exploration expenditures in 2019 were $264 million, and companies planned to spend $242 million in 2020.
SKRR Exploration: Opening a Frontier
SKRR Exploration is leading mineral exploration into Canada's final frontier and has secured prime mineral properties to take advantage of the wave of demand for metals. SKRR has six gold and one base metal exploration projects in the heart of one of the most prospective geological belts in North America.
At the helm of SKRR exploration are two leaders who know the geology of Saskatchewan well and have a proven history of discovery, Ron Neolitzky and Ross McElroy. Neolitzky was inducted into the Canadian Mining Hall of Fame for his development of two successful precious metals mines. McElroy was part of the exploration team that discovered Cameco's McArthur uranium deposit.
SKRR Exploration is bringing together the right elements of Saskatchewan to make the next great discovery.