12 Stunning Visualizations of Gold Show Its Rarity
For the companies exploring for gold, a deposit that has more than one gram of gold for every tonne of earth is an exciting prospect. In fact, in our 2013 report summarizing the world's gold deposits, we found that the average grade of gold deposits in the world is around that amount: about 1.01 g/t.
Think about that for a moment. One gram (0.035 oz) is equal to the mass of a small paper clip. This small amount of gold is usually not even in one place – it is dispersed through a tonne of rock and dirt in smaller amounts, most of the time invisible to the naked eye. For some companies that have the stars align with easy metallurgy, a deposit near surface, and open pit potential, this gram per tonne deposit may even somehow be economic.
It's hard to believe that such a small amount of gold could be worth so much, and that is why great visualizations can help us understand the rarity of this yellow metal. Luckily, the folks at Demonocracy.info have done the heavy lifting for us, putting together a series of 3D visualizations of gold bullion bars showcasing the world's gold that has been mined thus far. Note: these visualizations are a couple of years old and optimistically have the value of gold pegged at US$2,000 per oz, presumably for the ease of calculations.
For those interested, we have also put together a similar slideshow on the topic, showing how much gold, silver, copper, and other metals are mined each year.

Smaller denominations of gold plates: 1 gram, 5 grams, 10 grams, 20 grams, and 1 troy oz of gold.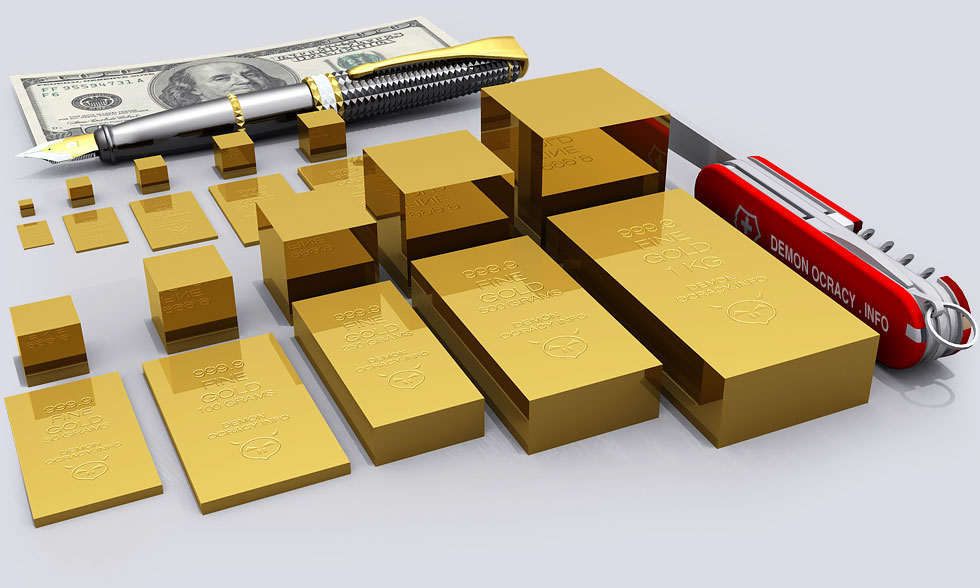 Larger denominations of gold plates: 50 grams, 100 grams, 250 grams, 500 grams, and 1 kg of gold.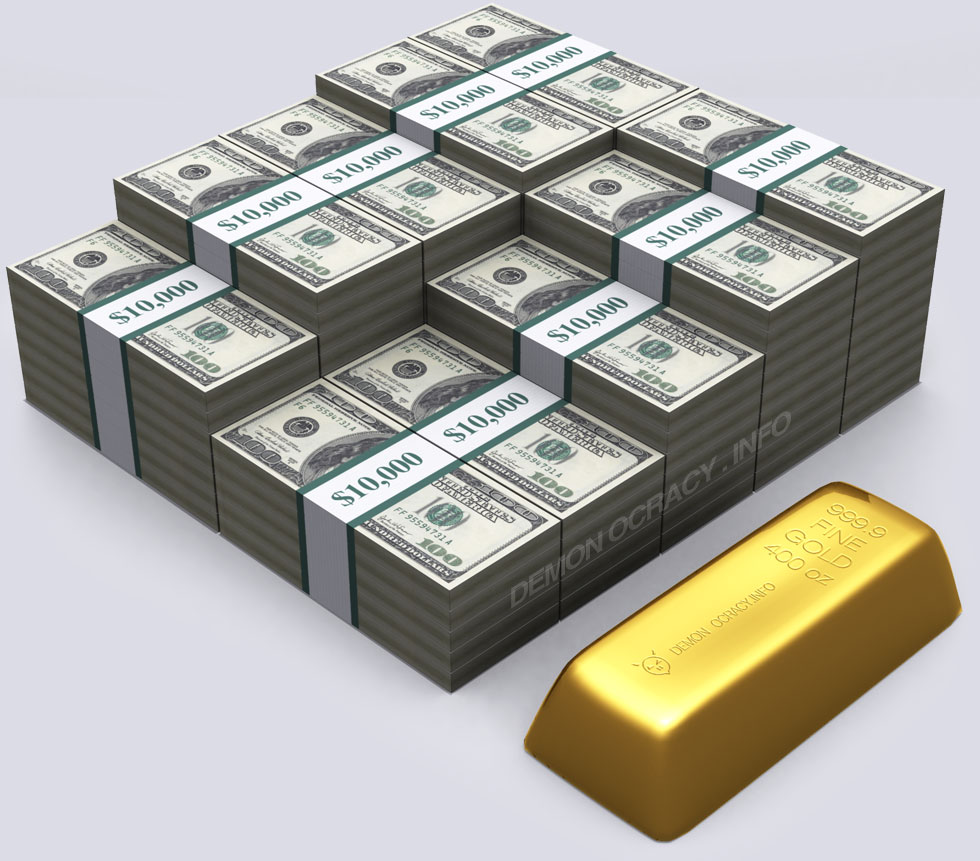 This 400 oz gold bar, at $2,000 per oz gold, is worth the $800,000 cash beside it. The gold bar is extremely heavy, weighing more than three full milk jugs.

Here's what one tonne of gold looks like. At $2,000 per oz, it's worth $64.3 million.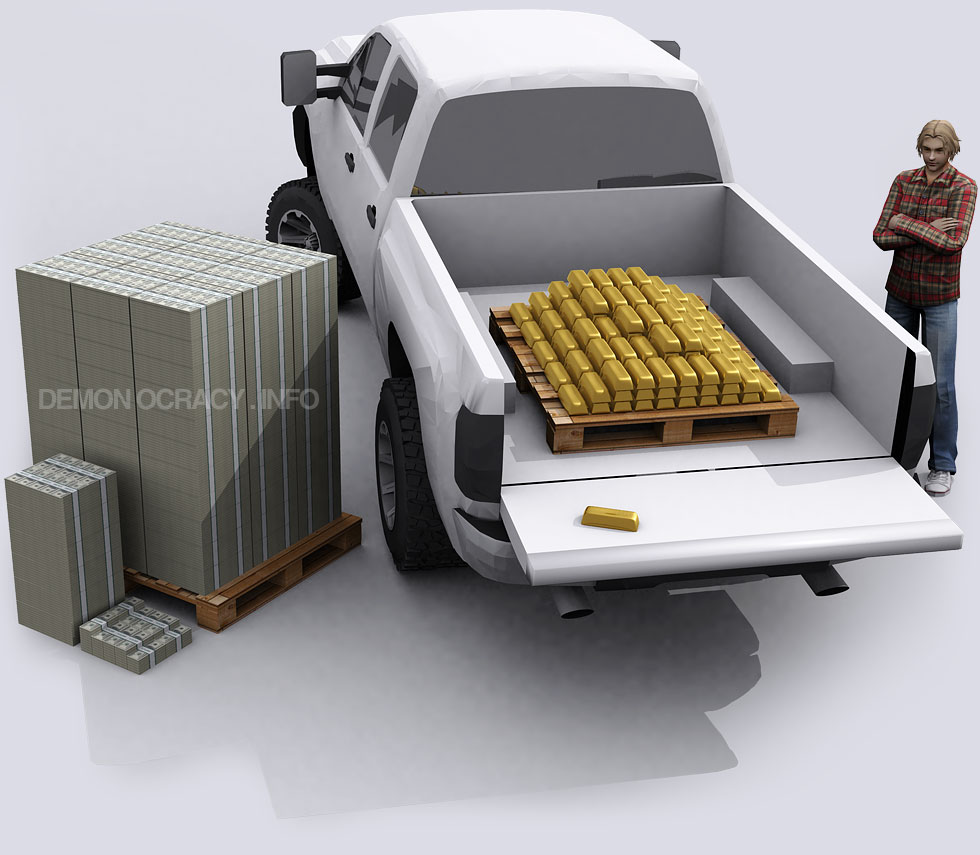 Gold is so heavy that the suspension of an average truck would break if it held anymore than pictured above. Even if the truck's suspension broke, the load of gold in the back could buy 2,660 brand new trucks at an MSRP of $40,000 per truck.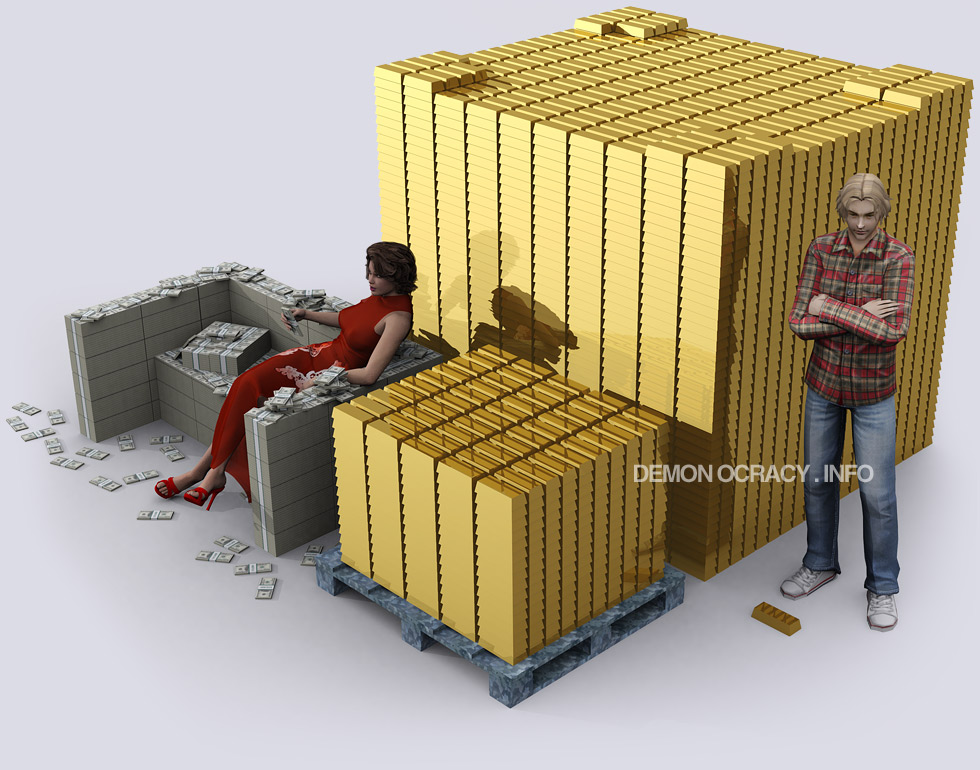 Here's 10 tonnes of gold compared to 100 tonnes of the yellow metal.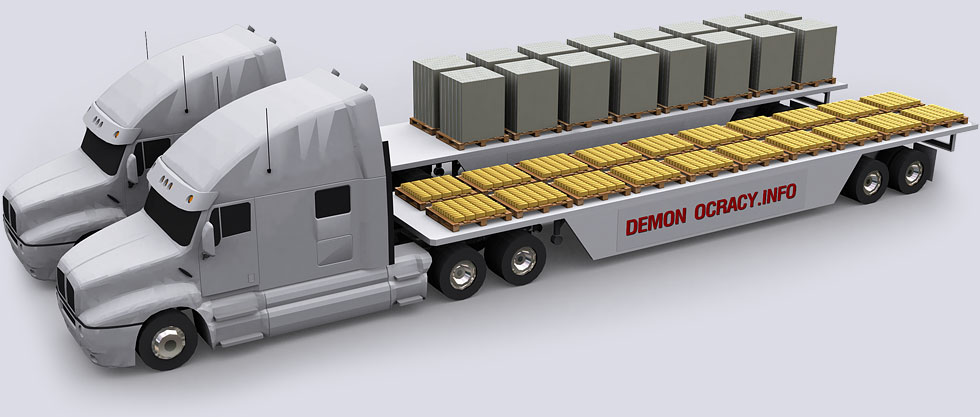 This semi-truck is carrying the maximum load it can legally carry, which is about about 25 tonnes. Here there are 24.88 tonnes of gold, worth $1.6 billion.


The Northrop Grumman B2 Spirit Bomber program cost $44.75 Billion for a total of 21 units built, which averages to $2,130,952,380 per unit. Shown here is the amount of gold it costs to buy one unit.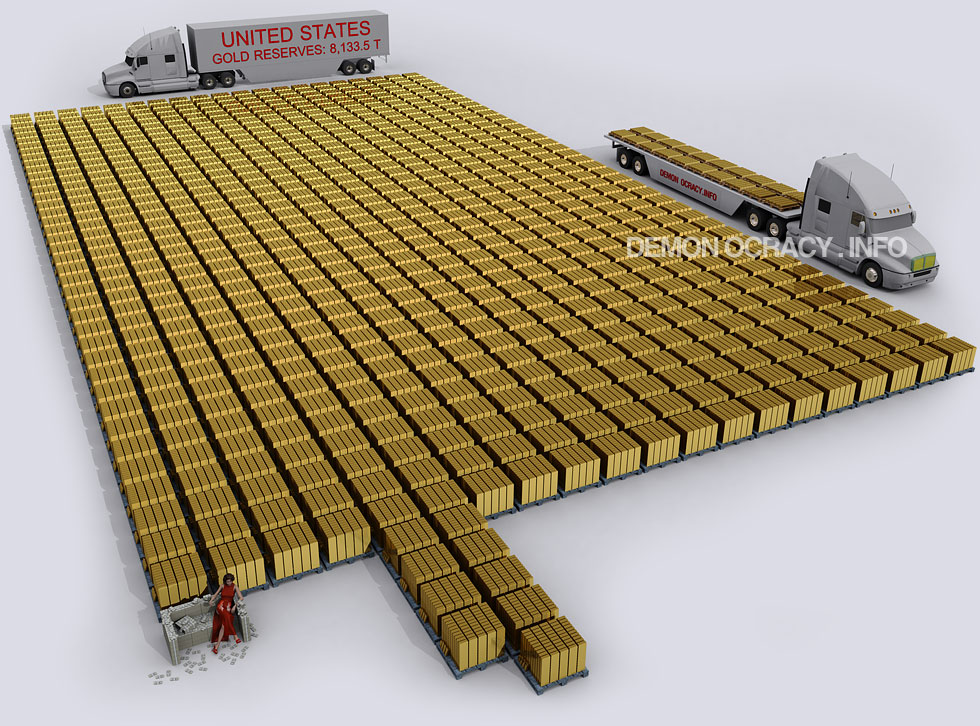 Here's the entire gold reserves of the United States government, which is 8,133.5 tonnes.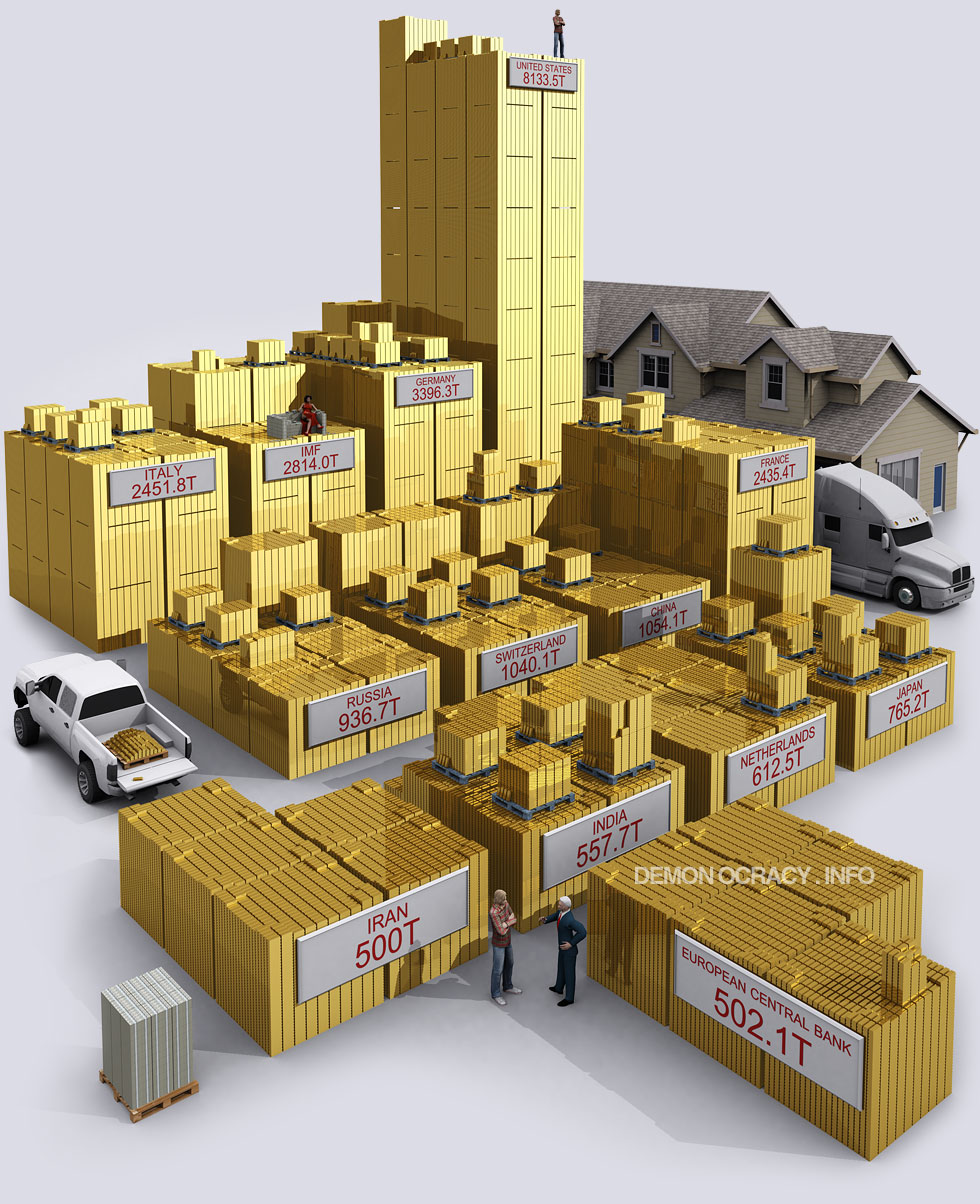 Here's the world's gold reserves by government circa 2012. This is slightly outdated, with China and Russia both having significant increases since then.


All gold mined in history, stacked in 400 oz bars. The 166,500 tonnes here is actually divided into four levels: the bottom level is jewelry (50.5% of all gold), the 2nd level is private investment (18.7%), the third level is world governments (17.4%), and the highest level is other uses for gold such as industry (13.4%).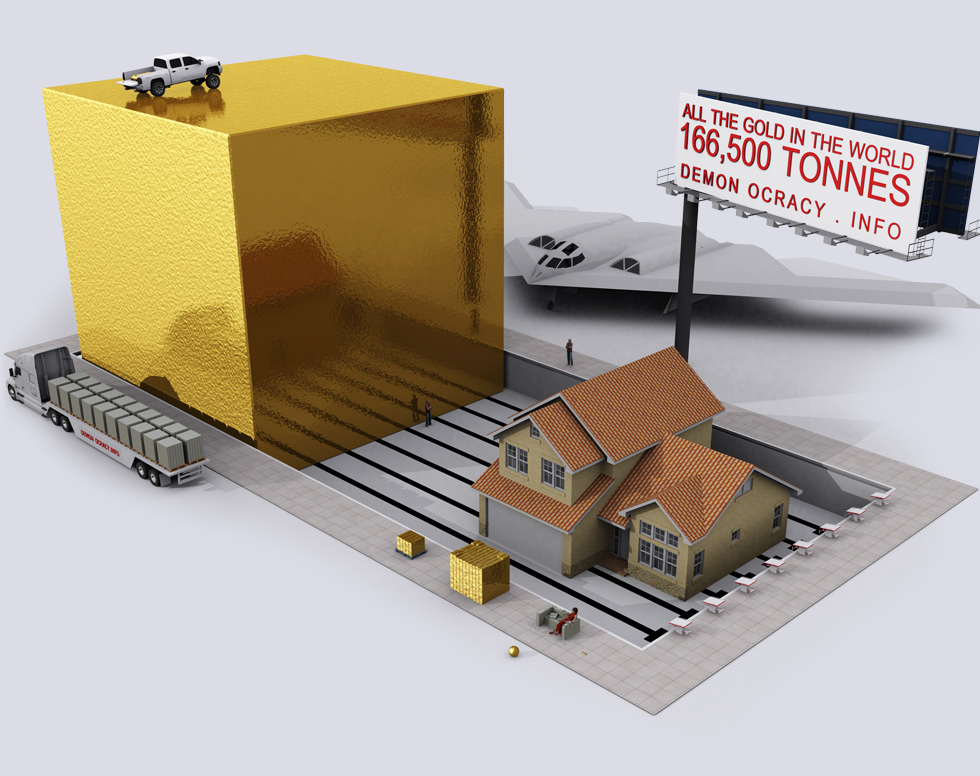 Lastly, we finish off with an image of all of the world's mined gold in one cube with dimensions of 20.5m. If it was all melted, it would fit within the confines of an Olympic Swimming Pool.
Want to learn everything you need to know about gold in about 20 minutes? Our five-part Gold Series covers everything from its rich history, supply and geology, demand drivers, investment properties, and market trends.
Visualizing the Genealogy of Exploration Success
Visualizing the Genealogy of Exploration Success
In the last decade, 63% of all mineral discoveries in the Western world were made by junior explorers. These small companies are the vision of a dedicated few.
It is the people that make a great company, and it is great explorers that make great discoveries. This infographic sponsored by SKRR Exploration shows the incredible experience and knowledge of two leaders in mineral exploration brought together in one new venture.
Two Paths to Exploration Success
According to the common adage, overnight success stories take a long time. Ron Neolitzky and Ross McElroy have traveled two different paths but along their route, they have uncovered vast amounts of mineral wealth in Canada.
Ronald Netolitzky
Ross McElroy

1964-67: Graduated from the University of Alberta with a B.Sc and M.Sc. in Geology.
1985: Became President of Delaware Resources and acquired the Snip property.
1986: Struck a gold discovery at the Snip property, which produced 1Moz of gold over its lifetime.
1988: Invested in Consolidated Stikine Resources and drill-tested Eskay Creek, which would go on to produce 3.3Moz of gold and 160Moz of silver over its lifetime.
1990: Sold Eskay Creek stake to International Corona for $67/share as part of an acquisition.
1990: Received the Bill Dennis Prospector of the Year Award.
1993: Purchased 100% of the Brewery Creek property as president of Loki Gold.
1996: Transformed Brewery Creek into a heap-leach operation.
1996: Merged Loki Gold with Baja Gold and Viceroy Gold to create an entity with an annual production of 200Koz of gold.
1996: Received AME's E.A. Scholz Award for discovery and development achievements.
2003: Acquired the Galore Creek property for Spectrum Gold, later merged with NovaGold Resources and partially sold to Teck Resources for $275M.
2007: Oversaw Yamana Gold's $577 million acquisition of Viceroy Resources as chairman.
2010: Oversaw Osisko Mining's $372 million acquisition of Brett Resources as chairman.
2015: Inducted into the Canadian Mining Hall of Fame.

1987: Graduated from the University of Alberta with B.Sc. in Geology.
1987: Joined uranium giant Cameco and worked on the McArthur River discovery in Saksatchewan's Athabasca Basin, which is now the world's largest uranium mine.
1989: Worked with French nuclear Company Cogema (now Orano) on the Shea Creek uranium discovery in Saskatchewan, Canada.
1990-99: Managed the Hope Bay Gold Project with BHP Minerals, discovering three high-grade gold deposits.
2007: Joined Fission Energy as VP of Exploration before rising to the rank of COO.
2009: Led the technical team that discovered the high-grade J Zone uranium deposit at Waterbury Lake and sold to Denison Mines.
2012: Used airborne radiometrics and radon in-lake survey technology to discover the Triple R uranium deposit on the Patterson Lake Property, with an indicated resource of 102M lbs of U3O8.
2013: Received the Mining Person of the Year Award from the Northern Miner.
2014: Received the Bill Dennis Award for a Canadian discovery.
This combined experience is coming to bear in one company to uncover Canada's next mineral frontier.
Bringing Experience Together: SKRR Exploration
SKRR brings together the experience of two great explorers to uncover the next mineral frontier, Saskatchewan. This junior explorer is working on the next great discovery with 6 projects in the Trans-Hudson geological corridor
Father Lake Nickel Project: Copper, Nickel
Ithingo Project: Gold
Irving Project: Gold
Cathro Project: Gold
Leland Project: Gold
Olson Project: Gold
Manson Bay: Gold
With a proven location and legacy of exploration success, SKRR is ready to unlock the next mineral frontier in Saskatchewan and continue the tradition of a dedicated few uncovering the next great discovery.
The World's Top 10 Gold Mining Companies
Together, the world's top 10 gold mining companies account for roughly 22% of the share of the total gold market.
The World's Top 10 Gold Mining Companies
Unlike paper currency or many other types of assets, gold has maintained its value throughout the ages.
First used by cultures in modern-day Eastern Europe in 4,000 BC to make decorative objects, the metal today represents a global business with operations on every continent, except Antarctica.
The industry is dominated by a select group of majors.
Together, the world's top 10 gold miners produced 27.48 million ounces (Moz) in 2020, worth approximately $48 billion, according to data from Mining Intelligence.
North America Leading
At a country level, China is the largest producer in the world accounting for around 11% of total global production.
However, no Chinese company appears among the top miners.
| Rank | Company | Headquarters | Country | 2020 Production (Moz) |
| --- | --- | --- | --- | --- |
| 1 | Newmont | Denver | USA 🇺🇸 | 5.88 |
| 2 | Barrick Gold | Toronto | Canada 🇨🇦 | 4.84 |
| 3 | Polyus | Moscow | Russia 🇷🇺 | 2.87 |
| 4 | AngloGold Ashanti | Johannesburg | South Africa 🇿🇦 | 2.81 |
| 5 | Kinross Gold | Toronto | Canada 🇨🇦 | 2.38 |
| 6 | Gold Fields | Johannesburg | South Africa 🇿🇦 | 2.13 |
| 7 | Newcrest Mining | Melbourne | Australia 🇦🇺 | 2.06 |
| 8 | Agnico Eagle | Toronto | Canada 🇨🇦 | 1.73 |
| 9 | Polymetal International | St. Petersburg | Russia 🇷🇺 | 1.40 |
| 10 | Harmony Gold | Johannesburg | South Africa 🇿🇦 | 1.38 |
At the top of the gold mining companies list, Colorado-based Newmont has ownership of mines in Nevada, Colorado, Ontario, Quebec, Mexico, the Dominican Republic, Australia, Ghana, Argentina, Peru, and Suriname.
As the only American company on the list, Newmont produces 21% of the yellow metal poured by the top companies.
Canada, which is known for its mining industry, has three companies on the list; Barrick Gold, Kinross Gold, and Agnico Eagle, producing 32% combined.
Russia, which is expected to become the world's top producer by 2029, has two companies ranked. Together, Polyus and Polymetal represent 15% of the top miners' production.
The top 10 players account for ~22% of the total market share, which is anticipated to grow due to increased merger and acquisition activities.
Wealth and Luxury
Over six and a half thousand years after its discovery, more than 90% of the gold mined annually is destined for jewelry, bullion, and coins.
Jewelry: 36.83%,
Investment: 46.64%,
Central banks: 8.58%,
Technology: 7.95%
The metal is also used in dentistry, as it is the best material for fillings and crowns since it is easy to insert, and is non-reactive with the human body.
Golden Future
Global production fell by 1% in 2020, the first decline in a decade, according to the World Gold Council.
Some analysts argue the world has reached "peak gold" – which means that the maximum rate of extraction has passed and the production of the metal will continue to fall until, eventually, mining for it shall cease entirely.
Demand, however, shows no sign of slowing down as the golden metal remains firmly synonymous with security, stability, and longevity.